Lincoln Center's Local Canine Companions
Get to know the furry friends in and around the Lincoln Center campus and Hell's Kitchen neighborhood
Fordham is my school, New York is my campus, and Hell's Kitchen dogs are my companions. 
As my senior year of college approaches quickly and the months of my apartment lease in Hell's Kitchen pass by, I walk the streets of my community with a smile and wandering eyes. After a year, this is my neighborhood now. The restaurants are extensions of my apartment building, and members of the wait staff are my next-door neighbors. As I turn the corner onto Ninth Avenue, heading north toward campus, I bump into the fluffy, limping, panting, unleashed, four-pawed neighborhood regulars that parade our sidewalks. Their paw prints show up side by side with ours. 
Lalita, Gregory and Sasha
It would feel wrong not to introduce Gregory and Sasha as the first locals of my neighborhood dogs piece (and, no, it's not just because they are my favorites).  My group chat with my roommates is filled with daily photos of Gregory and Sasha roaming the same streets we do. Whether you have walked up a few streets to the CVS on the corner of 58th Street and Ninth Avenue to replenish your Advil or treated yourself to a thick slice of pizza from Amore across the street, you have probably spotted two seemingly incompatible characters: Gregory and Sasha. 
Gregory — a pony-sized beige labradoodle — walks alongside his partner-in-crime, Sasha — a medium-sized chihuahua mix with velvety chocolate hair. Lalita, their mother, as she likes to call herself, walks not too far behind. Their contrasting sizes are not, however, their most notable features. Contrary to the New York City requirement that all dogs must be leashed, Gregory and Sasha are always off-leash. 
Lalita attributes their seemingly professional training to their innate "perfection," since they have never actually been formally trained. They are locals, masters of the streets that they confidently roam at a calm, relaxed pace. They are in no rush in the comfort of their native territories — true New Yorkers. 
On every walk, Gregory carries a soccer ball, a handy accessory on busy streets. His soccer ball matches the shade of his curly white hair, and he will roll the ball to any friendly pedestrian with his nose to invite them to toss it right back to him. 
Lalita, Gregory and Sasha have been living in Hell's Kitchen for eight years and will continue off-leash on the streets where we all roam together.
Ambreen and Sherlock
Shifting from the leashless and extroverted Gregory and Sasha, the introverted golden retriever named Sherlock tugs on his leash nervously when crossing a bustling Ninth Avenue.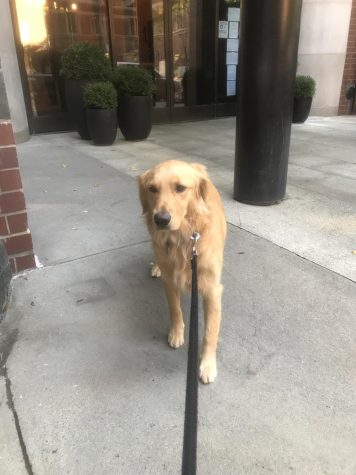 Sherlock and his human companion Ambreen live a block away from the entrance to Lowenstein, secluded from the chaotic activity outside the ground floor of their high rise. Sherlock, who is a year and a half old, recently moved to the city and into Hell's Kitchen from the suburbs of Washington, D.C. His newness is evident as he tugs his human anxiously and diagonally along the 59th Street crosswalk, never straying from his daily path onto 60th and across to Central Park. This path comforts him, each walk cementing his assimilation to Hell's Kitchen. 
"Central Park reminds him of our suburban past," Ambreen said. 
His long-haired tail slowly lifts out from between his hind legs as pedestrians lock eyes and flash a smile at him, but he remains vigilant and tense with each pop of an engine, siren of an ambulance, or thudding of footprints on the metal grates. Sherlock, like many of us, is still learning to love the chaos of the city. 
Derrick and Twix
Walking further south into the heart of Hell's Kitchen, you will run into Balsley Park, a teeny oasis on the east side of Ninth Avenue and a hub for post-work walks. The park is a communal refuge where delivery bikers, retirees, hoards of pigeons, dog owners and their companions, and others basking in a moment of nature and silence join together. 
Here, you will usually find our neighbor Twix. Twix is a young 17 years old (in dog years, of course) who walks with his human Derrick. His youthful hair — resistant to any graying — confident stance and relaxed tongue fools fans of his as they shout, "Look at that puppy!" 
A shy senior, Twix avoids crowded spaces and Derrick makes sure to avoid the busier streets of our bustling neighborhood. They take advantage of the comfort of Balsley Park. On occasion, Derrick takes Twix for longer walks to Central Park, a popular favorite for our canine neighbors. Twix is a regular at Lincoln Center and the grassy plaza adjacent to the Lincoln Square and in front of the Empire Hotel. He travels west on busy 57th Street where the Hudson River meets the concrete grid and enjoys the breeze from the river and cars on the highway. 
Locals now for five years, Twix and Derrick have mastered their destinations, and Twix has marked his territory in the major landmarks of our city campus, defying the reality of his age. 
Tom and Alfie
Finally, we have my sweet friends Alfie and Tom. Alfie, even though he has only lived here for a year, is already an unforgettable character of our streets.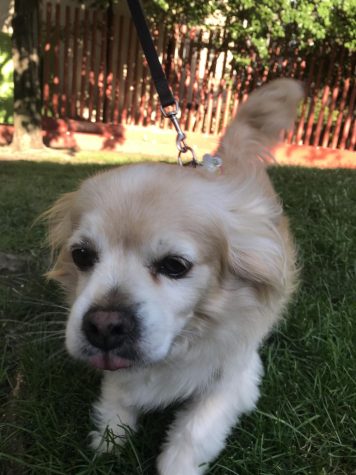 You may be thinking of the restaurant at the corner of 53rd Street and Ninth Avenue, Alfie's, that serves a massive and pricey — but delicious — burger, but you are thinking of the less important Alfie. 
This Alfie is medium-chihuahua sized, chai latte and beige-haired, and mixed breed with the tender face of a golden lab. 
Alfie is an 8-year-old rescue with possibly the happiest and fluffiest tail. At the top of the small hill in Balsley Park, Alfie's tail waves to each pedestrian as he inspects every blade of grass that he greeted the walk before. The sanctuary of nature "gets him going," according to Tom. 
As horse-drawn carriages pass by, Alfie barks at the leading horse as it trots home down West 56th Street — an intersection of species in the concrete maze. Alfie is comfortable with his surroundings, yet his perked tail, wet nose and exposed tongue tell the story of an adventurer. Alfie and Tom are newcomers to our communal home, sensitive and curious to each spectacle within the diverse stretch of streets of our Hell's Kitchen neighborhood. 
There are many more dogs that occupy the sidewalks, like the salt-and-pepper-haired, long, short-legged dachshund that walks a whole leash-length behind his human or the cream-colored Shiba Inu dressed in a hot pink harness. It would be impossible to capture them all in one short article.
Small or large, our neighbors remind me of the meaning, impact and privilege of my concrete surroundings. Central Park is a daily stop for our furry friends, no matter the weather or the time. The small sprouts of weeds in the grout of the sidewalks or the blades of grass in our mini oases around each corner of our daily commutes to Lowenstein connect us to our surroundings. 
Take a page from the books of our furry neighbors that look up, curious and adventurous on the streets they walk everyday in Hell's Kitchen.