Fordham Young Alumni Committee Looks to Further Engagement
Recent graduates hope to recruit new members and coordinate events to maintain a connection with the university community post-graduation
After two years of virtual events due to the COVID-19 pandemic, the Fordham Young Alumni Committee (YAC) is setting their sights on increasing involvement and engagement within the university's alumni community. The committee is planning social events for the summer and fall and hopes to increase recruitment through those efforts.
YAC is a board for graduates from classes spanning the past 10 years that provides programming for alumni. The committee serves to continue connecting recent Fordham graduates with the university, as well as allows members to pitch ideas for service projects and for young alumni outside of New York City. 
The committee works to coordinate social events, educational programs, professional development opportunities and community service projects for the university's young alumni, according to YAC's page on the Forever Fordham alumni website. So far, YAC has four subcommittees: special events and professional development, social justice, philanthropy, and communications. Each subcommittee also has a chair who is elected every summer by current members of YAC. 
According to Associate Director of Alumni Relations for Young Alumni and Student Engagement and Staff Adviser Matt Burns, Fordham College at Rose Hill (FCRH) '13, the committee has existed for more than 20 years. Burns joined the committee a year before working for Fordham in the spring of 2017 and is currently pursuing an MBA at Fordham's Gabelli School of Business. He noted that YAC provides a variety of possibilities for alumni to connect with the university post-graduation.
"It really began and continues to serve as kind of a good catch-all, or ways to stay connected to Fordham," Burns said.
Megan Zuckerman, Fordham College at Lincoln Center (FCLC) '16 and the committee's chair of communications, added that YAC's goal is to provide a way for alumni to stay involved with the university after graduation by having them interact with other alumni and engage with current students and faculty about what's happening at Fordham.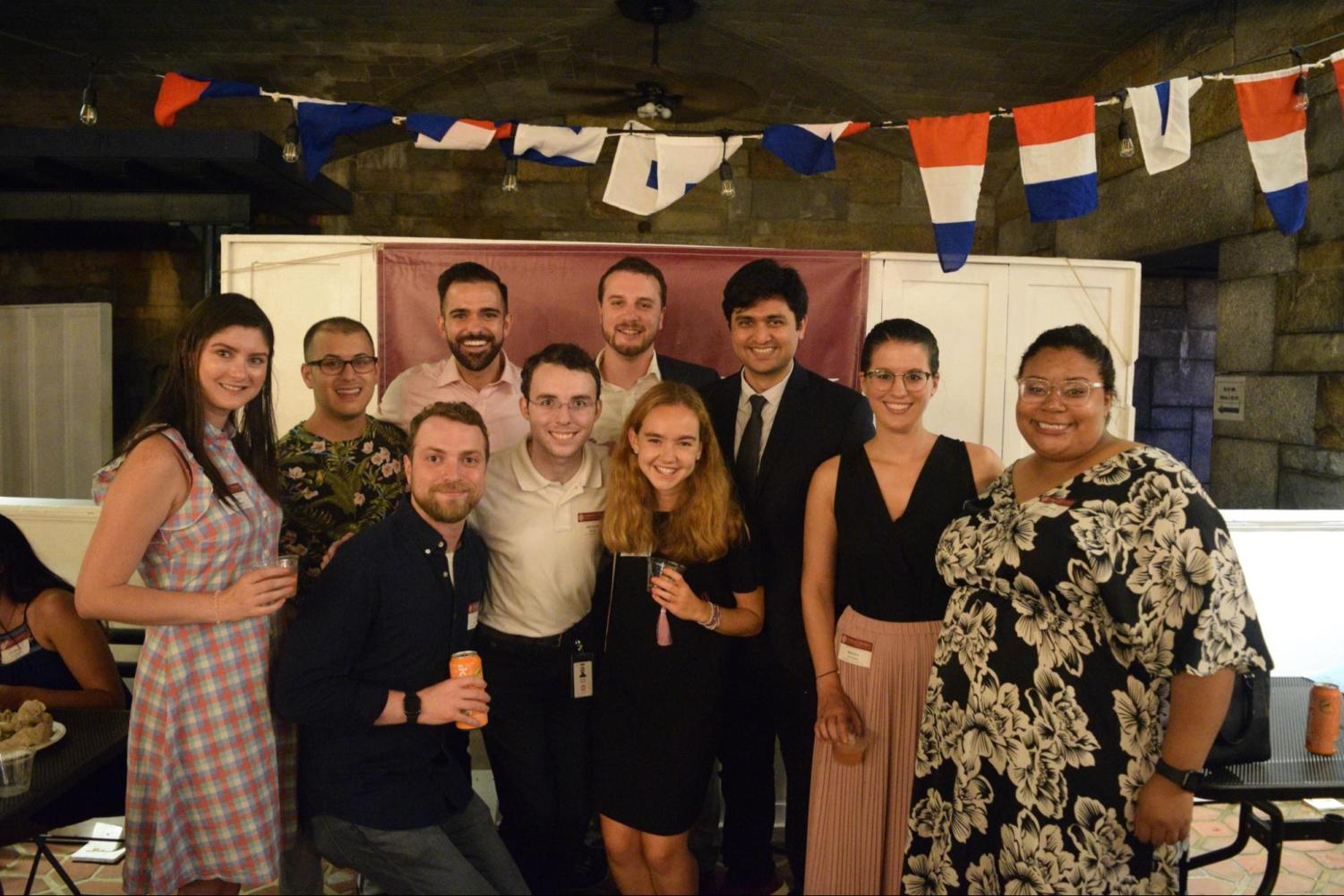 Zuckerman mentioned she joined the committee because she did not participate in many clubs or activities as a student and, as a result, didn't feel very connected to the Fordham community as an alumna. She also added that through YAC, she was able to meet and connect with a variety of Fordham alumni, including graduates from Rose Hill and people of other majors and older class years whom she otherwise would not have had the chance to meet. 
The committee runs on a calendar year similar to the university's, starting in September and ending in June. Zuckerman added that most new members join in the fall but are welcome to join at any time. 
Recently, YAC has been conducting spotlights of young alumni via the Office of Alumni Relation's Instagram page to highlight the achievements of alumni post-graduation as well as to give advice to current students. 
The YAC's social justice subcommittee also offers different volunteer projects, such as Making Strides Against Breast Cancer and Midnight Run, in partnership with Fordham Global Outreach. 
Zuckerman noted that the committee wanted more students to be aware of YAC and the resources that it provides, but, despite attempted efforts to reach out to students, some recent graduates were unaware of the committee's existence and its goals. Matthew Ludington, FCRH '22, had not heard of YAC and said he does not plan on joining the committee due to his immediate post-graduate plans. 
Audrey O'Brien, FCRH '22, also did not know about the committee's existence and was unaware of any of its members. Unlike Ludington, O'Brien added that she plans on joining YAC, saying it is "important to stay connected with your college especially after graduating."
The primary way that the committee spreads information is through email and social media, via the Office of Alumni Relation's Instagram page.
Both Ludington and O'Brien believe the committee can improve recruitment efforts aimed at graduating seniors. Ludington suggested more targeted emails or including a flyer about YAC when seniors have to pick up their caps and gowns. 
The primary way that the committee spreads information is through email and social media, via the Office of Alumni Relation's Instagram page. Additionally, alums can fill out YAC's Google form, which will sign them up for the mailing list. According to the Google form, the benefits of being a member include discounts to certain Fordham events, the ability to participate in chair elections and special invites to limited-capacity programs.
"You actually spend more of your life as a Fordham graduate than you do as a Fordham student," Burns said. "It is never too late to get involved."
The committee is currently coordinating a social event in early August which will allow recent graduates to come and meet other alumni if they are in the New York City area. The next gathering they have planned is for homecoming, which is scheduled for Sept. 17.