Broadway Star Brian Stokes Mitchell Performs and Reflects With Seth Rudetsky
Activist, artist and pioneer of '90s Broadway theater recounts his time in show business and its impact on his life
Tony award-winning actor Brian Stokes Mitchell joined Seth Rudetsky's "Broadway" on April 4 to discuss Mitchell's past and future projects. This event took place at the Town Hall, a location historically known for its promise to uplift the culture and history of New York City. 
The spacious stage was occupied by a grand piano, played by Rudetsky, to accompany Mitchell when he sang some of the greatest musical hits in history, such as Les Miserables "Stars" and Camelots "How to Handle a Woman." The show opened with Mitchell performing the title song of the hit Irving Berlin musical "There's No Business Like Show Business."
Adjacent to the piano were two seats, where Rudetsky asked Mitchell questions about his life in show business. They began by discussing the difficulties of obtaining a successful career in the industry. 
"The thing about being a performer, or an artist in general, is that you lose a whole lot more than you win," Mitchell said. 
During the pandemic, Mitchell took on new responsibilities that he hadn't dealt with before, such as becoming his own camera, lighting and set operator, and customer.
Mitchell discussed navigating the challenges that arose because of the COVID-19 pandemic. He explained how being cast for roles changed dramatically. 
Before COVID-19, actors would be able to go to an audition and solely focus on the scene at hand. They would have a reader and a casting director to lead them through the process, "but now, you have to do that all by yourself," Mitchell said.
Mitchell said that during the pandemic, he took on new responsibilities that he hadn't dealt with before, such as becoming his own camera, lighting and set operator, and customer. 
Subsequently, Rudetsky and Mitchell moved to the piano and sang "So in Love" from the musical "Kiss Me, Kate" by Cole Porter. 
After his performance, Mitchell discussed moments from his childhood that sparked his interest in acting. His passion for music was innate in him, for he started playing the piano when he was just six years old. However, he did not begin to study theater until he was fourteen. 
"I fell in love with the piano. I played it every single day — it was like this crazy love affair that I still have," Mitchell said. "I didn't think about doing theater professionally until we moved to the Philippines. My formative years were there from the time I was 6 to 14." 
Although he is not well-known for his tap dancing, Mitchell revealed that he had a love for tap since his childhood as well. Upon taking drama classes when he moved back from the Philippines, Mitchell was taught how to tap dance. "I actually never tapped in a show until Gregory Hines in 'Jelly's Last Jam.'… That was the hardest show physically that I've ever done."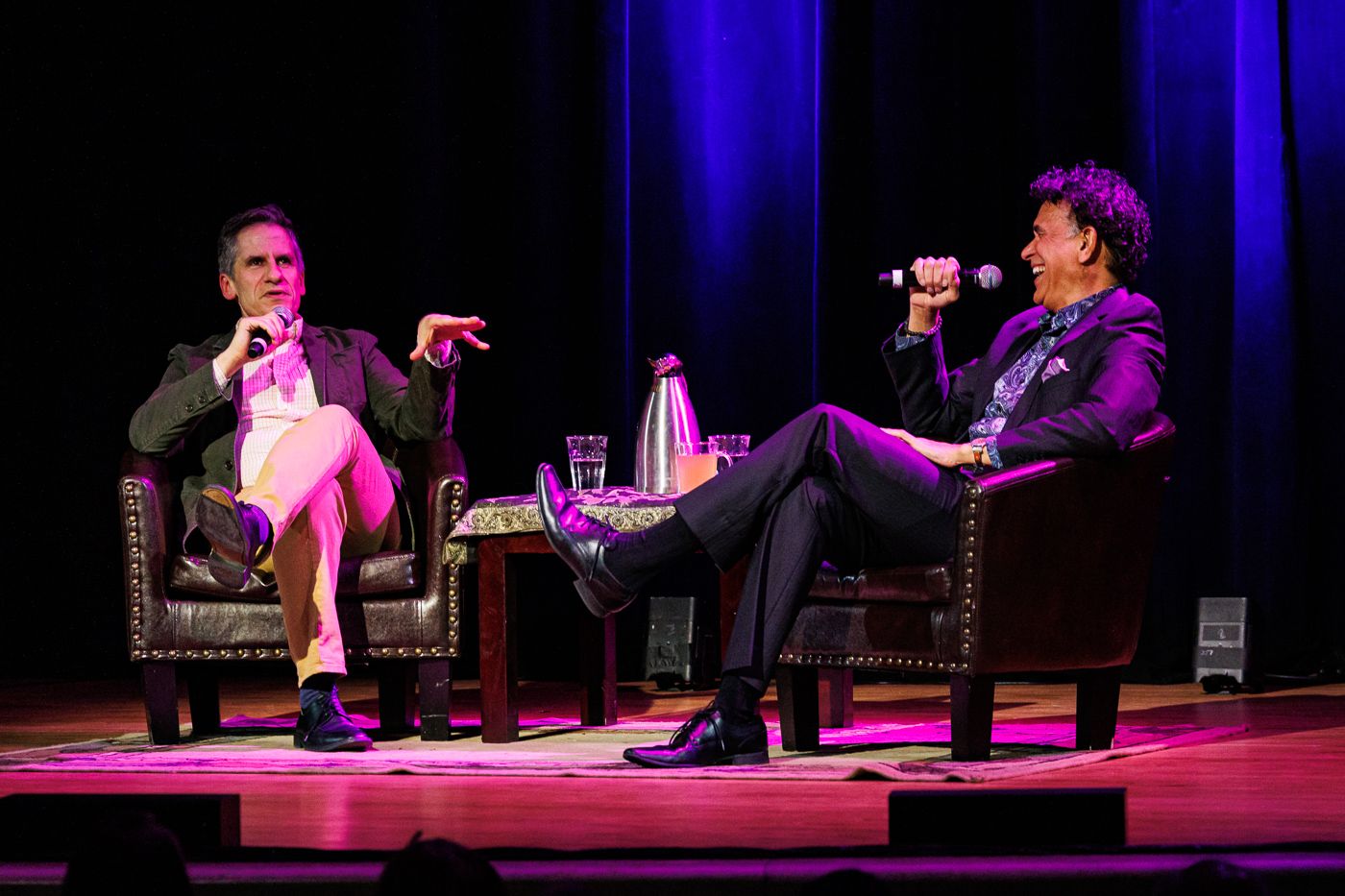 Mitchell went on to perform "Feeling Good" by Michael Bublé, a song that he never took a liking to until the COVID-19 pandemic became prevalent in his life. 
"When you come close to crossing over to the other side and think, 'Are these my last days on this planet?' it makes you think (about) things differently," Mitchell said. "That is why this song means so much more to me."
In June 2020, Mitchell, along with other Black theater artists, established Black Theatre United, which was founded to create a sense of belonging for all Black performers and workers in the arts. They are currently working on a project titled "A New Deal for Broadway," which is meant to set standards in the industry regarding equity and diversity. 
"We need to make this industry more equitable for everybody," Mitchell said. "The murder of George Floyd awoke a lot of people to what Black people have been talking about for years. Because of that, many people realized that we had to do something about this. That was the beginning of Black Theatre United." 
The discussion of Black Theatre United led Mitchell to share his experiences as a Black man in theater. He recalled how his race inevitably influenced his character in "Trapper John, M.D." in 1979, where he played Dr. Justin "Jackpot" Jackson. 
"Musicians, actors and crewmembers all lost their jobs during the pandemic. The Actors Fund helps to assist with those setbacks." Brian Stokes Mitchell, Tony winner and chairman of the Actors Fund
"Trying to find my place and who that character was to me on that show was challenging. I was always trying to find myself and find my place," Mitchell said. "On the very first day, they said to me that the producers want you to wear glasses, and they brought out the ugliest pairs of glasses. I realized where they were going with this now." Mitchell found that people of color were often the "neutered friend," meaning that they could not be sexual or expressive but fit into a specific stereotype. While he managed to play the role, he quickly realized that his portrayal in films was not true to who he truly was. 
Currently, Mitchell is chairman of The Actors Fund, a charitable organization founded in 1882 that supports those who aspire to work in show business. 
"Most people are gig workers — they are going job to job, and their insurance depends on their work," Mitchell explained. "Musicians, actors and crewmembers all lost their jobs during the pandemic. The Actors Fund helps to assist with those setbacks." 
The show concluded with Mitchell singing "Wheels of a Dream," written by Audra McDonald and Mitchell himself for his performance in the 1998 musical "Ragtime."