'Aulis': A Greek Spectacle of Comedy, Tragedy and Autonomy
Fordham Theatre's final mainstage of the season presents a modern spin on an ancient Greek play
As the audience settles into their seats, computers, smartphones and tablets scatter the stage in the Pope Auditorium at Fordham College at Lincoln Center (FCLC). 
The scene is a gray and dreary one, save for the screens as they flash clips of hamsters, cat videos, beaches and psychedelic images. A soldier wearing camouflage comes from behind and sits on a hill of PC towers. He's followed by another, then another. 
They keep themselves occupied with their phones and gadgets, similar to how the audience entertains themselves while waiting for the show to start. The lights go down as Agamemnon (played by Pedro González, FCLC '22), the king of the Greek army, takes the stage.
For its final mainstage show of the season, Fordham Theatre presents "Aulis," a modern-day remix written by Christopher Chen based on the ancient Greek play "Iphigenia in Aulis." 
The Greek army is hungry for war, and the soldiers keep their bloodlust at bay with video games.
"Aulis" brings its audience into a version of the Trojan War replete with phones and iPads. The Greek army is hungry for war, and the soldiers keep their bloodlust at bay with video games. They are unable to advance toward the enemy due to a lack of wind for their ships. 
In order to facilitate the war, Agamemnon initially plans to sacrifice his young daughter Iphigenia (played by Lili Gutierrez, FCLC '23) to the gods in exchange for wind. He sends a message to Iphigenia and his wife, Clytemnestra (played by Dylan Foster, FCLC '24), under the guise that Iphigenia is to be married to Achilles, the famed Greek hero (played by Kamau Nosakhere, FCLC '25). 
They and the rest of the cast — Matt Green, FCLC '24; Jason Maina, FCLC '24; Rocky Arabalo, FCLC '22; Kana Seiki, FCLC '24; Alexander Shayeb, FCLC '25; and Yasemin Cem, FCLC '25 — are brought to this lifeless land, where the life of a young girl determines the outcome of a war.
If you are unaware of the Trojan War's story, it began not for glory, but because a woman left her husband, Menelaus (played by Maina), Agamemnon's brother. "Aulis" is a sad and tragic tale. Who in their right mind would kill their own daughter, especially for a war like this? And as the story goes on, it slowly gets more disturbing.
On the surface level, "Aulis" is not a serious play. Agamemnon will take a selfie and discuss plans for war, all while a video of Nyan Cat plays in the background. The modern elements allow for those comedic moments but also contribute to the somber tones. 
The setting, Aulis, is a place of death, where gadgets and technology distract you from the horrible reality of what's actually happening — something eerily similar to how many people handle suffering today.
"It's a very serious thing supplemented by a lot of comedy." Kamau Nosakhere, FCLC '25
Nosakhere elaborates more on this topic using the character of Polly (played by Cem), Achilles's young slave and companion who was taken from her homeland. While most of the cast is in white and gold, Polly wears a dark-colored dress, which gives off the feeling that she does not belong and that something is wrong. This feeling is also largely due to her role in the play.
"It's a very serious thing supplemented by a lot of comedy," Nosakhere said. "And the way we went about that was just being very honest with, 'How does this make us feel?' And yeah, this makes us feel icky, and it's not a nice feeling to have when you think about a little girl somewhere she doesn't know. We tried to make sure that those things hit so that, yes, there's comedy and we're laughing, but within that there's the importance and seriousness of Polly's character."  
May Adrales, the director and head of the Fordham Theatre Program, really worked with the women of this play, according to Foster. Adrales had some rehearsals with only the female cast members, having conversations about autonomy and the reality of how women are treated in this world.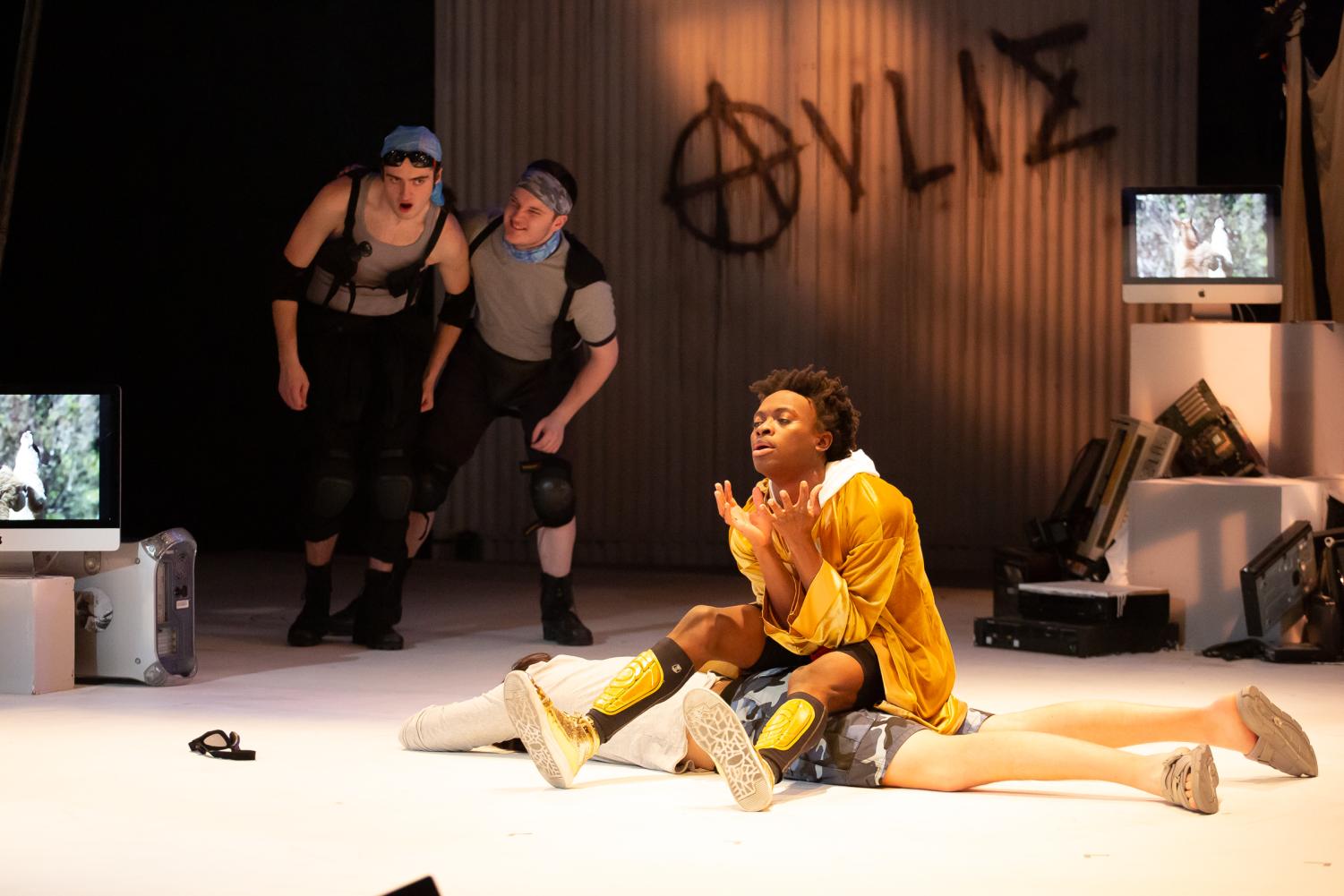 Throughout the show, Clytemnestra frantically tries to stop her husband from trying to kill their daughter. To Agamemnon, it's no big deal, whereas Clytemnestra goes insane.
"We really worked on actually getting to the truth and the root of all (of) it, and the comedy really (showed) through because of that," Foster said. "I'm sure everyone else (in) the process — Yasemine, Lily, Pedro and everyone — can relate to the fact that it was heavy, taking those feelings home sometimes." 
She added that she and Cem would sometimes be in tears at the end of rehearsals and emphasized that the great chemistry of the cast made this performance stronger.
"Everyone just worked so well together with one another. It was so natural. It felt like magic, honestly," Foster said.
He learned how to be freer in his acting, while also channeling the director's vision.
Both Foster and Nosakhere mentioned how Adrales gave them a great deal of creative freedom in shaping their characters. She's an "actor's director," as Foster described. It was very much an educational experience, and Adrales really trusted them in making the characters their own.
Nosakhere recounted how Adrales would ask for their ideas first or see their take on a scene. Then, she'd offer insights or adjustments. He learned how to be freer in his acting, while also channeling the director's vision.
Compared to the other shows of the season, "Aulis" was less dark, but it still managed to feature a tragic theme applicable to today's world. It's what you would expect in an ancient Greek play: big, funny, dramatic and full of action. Yet, the realness of it all will shock you and leave you feeling bitter — in a good way — toward the end.