Fordham Students Just Want to Have Fun: An '80s Playlist
In celebration of the 40th anniversary of The Observer, celebrate the history of the newspaper with some classic '80s throwbacks in song that'll make you want to get up and dance.
1. "Sweet Dreams (Are Made of This)," The Eurythmics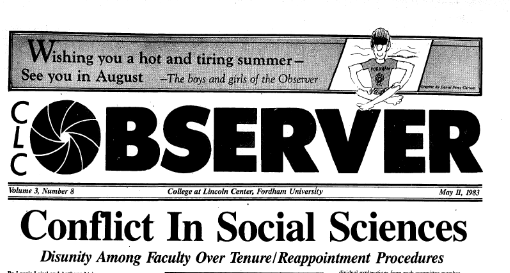 Released: May 1983
Headline, May 11, 1983: 
Conflict In Social Sciences, Disunity Among Faculty Over Tenure/Reappointment Procedures
The Eurythmics manage to perfectly encapsulate the sound of the '80s, which is exactly why they kick off this playlist to set the tone for the beginning of the era of The Observer. The prominent synths set the tone for the future of electronic music, with Annie Lennox's vocal color complementing the dueling synths of the instrumental. There's no doubt that the song manages to capture exactly what most newspapers set out to do: to help readers "hold (their) head up" and "keep (their) head up."
2. "Heaven Knows I'm Miserable Now," The Smiths

Released: May 1984
Headline, May 9, 1984:
1984-85 USG Execs Elected
On the opposing side of what we all think of when we think of the '80s, we have a song by The Smiths that summarizes the bleak future many young people saw for themselves. Morrissey's somber, lilting vocals over an arguably happy instrumental grants the song a sense of nostalgia for a different time. I won't lie, I did listen to this song the first day I started my job on campus as it seemed to set the tone for it. There's no doubt students both now and then could listen to this song and long for that same time without the responsibilities of adulthood.
3. "Holding Out for a Hero," Bonnie Tyler

Released: April 1984
Headline, April 11, 1984:
Locker Break-Ins Intensify
Much like Bonnie Tyler, it seems that some Fordham students were also holding out for a hero who would stop locker break-ins in April of 1984. The heavy-handed synths backing Tyler's strong vocals lend a hand to the intense meaning behind the lyrics of this song: needing someone to help you in a moment where you need it most. Considering its central role on the "Footloose" soundtrack, it's no shock this song will get you tapping your feet.
4. "It's the End of the World as We Know It," R.E.M.

Released: November 1987
Headline, November 11, 1987:
New Students Increase, But Attrition Still High
Despite the seemingly depressing implications of this song's title, I've always found this song one of the best to listen to when you need a boost to your mood. Nothing matters! The world will always change, it always has, and it always will. The actions of today may lay the foundation for tomorrow, but there's always an opportunity to adjust the future. Michael Stipe, the lead singer of R.E.M., puts it perfectly in the song's chorus: "While it may be the end of the world as we know it, I feel fine."
5. "Private Idaho," The B-52s
Released: October 1980
Headline, October 1980:
Formal opening of Zenshin Temple in the Bronx
Brigadoon opens at Majestic Theater
If you were to ask anyone from any time period what this song means, they would probably say they had no idea and simply loved how fun it is. The B-52s were masters of capturing a positive energy and turning it into a song. Whether you think it's about a state of mind or the literal state of Idaho, the lively guitar layered over a funky beat paired with wacky vocals and lyrics makes for a great song to dance to (at a nightclub like Girl Bar on St. Marx or in your dorm).
6. "Rock the Casbah," The Clash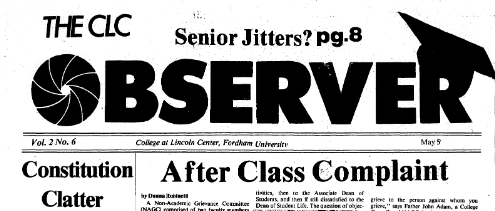 Released: May 1982
Headline, May 5, 1982:
After Class Complaint and Heat Over Freeze
"Rock the Casbah" doubles as both a political commentary on rock music as a force for change and a fun song to hear when you enter random record shops around the city. The Clash set out with the goal to imbue people with the desire to be revolutionary, open their minds to things they typically may not enjoy and dance. It's safe to say that, by the time this song had reached its peak popularity, the Casbah had definitely been rocked.
7. "Whip It," DEVO
Released: August 1980
Headline, August 1980:
U.S. Democratic National Convention renominates President Jimmy Carter
DEVO presents the perfect solution for every person on the planet, no matter what situation they are in. Good time? Whip it. Bad time? Whip it. I wish I could tell you what whipping it means, but my only understanding of the term is the dance move which I assume was not around in the '80s. In the end, it doesn't really matter what it means to whip it; what really matters is how much fun it feels to sit in the passenger seat of your parent's car as they play this song and bop their head along to the funky bass.
8. "P.Y.T. (Pretty Young Thing)," Michael Jackson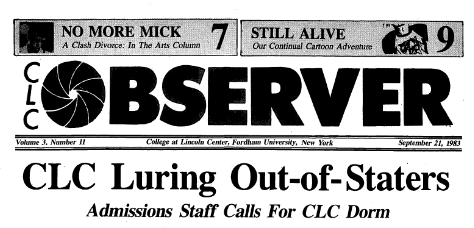 Released: September 1983
Headline, September 21, 1983:
CLC Luring Out-of-Staters, Admissions Staff Calls for CLC Dorm
Every time I hear this song, the electric guitar and synths create a beautiful, sparkly disco-esque reality in my mind. "P.Y.T." has always stood for the essential feelings of the '80s: hope, inspiration and feeling good. Michael Jackson crafted an amazing space for funk to take off even further into the mainstream music scene of the time. With one listen to the chorus, you'll find yourself feeling like a P.Y.T. too.
9. "Dancing with Myself," Generation X
Released: October 1980
Headline, October 1980:
Formal opening of Zenshin Temple in the Bronx
Brigadoon opens at Majestic Theater
Generation X manages to perfectly encapsulate the feeling of dancing around your dorm room while your roommates are out. From the '80s to today, I can guarantee every night there has been at least one person on campus dancing with themself to their favorite songs. The rhythmic bass makes it impossible to not hop out of your (somewhat uncomfortable) desk chair and let loose. Every college student needs a break sometimes and this song can be just that.
10. "Like a Virgin," Madonna

Released: November 1984
Headline, November 14, 1984:
Dean Shea Resigns + Theatre Proposes BFA in Acting
It's impossible to even begin talking about the '80s without talking about the cultural impact Madonna and her music had on an entire generation. The eclectic synth accompanied by her high vocals and dreamy lyrics defined the dance-pop genre of the time, creating a space for people to express themselves and just have fun. Genuinely, where would we be without Madonna? From beginning to end, the song exudes a funky, positive energy that perfectly defines the era in which it was made. 
Listen to the playlist here: