'Hadestown': An Opera of Devotion and Dominance
Anaïs Mitchell's bold reimagining of Greek mythology explores the inseparable coexistence of love and power within our lives, our relationships and ourselves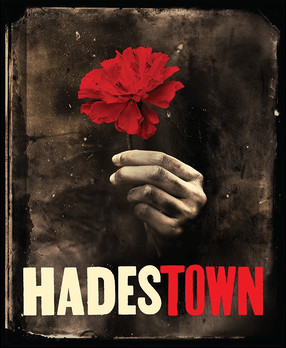 Analyzing the complicated dynamics of power is a never-ending task. Power hangs over you, shapes you and controls you. It's ever-changing yet completely stagnant at the same time. It grows, shifts, increases and molds. It changes the way you approach the world and the way the world approaches you. While we understand the technicalities of power and what it can make you do, it's not until we see it at work that we understand its force; this is where "Hadestown" comes in.
Brought to Broadway in 2019 — 13 years after the show's first whispers materialized into something concrete — "Hadestown" tells a story of love, loss, power and sacrifice. As the second production to reopen on Broadway after the COVID-19 pandemic-induced shutdown, this show introduces a world where the winds have changed and where spring has disappeared — a world with no food, no firewood and no love. 
We meet Eurydice (Eva Noblezada), a young girl heading down to the depths of the underworld just to have something to control; Persephone (Amber Gray), who is relentlessly fighting to shake off the hands of her despotic husband; Hades (Tom Hewitt), who is now drunk on his own power; and Orpheus (Reeve Carney), a young poet who is tirelessly trying to fix the world.
This is a story of love, but it's also a story of absence, decision and doubt.
Through it all, these characters face their worst thoughts and heaviest doubts with the aid of the Fates (Jewelle Blackman, Jessie Shelton and Mariand Torres) and are given a guiding light and a hand to hold by Hermes (André de Shields), the trusty narrator. From beginning to end, "Hadestown" poses the question "What would you do to save your own?," and it ultimately leaves the audience wondering how one should face power: with love or with fear?
The world of this production is not only one of meticulous analysis and delicate execution, but it's also one of the most elaborate and intricate I've seen. This is a story of love, but it's also a story of absence, decision and doubt. 
There is a line in one of the songs — "Wait for Me ('Hey, the big artiste…')" — where, after Orpheus learns that Eurydice has left for Hadestown, Hermes asks: "Just how far would you go for her?" and Orpheus responds, "To the end of time, to the end of the earth…"
It makes you wonder — just how far would you go for love?
To me, this is the premise of the show. It's finding in yourself an immeasurable level of passion and wanting to give it all for those you love but finding it almost impossible to fight against your own head. It's being the king of the underworld and living in darkness until a kind-hearted poet restores the light. It's being Perspephone and numbing yourself with endless amounts of alcohol just to feel a little bit of freedom. It's Eurydice, risking love to save herself, risking joy for food.
This show sings a song of love and loss, not only through the lyrics and melodies conjured by show creator Anaïs Mitchell, but also through all the other elements that pull this show together. This show lives in its glory due to Rachel Chavkin's direction, which grabs the essence of Mitchell's words and twists them into a world of magic; Rachel Hauck's stage design, which very literally opens up into hell; Michael Krass's costume design, which describes every character to the most minute detail; Bradley King's lighting, which somehow resembles loneliness and artistry at the very same time; and through the presence of every single person involved in bringing "Hadestown" to life. 
All I can say is that the path to the underworld may be rocky, but it certainly is beautiful. From the swinging lamps that accompany Orpheus while he is en route to Hadestown to the chant of the workers singing:  "Low, keep your head, keep your head low / Oh you gotta keep your head low / If you wanna keep your head… " to the bright green and somber dark dresses Persephone carries on her shoulders, it is all an intricate work of art.
Needless to say, "Hadestown" is a must-see. From the very first word to the very last melody, this piece transports you into "a world of gods and men," a world where a girl had to fight for her own survival while a boy strived for the survival of others. 
It makes you wonder — just how far would you go for love?