'Continuity': Theater Through a Fresh Perspective
After a year without in-person live performance, first-year theater students reflect on artistry, crew work and COVID-19 restrictions
After a yearlong hiatus on in-person theater, starting college as a theater major is a task filled with nervousness, hope and a deep knowledge of the hard work that is to come. 
As the first mainstage play of Fordham's 2021-22 season, Bess Wohl's "Continuity" brings forth a very new experience for the first-year class of the theatre department. 
Required to work on crew for at least one show their first year at Fordham, the students are given a glimpse into the behind-the-scenes work, theater schedules and staging of a professional production. This year, however, had a very different approach to it.
Students here are encouraged to work in areas outside their focus.
The first-year theater students are by no means strangers to the world of the stage, but even so, juggling schoolwork, social life, a new environment and the tight schedules that accompany a professional piece is not an easy task to undertake. 
Whether in performance, design and production, directing, or playwriting, students here are encouraged to work in areas outside their focus. By working on the run crew, lighting or costuming, students have the chance to participate in college theater first hand. After experiencing the work on Fordham mainstage for the first time, a few first-year crew members shared a glimpse into the inner workings of Fordham Theatre, COVID-19 regulations and human connection. 
Riley Halpern, a theater major on the performance track and Fordham College at Lincoln Center (FCLC) '25, had a lot to say about her personal experience as an actor working on the backstage run crew. 
"I was a little nervous at first because I've never been on a run crew before, but my stage managers … have been incredibly kind and helpful. Once I got into a groove it's been a really cool way to start off my Fordham theatre experience," she said. 
She pointed out that even though the play was not set under normal theater circumstances — with masked actors and social distancing — you could still hear the laughter in the audience and the love of theater from every person in the room. 
Halpern also expressed a lot of affection for her fellow crew team and audience members by saying that even while working, the humanity of theater is never really gone.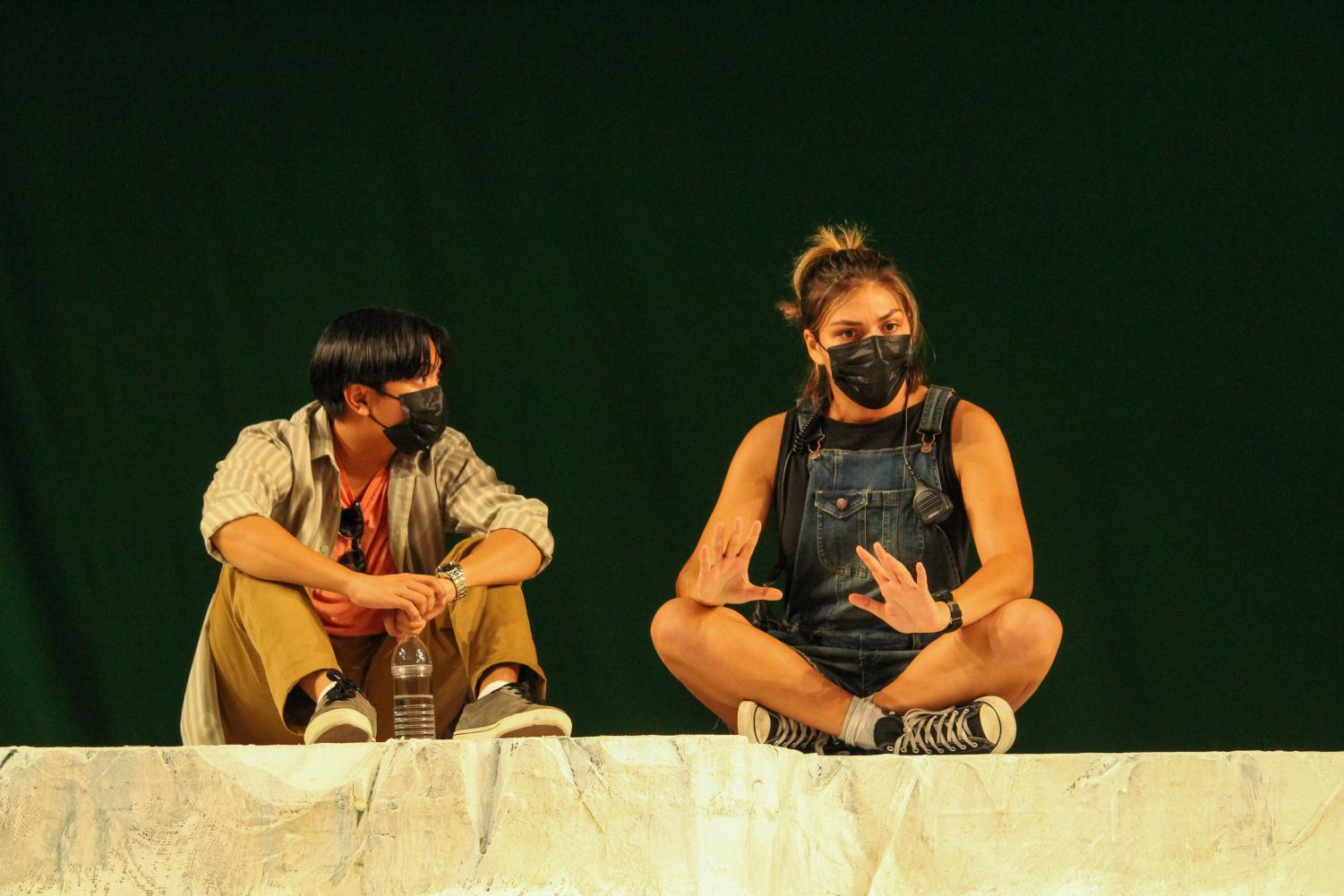 "We all wear masks and I am in charge of sanitizing the props, but the human connection with the audience is as good as ever," she said.  
Jaden Perez, another theater major on the performance track and FCLC '25, also gave us fresh insight into the basics of working on his first Fordham Theatre show. 
"The masks feel weaved into the play itself, and it's interestingly reinvigorating to go to the extent we thought wasn't possible only a while ago," Perez said. "Seeing how we were able to work with the masks instead of seeing it as a restriction was astounding."
"Continuity" may bring forth a feeling of worry or even dread in its audience.
He emphasized the fact that even though the COVID-19 pandemic put a stop to live performance for a long time, it has not stopped the impact theater can have on an audience. Even though the pandemic did change how theater works, the crew keeps finding new ways to adjust to the protocols required for a safe performance. 
"Schedules could be vastly shifted if someone had gotten infected, so precaution and coordination was key," Perez said. 
Out of everything, it seemed that the most common topic between first-years is the connection between audience and cast. Even with COVID-19 restrictions, the theater is able to bring back that feeling of community and artistry. The first-years were able to experience the feeling of harmony and love that theater brings while still being extremely mindful of the COVID-19 constraints.
With its basis on climate change and how art impacts the world, "Continuity" may bring forth a feeling of worry or even dread in its audience. However, being able to sit in a room and share that experience is like a breath of fresh air. Thanks to director Ryan Dobrin, the crew, the cast, the playwright Bess Wohl and everyone involved in the Fordham Theatre production, the Fordham community was able to return to another mainstage performance.