The Great Escape: Your Guide to Everyday Getaways In NYC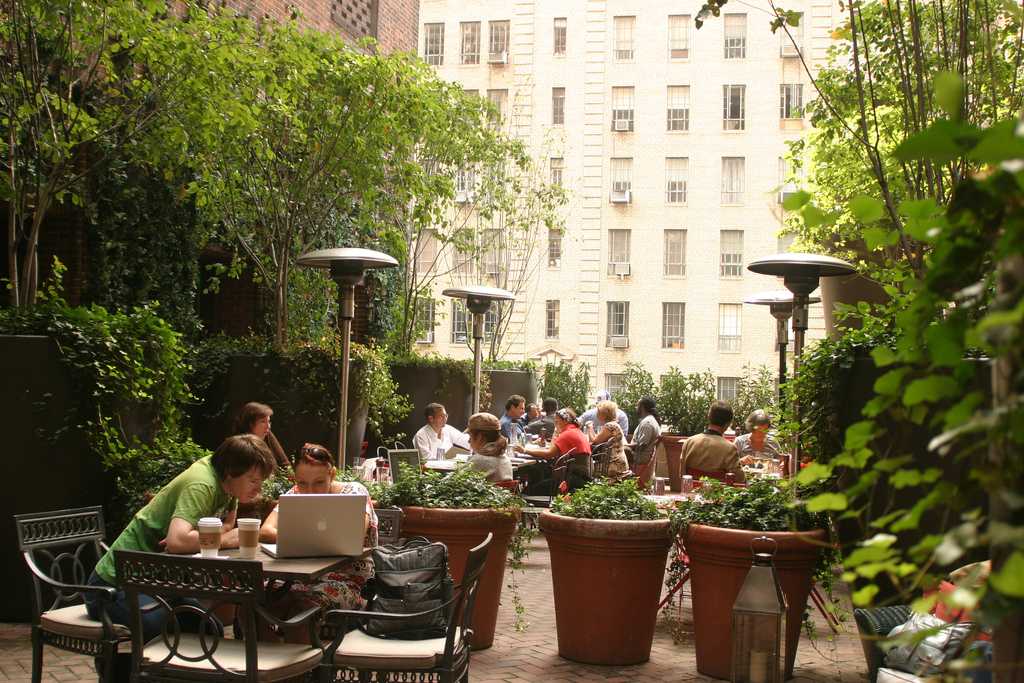 Published: October 11, 2007
Between midterms and papers, October is the month when you finally settle into school routines. It is also the time when homesickness  can set in. You may be missing home more and more every time you look at the collages of pictures of your friends and family on your dorm room wall. And as much as you like your roomates, at times they can drive you nuts. Sometimes a magnificent escape in the city is the best remedy to treat homesickness, the blues or to get away from the craziness you may experience living in the dorms.
Escaping from everyone in this enormous metropolis may seem impossible, but it could be the greatest thing since sliced bread if you hit the right spots. Forget the Starbucks on every corner. Forget walking two blocks to Central Park (you'll probably end up seeing a ton of Fordham kids there anyway). Instead, consider these recommendations for hideaway hot spots.
Pinkberry
7 W. 32nd St. (bt. Broadway & 5th Ave.)
(212) 695-9631
Getting there: B or D to 34th St.
Price Range: $2.50 – $10
This cozy little frozen yogurt shop (one of five scattered throughout the city) has a relaxing atmosphere and tons of delicious, healthy toppings like kiwi, mango, granola and carob chips to choose from for your special treats. Brianna Steinhilber, FCLC '10, said, "It has a unique kind of ice cream, is not too expensive and always satisfies your sweet tooth." Relaxation has never been so sweet.
The Hudson Hotel's Courtyard
356 W. 58th St. (bt. 8th & 9th Aves) (212) 554-6000
Getting there: Only a short walk away from FCLC!
Price Range: FREE to explore, drinks about $3 – $7
At the Hudson Hotel, this peaceful little hideaway is perfect for reading, relaxing, having a warm cup of coffee or mingling with hotel guests. Genevieve Martin, FCLC '10, said, "It's tranquil. You know no one is going to bother you." Anyone who  needs a moment to themselves without any disturbances would definitely find this stunning, greenery-filled beauty the perfect choice.
The Staten Island Ferry
1 South Street at Battery Park (Whitehall Ferry Terminal)
www.siferry.com
Getting there: 1, R or W to Whitehall St. – South Ferry
Price Range: FREE!
Hours: Ferry runs every half hour, on the half hour
Take a trip across the Hudson River, only a half an hour in either direction, to unwind without spending a fortune. Roger Quiles, FCLC '09, said, "The views of the city are gorgeous and priceless. You can even grab lunch and take it on the boat or you can watch the sunset at night." It's only a short subway ride away, and gives you the perfect close-up view of the Statue of Liberty. If you're up for bringing some company along, the ride is a "great date spot for couples, and a good family trip for out-of-towners and New York enthusiasts," he said.
Carl Schurz Park
East End Avenue from 84th-90th Sts.
(212) 459-4455
Getting there: M31 bus crosstown from 57th St. and 9th Ave. to York Ave. and E. 86th
Price Range: FREE!
A lush, serene, quiet park that envelopes the towering building of the Upper East Side is exactly what you'll find at Carl Schurz Park. It has a playground, dog runs and an array of activities to choose from throughout the year. Thomas D'Onofrio, FCLC '08, said that he loves to relax there because "the water is gorgeous to look at." In addition, "Animal lovers will enjoy watching dogs run in the park," he said, "and bookworms will enjoy all the peace and quiet while burying themselves in literature."
On October 21st from 1-3pm, the park will be hosting it's annual Halloween Howl, a dog-costume competition and parade.
Deck at South street Seaport
Pier 17, Fulton and South Sts.
(212) 732-7678
Getting there: A or C to Broadway-Nassau
Price Range: FREE!
What's better than sunbathing outdoors with the breeze of the river blowing through your hair? Nothing! That's why the sundeck at South Street Seaport is the perfect niche to relax and have a sunny escape. Although it is most enjoyable  during the summer and fall months,  the deck is open and used year-round, with free lounge chairs and tables available. Ariane Nomikos, FCLC '10, said, "There are a lot of tourists but it's worth going to for the views and the mix of nature and urban life." Best of all, the deck is located at the Seaport mall, where you can find tons of shops with interesting items including posters, paintings, pictures, clothing, electronics, jewelry, food, hats, specialty and many  personalized goods stores. So if the scenic view fails, retail therapy is not far away.