Fordham's Literary Journal The Comma and Coming Together
Students collaborate on multimedia projects for The Comma's virtual showcase, 'COMMaUNION'
The Comma held its second annual showcase, "COMMaUNION," over Zoom on Friday, March 26, at 7 p.m. Club members paired off before the event to create joint pieces in accordance with the showcase's theme: communion. Artists and writers worked together with the intent to "focus on fostering relationships between different types of creators" and create a sense of unity and connection within the club. All of the projects are available for viewing on The Comma's website.
The Zoom showcase hosted more than 30 attendees — creators included — and presented 12 collaborative projects. Participants focused on themes like interpersonal and religious relationships in their work. The combination of visual and verbal art forms created an emotional evening for attendees, and the encouragement participants received from their peers demonstrates the practical aspect of the event's theme. The event was non-medium-specific, so the showcase included videos, paintings, photo collages, poetry, a Spotify playlist, maps and short fictional works. Creators in attendance gave brief descriptions of their projects as they were displayed on screen. 

The reliance upon another person to create a complete work allowed club members to connect with each other and understand their partner and mutual ideas in a more in-depth manner. Many of the students were unable to work together in person, so their experience was more than just a virtual presentation — they had to adapt their creative processes to work online with one another. Some of the students never had the opportunity to meet their partners before working together. The deeply personal nature of some of the projects conveyed life experiences, introspection and emotional connection. 
Marissa Pecorelli, Fordham College at Lincoln Center (FCLC) '23, expressed how "it was such a moving event, after everyone was done presenting we all kind of sat there trying to process everything. Seeing everyone's vulnerability was just amazing, and it was so emotional despite being all through Zoom."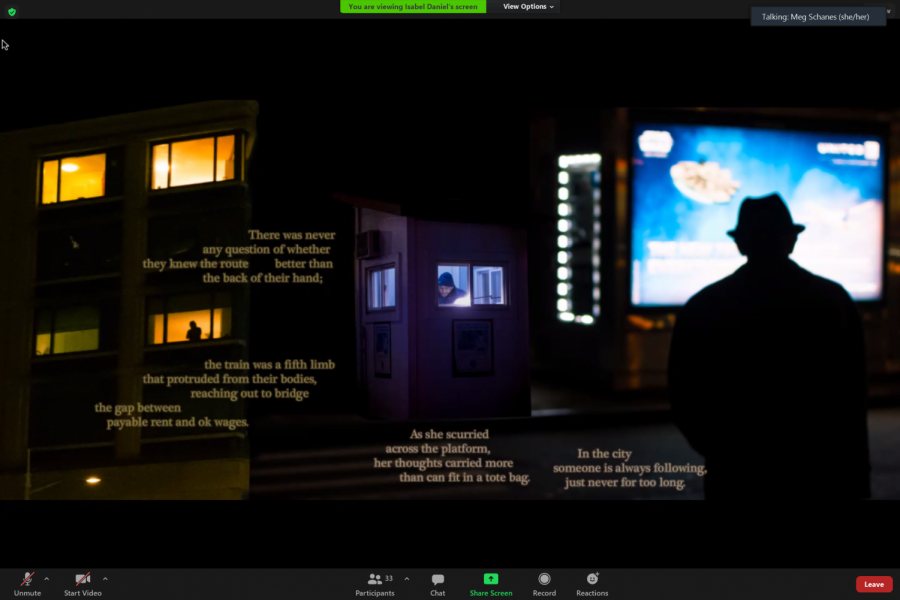 Isabella Gonzalez, FCLC '23, said the event fostered a "collaborative, creative, but also safe space." She worked with Leah Toledano, FCLC '21, on their project "The Father and the Son & the Body of an Unknown Christ." Gonzalez used the showcase's theme as a means of introspection and exploration of her identity and how it is affected by life experiences. Her poem accompanies the painting and photo aspects of the pair's finished work. 
The chat function on Zoom was a space of outpouring of support for the artists throughout the event. "COMMaUNION" was The Comma's first virtual showcase, but club members seemed to adapt their presentations to the new format without issue. Each pair took the prompt in a different direction. The diversity of the submissions highlights how multifaceted a concept like communion can be, as well as the creativity of the Fordham community. 
The Comma believes that community is integral to creativity. This event was designed to engage and unite students despite the distance between them. Editorial board member Bea Mendoza, FCLC '22, said that "COMMaUNION was such a special experience that brought together so many different Fordham creatives and I'm so happy to have been a part of it!"