Fordham Softball Blanks Seton Hall in Convincing 6-0 Win
Aughinbaugh shines as Rams improve to 6-3 on the season
Fordham softball picked up its third straight win with a resounding 6-0 victory on St. Patrick's Day against the Seton Hall University (SHU) Pirates at Rose Hill's Bahoshy Field. With this shutout victory, the Rams improved to 6-3 on the season and avenged a previous 12-6 loss at SHU on March 6. 
The Rams' win was made possible by a gritty complete-game shutout from Madie Aughinbaugh, Graduate School of Arts and Sciences '22, who struck out five and scattered seven hits over seven innings with four walks. She also helped herself with a solid day at the dish, going 2-4 with two RBIs and two runs scored. Aughinbaugh has been an indispensable part of Fordham's success since she joined in 2017, and the team will look to win some hardware during her final year on the roster. 
Aughinbaugh followed a scoreless top half of the first inning with a leadoff double to center. She would score one batter later on a flyout to right by shortstop Sarah Taffet, Gabelli School of Business at Rose Hill (GSBRH) '22, and a throwing error by the Pirates' right fielder. Just like that, Fordham was up 1-0 going into the second.
Aughinbaugh's outing was defined by her innate ability to shake off pressure and quiet a persistent SHU offense, frustrating her opponents by escaping jam after jam. She got herself into a tight spot in the top of the third, surrendering a single and a double which put runners on first and third with only one out. She came back with a clutch strikeout on a nasty offspeed pitch. She walked the next batter to load the bases, but a ground ball to third baseman Bella Ayala, Fordham College at Rose Hill (FCRH) '24, ended the threat. 
Centerfielder Brianna Pinto, GSBRH '21, dazzled with her speed and heads-up baserunning in the bottom of the third. After she beat out a ground ball to shortstop for an infield hit, Pinto stole second on the next pitch to the leadoff hitter Aughinbaugh. She then stole third two pitches later and Aughinbaugh drove her in with a groundout to second, making it 2-0 Rams.
After an uneventful top of the fourth, Fordham struck again in an inning that saw several players make valuable efforts. First baseman Rachel Hubertus, FCRH '21, smoked a single through the left side. Following a swinging strikeout by designated hitter Julia Petrovich, FCRH '24, Ayala poked a single through the right side to advance Hubertus to second.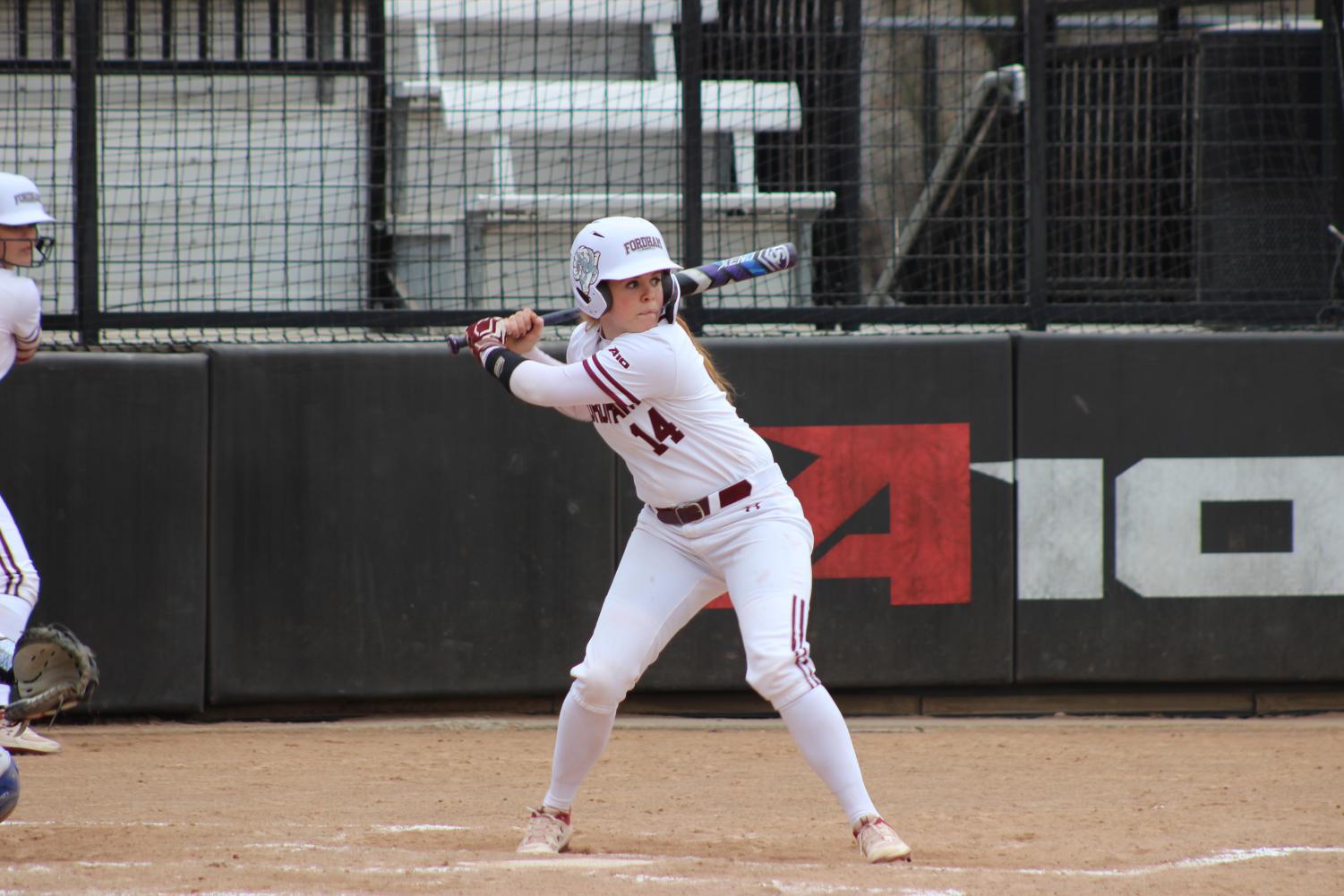 Catcher Aubree Barney, FCRH '21, held up on a 3-2 check swing, sending her to first and loading the bases for Michaela Carter, FCRH '23. Carter came through with a hard-hit grounder to third, scoring Hubertus and putting Fordham up by three runs. The Pirates escaped without any further damage. 
In the top of the fifth inning, Aughinbaugh found herself in another jam. A two-out single to right followed by a ringing double to center put runners on second and third. This time, Aughinbaugh was saved by her teammate Taffet, who snagged a screaming line drive to end SHU's rally. 
Fordham got on base again in the bottom of the fifth but was unable to add on to its lead. For a few nerve-racking minutes in the top of the sixth, Aughinbaugh lost control of the strike zone and walked three SHU batters. Luckily, she was able to regain her focus when it mattered. A putout at shortstop and another groundout to 2B Julia Martine, GSBRH '22, helped the Rams escape yet another tight spot unscathed.
The Rams pulled away in the bottom half of the sixth with three runs, making it 6-0. After a Barney single and a Carter groundout, Aughinbaugh roped a double to left-center for her second RBI of the day. Taffet then singled through the left side, advancing Aughinbaugh to third. Carter capped off Fordham's excellent day with a double to left-center of her own, scoring two and putting the game out of reach. 
Aughinbaugh completed the top half of the seventh with little issue, sealing the Rams' 6-0 victory. It was a career day for her, but she was also helped by timely hitting throughout the Fordham lineup as well as impeccable defense and a winning attitude. It was an encouraging win for the Rams, and they hope to carry this momentum through the end of their homestand when the University of Maine visits Bahoshy Field this weekend.
Get the latest Fordham sports updates on your Twitter feed. Follow The Observer's sports Twitter page here.