Fordham Baseball Defeats Sacred Heart in 10-0 Romp
Rams continue undefeated 2021 season with fifth straight win
Fordham baseball won a decisive 10-0 victory against the Sacred Heart University (SHU) Pioneers at Houlihan Park on Wednesday, March 10, bringing the Rams' preseason record to a flawless 5-0. With their latest win, the Rams bring their cumulative winning streak to 14 straight games dating back to last season.
Led by a relentless offensive onslaught and sparkling pitching throughout, Fordham made a statement with its latest victory following an exciting 9-7 win at Stony Brook University on Tuesday.
After an uneventful top of the first from starting pitcher Gabe Karslo, Gabelli School of Business at Rose Hill (GSBRH) '22, Fordham busted out of the gate in the bottom half of the opening frame. Pioneers starting pitcher Chase Jeter, SHU '23, quickly loaded the bases by hitting two Rams batters and walking another. In the next at-bat, designated hitter Nick Labella, Fordham College at Rose Hill (FCRH) '21, laced a single to right-center to give Fordham a 2-0 lead. Second baseman Zach Selinger, FCRH '23, maintained this forward momentum, roping a triple to center field and driving in two more.
The Rams were ahead 4-0 before an out had been recorded, and a sacrifice fly to right by catcher Andy Semo, GSBRH '22, drove in Selinger to give the team a 5-0 advantage going into the second inning.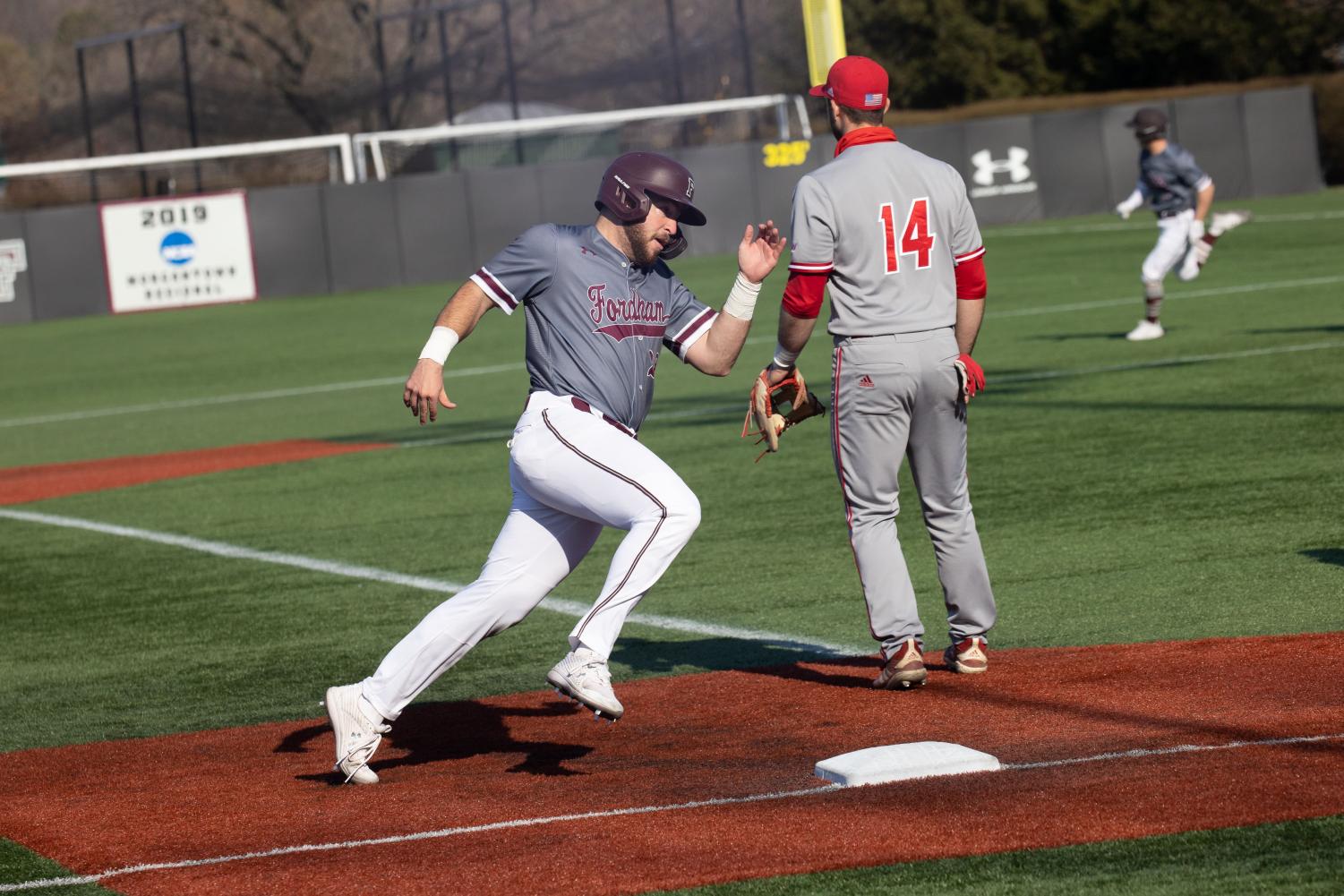 The Rams would not stop there. Following another pristine inning from Karslo, right fielder Ryan Thiesse, FCRH '24, opened up the bottom of the second with a nifty bunt single down the third base line. After left fielder Jake Guercio, GSBRH '22, was hit by a pitch for the second time, SHU sat down two straight with a strikeout and a flyout to center. Labella and Selinger came through for the Fordham offense again, with a single to left and a ringing double to right center running up the score for the Rams, 8-0. 
Over the next two innings, Karslo struck out three batters, continuing to blank the Sacred Heart offense with his blazing fastball and pinpoint control. In the bottom of the fourth, the Rams once again loaded the bases with the help of sloppy pitching from SHU. Guercio was hit by yet another pitch, Jason Coules, FCRH '22, singled to left, and Casey Brown, FCRH '21, was also hit. In four innings, Guercio and Brown had been hit by five pitches. 
Each pitcher threw a scoreless inning, with Michael Ghiorzi, GSBRH '22, and Ben Kovel, GSBRH '23, striking out two batters each.
Guercio and Coules later scored on a fielder's choice from Selinger and a throwing error, which put Fordham up 10-0.
After another scoreless inning in the top of the fifth from Karslo, the next four innings of work were split among four Rams pitchers. Each pitcher threw a scoreless inning, with Michael Ghiorzi, GSBRH '22, and Ben Kovel, GSBRH '23, striking out two batters each. 
Karslo's efforts earned him the win, moving his record to 2-0 on the season following his win against NJIT on Sunday, March 7. He struck out five over five innings of work, surrendering only two hits and one walk. It was an encouraging outing for Karslo; the team hopes that he will continue to dominate over the course of the season. 
After a two-day break, the Rams will kick off a three-game series against Fairleigh Dickinson University (FDU) starting on Friday, March 12. Fordham will play all three games in the comfort of its home ballpark. The two teams will enter the series with opposing degrees of momentum, as FDU lost its first game of the season to LIU by a score of 12-0. 
Fordham will look to capitalize on this discrepancy in recent success and their home field advantage against FDU. Though Fordham is still a month away from the beginning of Atlantic 10 conference play, the preseason is an excellent indicator of where the team is headed as the season progresses.
Get the latest Fordham sports updates on your Twitter feed. Follow The Observer's sports Twitter page here.