Students Report Missing Items and Complicated Move-In Process
Students on both campuses claim they no longer trust the Residential Life Office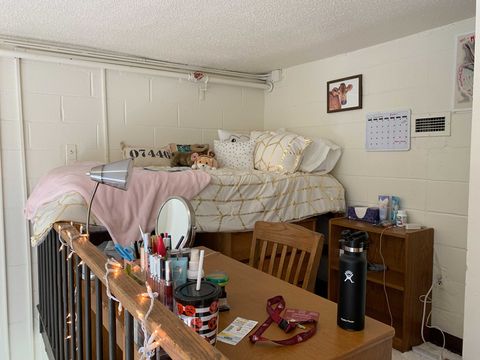 Rose Hill and Lincoln Center students have reported items missing from their dorm rooms upon returning to campus from winter break and when moving out last May. Attempts to locate the missing items through Residential Life (ResLife) have not been successful, leaving students frustrated.
Elena Morales, Fordham College at Lincoln Center (FCLC) '23, created a post in the Reddit thread r/Fordham titled "Welp. Literally of my stuff is gone now" on Feb. 1. It was reposted on the @letstalkaboutitfordham Instagram page. 
Students left comments in the Reddit thread and on the Instagram post echoing similar situations, with several incidents occurring last March when students were sent home when in-person classes were suspended.
Morales moved back into her dorm room in McMahon Hall on Jan. 30 after leaving at the end of the fall semester to discover that cooking supplies, bedding and clothing were all missing. She filed a report with her Resident Assistant (RA) and ResLife and was told to make a list of everything missing and its approximate cost. Morales is hoping for compensation.
"I don't feel comfortable leaving anything in my dorm anymore. I mean, how could you get rid of someone's personal belongings and not give them warning? I had to buy all of my stuff again." Elena Morales, FCLC '23
Another McMahon resident, Duncan Taylor, FCLC '22, reported lost AirPods, which he left on his desk in his dorm room in March before leaving campus. When he returned for the scheduled move-out in May, they were gone. 
"I asked my roommates if they had seen them or taken them by accident and nobody had done so," Taylor said. "Since it was already May and move out when I found them missing, there wasn't really anybody I could reach out to about them missing because I had no idea where they would've gone or who I could've even talked to about it."
An anonymous Rose Hill senior also reported missing two eyeshadow palettes from their dorm room in Finlay Hall last March. After contacting ResLife, the senior said they felt dismissed by ResLife and never located the missing makeup. 
Beatriz Barraclough-Tan, Fordham College at Rose Hill '21, reported that she almost lost access to her dorm room. Barraclough-Tan was on a seven-hour drive to New York City when she called ResLife to confirm they had all of the coronavirus testing information necessary for her to move in.
After trying to locate her in the system for 20 minutes, Barraclough-Tan was informed that ResLife had received an Intent to Vacate form, which would indicate that she did not intend to return to her dorm room for the spring 2021 semester — except she had never filled one out. 
"I don't know why they had one, but thank god they were able to put me back into the apartment I was supposed to be in, since I was three hours away from the city with all my stuff," Barraclough-Tan said. 
These mixups have caused some students to distrust ResLife. "I don't feel comfortable leaving anything in my dorm anymore. I mean, how could you get rid of someone's personal belongings and not give them warning? I had to buy all of my stuff again," said Morales. "The fact that I'm not the only person who had this problem tells me ResLife is very disorganized with this sort of thing and there's nothing preventing it from happening again."
Neither the Office of Residential Life at Rose Hill nor at Lincoln Center responded to The Observer's request for comment.
About the Contributor
CHLOE ZELCH, Assistant News Editor
Chloe Zelch, FCLC '24, is one of the assistant news editors at The Observer. She is majoring in journalism and possibly new media & digital design. When she's not writing and reporting, she loves to watch anime and knit.