Rock Star Rams: The Adjacents Drop New Single
Fordham juniors Duncan Taylor, Kyan Hejazi and Cam Dasher team up on their new song, 'Sell My Soul'
"Tell me 'you should stay'; I will if you want me," are the opening lyrics of "Sell My Soul," a new single released by Fordham duo The Adjacents, which speak directly to those who have sacrificed their own identity to stay in a toxic relationship. 
Duncan Taylor and Kyan Hejazi, both Fordham College at Lincoln Center (FCLC) '22, comprise the band and collaborated with Cam Dasher, FCLC '22, to release their new single on Feb. 14. They also received help from Liam Kenny, FCLC '22, whose pictures were used to create the cover art. 
Taylor and Hejazi met in their first year in the FCLC '22 GroupMe and bonded over their shared love of Kanye West. As their friendship blossomed, they began making music together under the name Prototype Milk, which paid homage to a meme that they saw a few years prior. As they started becoming more serious about music production, they changed their name to The Adjacents to indicate that while they have similarities to many of their influencers, they will never be exactly the same.
"I blindly wanted love to conquer all, I had this obsession with it that I needed to let go. I literally would have sold my soul for it." Kyan Hejazi, FCLC '22
"We felt Adjacent was most fitting because we are adjacent to a lot of different influences … but never really belong to any. It feels appropriate because we kind of move between different groups and sounds, and art in general," Taylor explained.
Inspired by a prolonged breakup, Hejazi wrote the ballad with the intention of being vulnerable with his listeners. He made the decision to release the single on Valentine's Day in an effort to take back the holiday from past experiences that tainted his outlook on it. 
"I blindly wanted love to conquer all, I had this obsession with it that I needed to let go. I literally would have sold my soul for it," Hejazi said of his muse. 
The emotional lyrics of "Sell My Soul" draw from the styles of musical groups such as My Bloody Valentine and The Microphones, who are known for their raw and poetic writing. "'Cover me in paint, all over my body. / Let me see your face, your eyes are like honey,' is probably my favorite line," Taylor said.
Hejazi agreed. Those lyrics "are one of the most specific references to the person I write this song about. She is actually a big reason why I got into art and expression in general."
The Adjacents' indie-tronica style incorporates instrumentals that are heavily influenced by lo-fi guitar and drum beats, a theme that will also be present in their own upcoming EP. "We want people to feel it and groove to it, no matter what," Taylor stated. 
Their newest single, however, follows the dark wave genre more closely. Both Hejazi and Taylor attest that "Sell My Soul" is the track that they are proudest of. The duo knew that Dasher's background vocals would add a soul-stirring dimension to the track since they had collaborated with them before.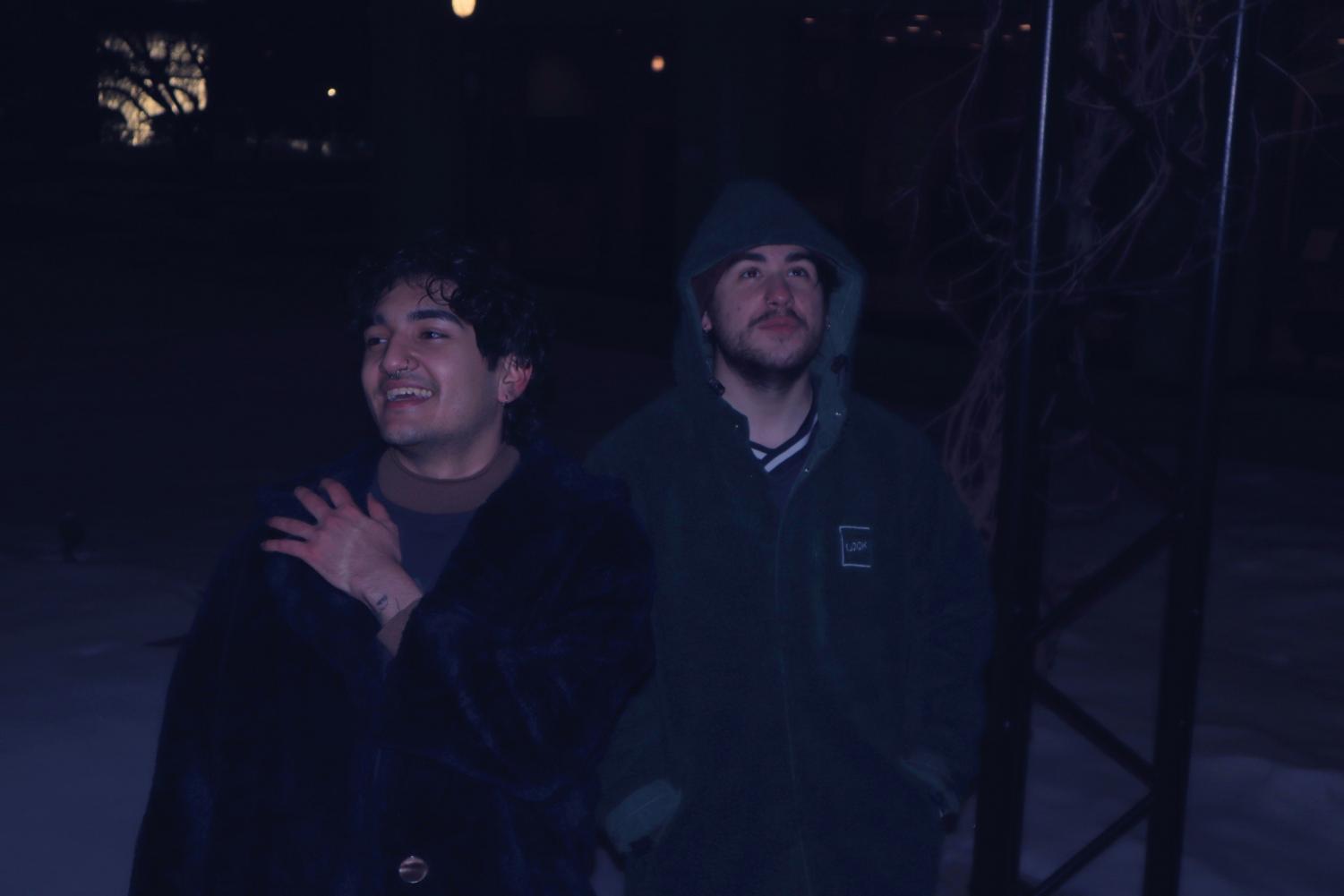 "Kyan and I both struggle with serious imposter syndrome, with making any sort of art where you really doubt yourself or are scared of what people will think … This is our first song where we managed to beat that," Taylor said.
The musical duo is extremely grateful for the support they have received from their listeners and friends, particularly those within the music community at Fordham. "I'd like to see them outside of Fordham. If I saw a poster of them on the street or heard about a performance, I would definitely go in support," said Caroline Todd, FCLC '24. 
The two musicians offered some words of encouragement for those who are new to the creative process and anxious about releasing music. Both Hejazi and Taylor emphasized the importance of not being afraid to step out of your comfort zone — to take that first step and record something, even if it doesn't sound good at first.
From there, according to the musicians, a healthy dose of self-criticism will aid in the editing process and could lead to a piece that is worthwhile.
"Definitely don't be afraid to just do it," Hejazi advised, "Why not you?" 
"Sell My Soul" is available on all streaming platforms, including Spotify, Apple Music, Google Play, YouTube and SoundCloud. Their Instagram account, @the_adjacents, is also updated with information about their newest projects and releases.