Ram Jams: 'TYRON'
Slowthai tries something new on his sophomore album to great success
Genre: U.K. Hip-hop
On a Playlist with: Skepta, Aminé, Octavian, Denzel Curry, Mura Musa 
It's June 22, 2019, and I'm packed into Elsewhere's tiny bar venue in Brooklyn to see the British rapper Slowthai. The artist, whom I only discovered from a YouTube recommendation, had just dropped his debut album "Nothing Great About Britain," and I was eager to see him live. I couldn't convince any of my friends to go with me, so I'm socializing with others at the concert. 
One man from London was in the city on business, and he was ecstatic that his trip lined up with this concert because he said Slowthai would never play at such a small venue back in the U.K. I think I only went to the concert alone because I knew that he'd never play such a small venue in the U.S. again. 
Over a year later, I was proven right. Slowthai would come back to Brooklyn the following September to play at the even larger Williamsburg Music Hall, and two months later he would open for Brockhampton at Madison Square Garden. He's worked with Aminé, Flume and the Gorillaz, and he has even gotten himself a Grammy nomination for his appearance on Disclosure's song "My High." 
Now, he has released his sophomore album, "TYRON," and it's met, if not exceeded, my expectations. 
The album has two distinct halves characterized by the shifting sound and tone of the songs as well as the titles (the first seven song titles are all capital letters, while the next seven are all lowercase). The first half is dark, hard and heavy with bass so powerful that I had to turn the levels down on my speaker out of respect for my neighbors' peace.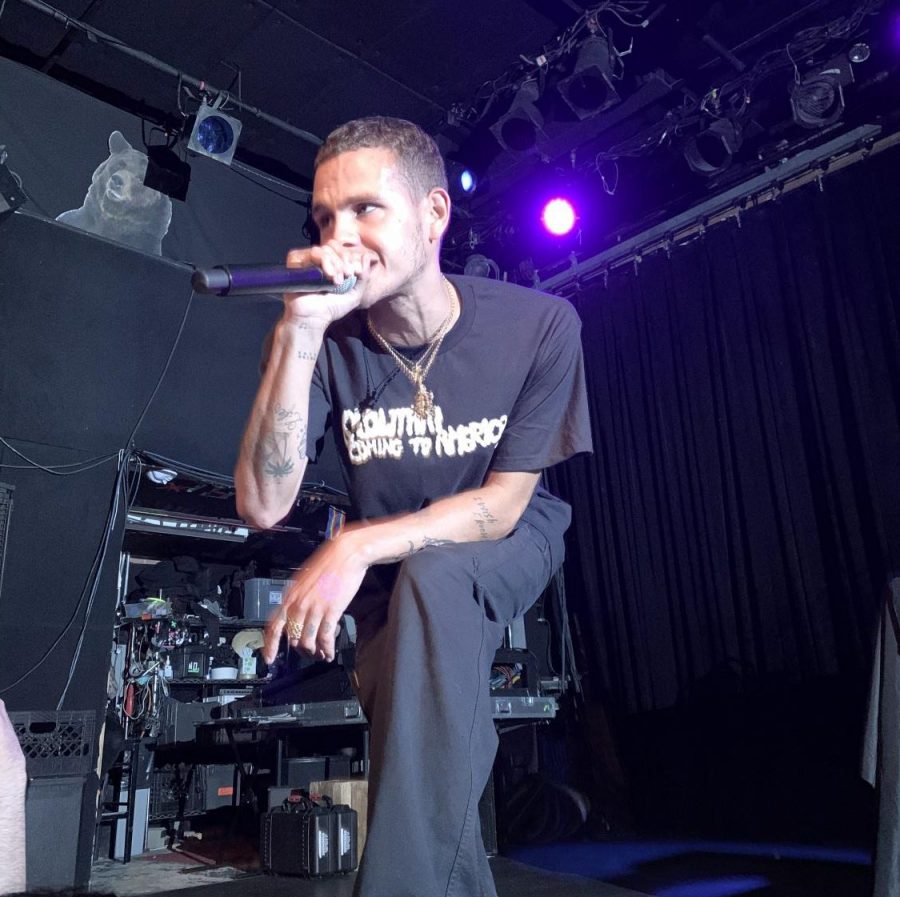 "CANCELLED" features a verse from U.K. legend and early Slowthai supporter Skepta that is reminiscent of "Inglorious," their collaboration on Slowthai's last album. Just like "Inglorious," I wasn't initially into "CANCELLED" when Slowthai released it early as a single, but once I heard it within the album I was hooked.
The same can't be said about "MAZZA." I wouldn't say the song is bad or inhibits the album at all, but I was left expecting more from an A$AP Rocky feature. Slowthai just recently signed to the New York-based A$AP record label AWGE, though, so we should expect more collaborations between Slowthai and the A$AP Mob in the future. 
The rest of the first half — "VEX," "WOT," "DEAD" and "PLAY WITH FIRE" — all blend together, but not in a way where they're forgettable; rather, it's in a very engaging way where you get so lost in the music that you don't realize you just listened to four songs. "PLAY WITH FIRE" delivers one of my favorite lines on the project: "If I clock an interception, Cruyff turn, watch your knees break." A Cruyff turn is a soccer dribbling tactic to get around an opponent that was popularized by Dutch soccer great Johan Cruyff. It's charming to hear European rappers reference soccer players the same way that American rappers will often reference basketball or football players.
The second half begins with the best song on the album, "i tried." The song opens with a beautifully sad sample from Trey Gruber's 2019 song of the same name acting as the bridge. From there, Slowthai goes into a long verse about the struggle of making it out of Northampton and his rise to fame. For how goofy and raunchy Slowthai often gets, it's songs like this one that show he's far more than what meets the eye. 
"push" featuring Deb Never rights all of the previous song's wrongs, though. Producer Kwes Darko, who has produced the bulk of Slowthai's discography, deviates from his usual hard and heavy production style for this song.
Two songs later we get "terms," which unfortunately ended up being my least favorite song on the album. With Kenny Beats on production and features from Dominic Fike and Denzel Curry, I really expected this to be the most exciting new track.
Instead, we got something that sticks out from the rest of the album in sound and some pretty forgettable Slowthai verses. After how awesome Slowthai and Denzel Curry's last collaboration, "PSYCHO," was, I was devastated when Curry didn't even have a verse on "terms." It should be illegal to say a song features Curry when you're only going to use him for some background vocals during the chorus. 
"push" featuring Deb Never rights all of the previous song's wrongs, though. Producer Kwes Darko, who has produced the bulk of Slowthai's discography, deviates from his usual hard and heavy production style for this song. The last time he did a slower, instrumental beat like this was on "Gorgeous," my favorite song from Slowthai's first album. 
The next two songs, "nhs" and "feel away," were my favorite early singles to be released from this project, and they're even better within the context of the album. When I heard one of my other favorite artists in the world, James Blake, would be featured on "feel away," I couldn't believe it. Both artists' music styles are so different that I had never even considered a collaboration between the two. However, Blake has proved his ability to work within different genres time and time again so, as expected, he knocked his feature out of the park. 
Ultimately, "TYRON" is far more coherent than "Nothing Great About Britain" and shows a positive progression in Slowthai's career. That being said, I still enjoy his debut album a little more. I think the peaks of "Nothing Great About Britain" rise higher than those on "TYRON" and its valleys don't sink quite as low. 
The Bottom Line: If you and your friends are not already listening to Slowthai, put them onto his music now so you can seem cool.
The Peaks: "CANCELLED," "PLAY WITH FIRE," "i tried," "push," "feel away"
The Valleys: "MAZZA," "terms"
The Verdict: 7.5/10