Fordham Women's Basketball Salvages Weekend in Win Over Saint Louis, 72-63
Rams thrive amid scheduling snafu after two unrelated COVID-19 postponements
After a week full of postponements, scheduling shifts and last-second road trips, the Fordham women's basketball team finally managed to return to the court Sunday, Jan. 17, and easily handled the Saint Louis University Billikens in a 72-63 victory.
The Rams' offensive production was stellar, as the 72 points they earned tied their previous best performance this season against Hofstra on Dec. 18. However, the unexpected nature of the game is what fans will likely remember. In fact, three days prior, Fordham was preparing to play a different opponent on a different day in a different state before the effects of the pandemic altered the team's course dramatically.
Pandemic Pandemonium in the A10
Fordham's chaotic weekend in January was actually first set in motion by events from the previous month. On Dec. 30, the Saint Louis women's basketball team announced that a member within the program had tested positive for COVID-19. Per NCAA regulations, the team entered quarantine for two weeks, giving the Billikens ample time to postpone their initial scheduled game with Fordham on Wednesday, Jan. 13.
With that game canceled, the Rams had an entire week to prepare for their next contest against the Dayton University Flyers on Saturday, Jan. 16. The team arrived in Dayton, Ohio, Thursday night, only to learn on Friday that there wouldn't be a game in which to compete.
The following day, Fordham Athletics confirmed that a member of the Dayton team had tested positive for COVID-19, forcing the Flyers into quarantine. The Rams and Atlantic 10 (A10) conference worked to amend the situation as the team found itself stranded in Ohio without an opponent.
The schedule change forced the team to prepare for an entirely new opponent on short notice, though Saint Louis didn't exactly have an advantage with just three days of practice time before its first game of the new year.
To accompany news of the postponement, the A10 announced an additional schedule change. To salvage Fordham's weekend, the postponed game from Jan. 13 against Saint Louis was rescheduled to Sunday, Jan. 17. This forced the Fordham team to take a bus from Dayton, Ohio, to St. Louis, Missouri, an additional trip for which Head Coach Stephanie Gaitley commended her players.
"SUPER PROUD of the resiliency of our team," Gaitley tweeted Saturday. "Arrive in Dayton late on Thursday night-find out on Friday that they are shut down -jump on a bus for 6 hrs and arrive in St. Louis last night."
In her tweet, Gaitley also pointed out that the schedule change forced the team to prepare for an entirely new opponent on short notice, though Saint Louis didn't exactly have an advantage with just three days of practice time before its first game of the new year. 
In fact, the pandemic had affected the Saint Louis team more than any other in the A10 after the Billikens received back-to-back positive tests on Dec. 8 and Dec. 30. Entering their matchup against Fordham, they had only participated in two games and had not played since Dec. 6.
Both Teams Start Slow, Fordham Finishes Stronger
The two teams were trying to overcome different sorts of unpreparedness, and both struggled early on in Sunday's game. In the first quarter, Saint Louis only scored 13 points, shooting 4-for-13 from the field, but somehow held an eight-point lead over Fordham anyway. The Rams scored five points in the first 10 minutes, a brutal start in which they shot 2-for-18 from the field and 1-for-10 from beyond the three-point arc.
For a moment, it appeared that Fordham was picking up where it left off against the University of Massachusetts on Jan. 10, when the team relinquished a first-half lead with poor shooting and sloppy play. However, with the second quarter came a long-overdue barrage of offense from a Rams team accustomed to scoring.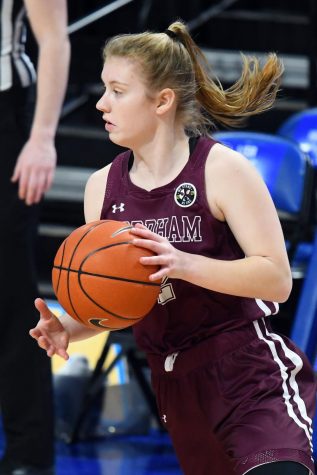 Fordham quintupled its first quarter total in the second, scoring 25 points to take a 30-27 lead at halftime. Anna DeWolfe, Fordham College at Rose Hill (FCRH) '23, scored 12 on her own to lead the Rams on one of their most impressive runs all season.
Both teams played fairly well in the third quarter and exchanged baskets throughout the 10-minute stretch. Fordham led by as much as 10, but a last-second run by Saint Louis cut the margin to five going into the fourth, 47-42.
In past games, the Rams have struggled with fatigue late in games, a consequence of depending on key starters without many contributors coming off the bench. However, in their game against the Billikens, no such weakness was on display as the team went on another offensive tear.
In the final 10 minutes, Fordham scored another 25 points, with 22 coming from two players: DeWolfe and Kaitlyn Downey, FCRH '22. Saint Louis nearly matched its opponent's torrent pace, scoring 21 in its own right, but there was no chance of making up the deficit as Fordham cruised to an easy 72-63 victory. 
"We have worked hard to stay together and focus on the positives and I'm so happy for them that their hard work paid off," Gaitley said after the game.
As usual, DeWolfe led the team in offense with 26 points, but Downey's season-high 24-point performance was integral to the Rams' two big runs, and her 13 rebounds only add to her reputation as one of the most dangerous paint presences in the A10 conference. Kendell Heremaia, FCRH '21, also performed well in a complementary role, scoring 14 points and grabbing nine rebounds without committing a single turnover.
In a week that was nearly taken away from them by the pandemic, the Fordham Rams seized a last-second opportunity to play and thrived under difficult conditions to earn their fourth conference victory of the season. The Rams' next game on Friday, Jan. 22, against St. Bonaventure is still currently on the schedule, marking a return to normalcy in a season that rarely fits that description.