The Rise of Anna DeWolfe
A star in the making for Fordham women's basketball
Amid the COVID-19 pandemic, many were concerned that there would be no 2020-21 NCAA women's basketball. Nevertheless, college basketball is back, and Fordham appears strong. Through seven games, the Rams are 5-2 and have won three straight games, including back-to-back victories in conference play. One player who has seen an increased role at Rose Hill both on the court and as a leader is guard and captain, Anna DeWolfe, Fordham College at Rose Hill '23. 
The Rams are in search of leadership during what has been the most unique basketball season for many of the Fordham players as they pursue an Atlantic 10 (A10) championship, and DeWolfe might be their answer. 
DeWolfe's leadership abilities first became apparent during her prolific high school career. A four-year captain, DeWolfe led her high school team to two state titles and was named the Varsity Maine Player of the Year twice, according to the Portland Press Herald. 
In an interview with the Herald, DeWolfe mentioned how important it was for her to be a "good role model for the younger girls" in her community, emphasizing her strong character and willingness to make those around her better.
This quality particularly stood out to Fordham Coach Stephanie Gaitley who, in another Herald interview, mentioned that DeWolfe "makes her teammates around her better" and has an innate "love and joy for the game." DeWolfe's high school basketball resume demonstrates an unquestionable ability to lead at any level of the game.
Playing a pivotal role for the Rams is not new for DeWolfe. As a first-year, DeWolfe started in all of Fordham's 32 games. In her first regular season game as a Division I basketball player, she nearly scored a triple-double, posting a stat line of 10 points, 9 assists and 9 rebounds against a ranked Notre Dame team. 
Needless to say, this introduction served as a precursor to the season DeWolfe would have. She finished the season averaging 12.6 points, 2.3 assists, 3.7 rebounds and 1.0 steals per game.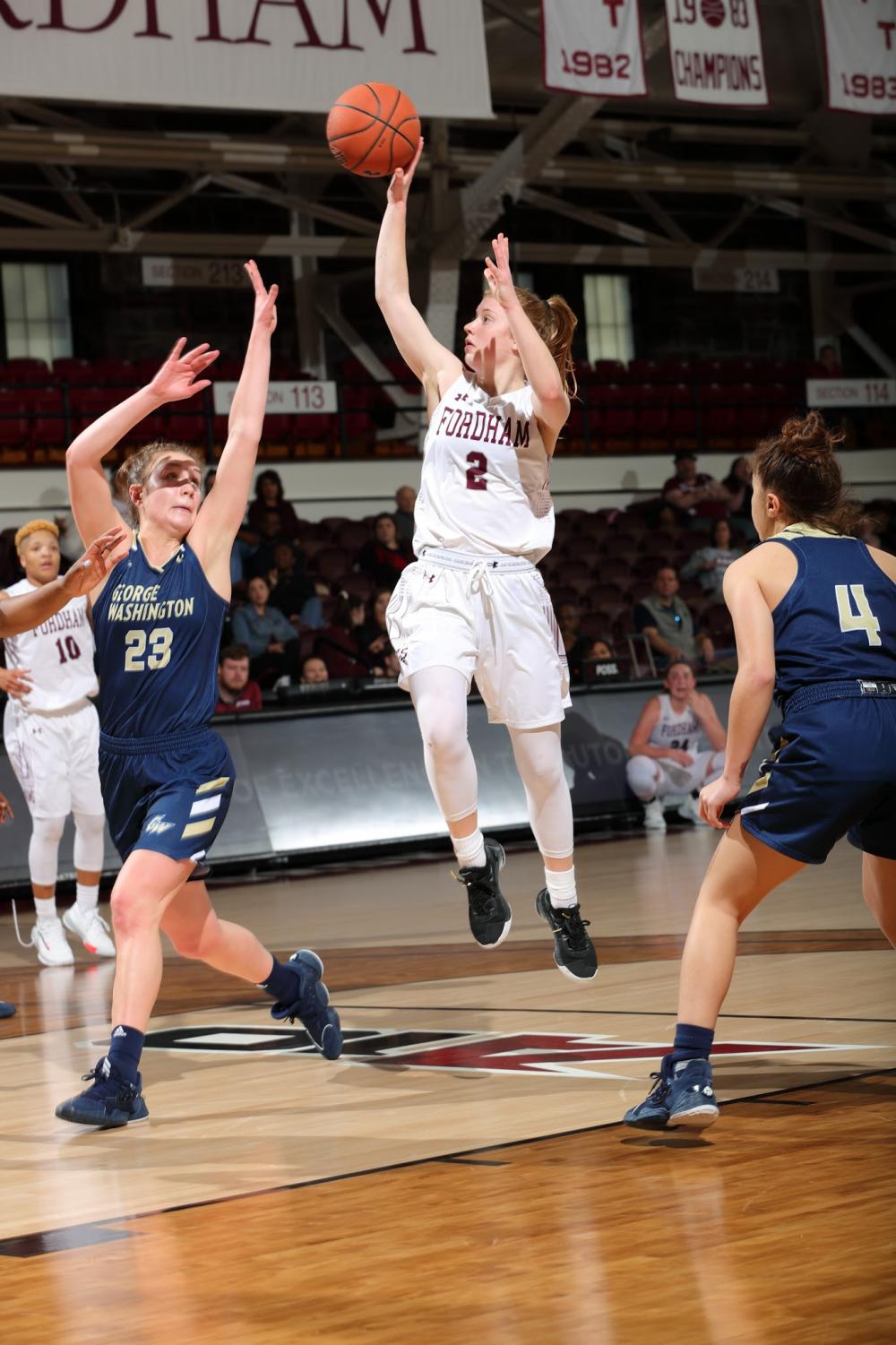 DeWolfe also averaged 36.0 minutes per game in her first-year campaign, placing her second on the team. It could be argued that DeWolfe was one of the most important players for the Rams last season, and as the 2020-21 season begins, DeWolfe, although just a sophomore, is sure to be impactful on the court.
DeWolfe, however, remained humble when questioned about the leadership role she sees for herself this season.
"It doesn't matter if you're titled as the captain, you can still lead. Anybody on our team has the ability to step up," she said. "The biggest thing is holding my teammates accountable."
It only took DeWolfe one game this season to demonstrate how significant her impact can be. In the season opener against Stony Brook on Nov. 25, she led all scorers with 25 points while shooting 47.6% from the field. She also played all 40 minutes.
DeWolfe's strong play continued through the Rams' following six games. During that stretch, DeWolfe averaged 21.5 points and 3.0 assists per game. Her shooting percentages this season are now 44.4% from the field and 36.4% from behind the three point line, especially noteworthy figures when considering the volume of shots taken by DeWolfe. She has also averaged 37.9 minutes per game, with most of the minutes she did not play coming in blowouts where she was not needed.  
DeWolfe's leadership and skill have been crucial factors in the 5-2 record the Rams have been able to achieve thus far. When comparing her statistics this season to those of last season, it seems as though DeWolfe is progressing into the reliable scorer and on-floor leader that Fordham needs for its pursuits this year and in the future. 
As for her goals for the rest of her career as a Ram, "Our entire team goal is to win an A10 championship," DeWolfe said. "My biggest thing at the end of the day is getting a win."
As we look ahead to a college basketball season unlike any other, it will be essential for teams to rely on players that they trust to lead them. DeWolfe represents this, as she has the potential to be both a reliable contributor on the court and a steady leader in the locker room. DeWolfe's role on the Fordham women's basketball team will continue to grow as she further cements herself as a vital player for the Rams.