Guide to Spring 2021 Registration
A look into all the changes made to the course registration process for the upcoming semester
As the unprecedented fall 2020 semester nears its close, Fordham students have begun to plan for another unique semester. The registration process for the spring semester is slightly different from traditional years. Here is your guide of what to expect from the registration process.
Time Changes
Registration will open at 9:45 a.m. EST for all students to accommodate students in different time zones. The same adjustment was made for registration during the previous semester when classes transitioned online.
"This way, it is the middle of the night for only a small number of people, and all of those people are actually getting a special registration time," Laura Auricchio, dean of Fordham College at Lincoln Center (FCLC), said.
The registration period for students receiving a bachelor of fine arts begins on Monday, Nov. 16, until Nov. 18. Students who have 90 credits and above begin registration on Thursday, Nov. 19, and end on Nov. 20. Students who have between 60-89 credits begin registration on Monday, Nov. 23, until Nov. 24. Students who have between 30-59 credits begin registration on Monday, Nov. 30, until Dec. 1. The registration period for students who have between zero and 29 credits begins Wednesday, Dec. 2, until Dec. 3. 
Course Modalities (Virtual, Hybrid and In-Person)
The current situation may cause more courses to be offered in an online format, even though the next semester doesn't start until Feb. 1.
The spring 2021 semester is offering a mixture of online, hybrid and fully in-person courses. Similar to last semester, it is up to the professors teaching each course to determine its modality and structure. 
Hybrid courses — which contain both in-person and online elements — conducted during the fall semester did not meet students' expectations. There were more online elements in hybrid courses than students wanted, and the workload for those courses exceeded the additional three hours per week of outside preparation work that upper-level courses are supposed to maintain.
To clarify the expectations for hybrid courses offered, more information will be provided within the course descriptions and modality listing.
"We're trying to give students as much information as possible about what the course experience will be like," Auricchio said.
The "Campus" field for each course, where traditionally either Lincoln Center, Rose Hill or Westchester appear, now also features the modality in which each course is taught.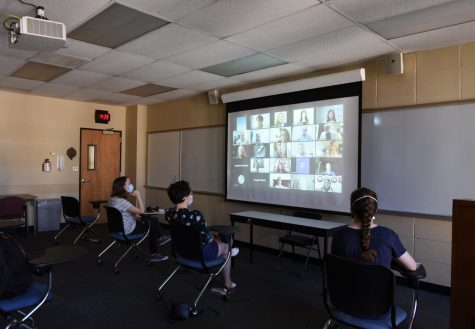 For fully in-person courses, the course appears with the physical campus listed: Lincoln Center, Rose Hill, Westchester or offsite.
Hybrid courses will list both the hybrid structure in addition to the campus where in-person sessions will be held. These courses will appear as either "HybridLC/Online," "HybridRH/Online" or "HybridW/Online," with LC indicating Lincoln Center, RH indicating Rose Hill and W indicating Westchester.
Although it is possible for students to participate in in-person sessions for a hybrid class virtually, Auricchio said that staff members are advising students who cannot be regularly available for in-person meetings at the specified campus to refrain from registering for that course.
"We're trying to discourage it because we found that this (fall) semester, students did not have the best experiences when they did that," Auricchio said. 
She added that the technology for students to participate in an in-person session from a remote location is provided mainly for students or professors who may get sick or have to quarantine for an allotted time.
Courses that are offered completely online are listed as "Virtual (online courses only)."
It is not certain whether there are more online courses offered for the spring semester compared to the fall semester, but Auricchio said that she expects the number to be approximately the same.
However, COVID-19 cases are on the rise in New York City. As temperatures begin to lower and more people are spending time indoors, medical experts are reporting that they are seeing a second wave approach. The current situation may cause more courses to be offered in an online format, even though the next semester doesn't start until Feb. 1. 
More Course Offerings
The university has expanded its options for course offerings for the upcoming semester. 
Traditionally, students enrolled at Fordham College at Rose Hill (FCRH) or FCLC are required to register only for core classes at their respective campus. However, the campus restriction is lifted for spring registration for all course formats, as it was for the fall 2020 semester as well. 
Additionally, all students will have the opportunity to sign up for virtual courses taught at the London, England, and Granada, Spain, campuses. This was a way to accommodate the cancellation of study abroad programs for the spring 2021 semester.
To be eligible to register for European campus courses, it is not necessary to have applied for a spring study abroad program. However, students who were previously accepted to the study abroad programs for the spring will be prioritized in receiving a seat in the class. 
"It is not a huge amount of classes, which is why students who were already registered to do study abroad are getting first-priority registration," Auricchio said.
There are 14 courses offered for the spring taught by Fordham's faculty in Europe in the departments of business, English, history, political science and art history.
The meeting times listed are provided in EST.
Support Systems in Place
One step the academic deans have taken to communicate with students better is their creation of an Instagram account, @fclc_deans, to share updates about the academic year.
Auricchio stressed she doesn't want students to feel as though they are alone in their struggle during the academic year. Maura Mast, dean of FCRH, and Auricchio said they are increasingly making support systems available to students throughout the year.
Specifically, Auricchio highlighted the expansion of tutoring options for students. Since tutoring is now functioning in a virtual format, the academic deans grouped Lincoln Center and Rose Hill tutors together, so now students have the ability to request a tutor from either campus.
The process for signing up for tutoring was simplified as well. Within the student tab of the my.fordham.edu portal, toward the bottom of the page, is the SSC Navigate box. Students can select the SSC Navigate application and "Schedule an Appointment" with a tutor from one of the categories listed in the drop down menu.
Auricchio said that all the departments have transitioned to organizing their tutoring sessions through the SSC Navigate portal with the exception of language departments and the Writing Center — however, she is in the process of organizing their transition as well.
The academic deans are also trying to facilitate communication with the student body in more effective ways. 
Auricchio said she realized that many of the support opportunities made available to students are buried in emails or not communicated as broadly as they should be. From her perspective as an administrator, she said it can be difficult to see the student side of how things are communicated — even quite literally with the way applications are formatted on the student portal. 
One step the academic deans have taken to communicate with students better is their creation of an Instagram account, @fclc_deans, to share updates about the academic year, motivational quotes, events and other supportive opportunities open to students. 
"The biggest issue that we have is that we are increasingly offering more and more support and at the same time, everybody is sick and tired of reading emails and staring at screens," Auricchio said. "We're trying to branch out outside of an email to find other ways to keep students informed."
Beyond academic help, there are also supportive opportunities for students whose financial situations have changed during the pandemic and need additional help. The Office of Financial Aid is increasing its number of reviews of financial aid packages. 
Auricchio said that if students need any assistance in financial aid reviews or housing circumstances, they should see Tracyann Williams, assistant dean for student support and success.
About the Contributors
KATRINA LAMBERT, Editor-in-Chief
Katrina Lambert, FCLC '22, is the editor-in-chief for The Observer. She is majoring in journalism and minoring in history. Her favorite part of The Observer has been watching writers grow throughout their time on the newspaper. When she isn't thinking about The Observer, you can probably catch her running or watching "The Karate Kid" again. She previously worked as an editor in the News section.
ESMÉ BLEECKER-ADAMS, Fun & Games Editor and Assistant Photo Editor
Esmé Bleecker-Adams, FCLC '21, is a visual arts major and (oh-so-jaded) New Yorker who is incredibly grateful for her time at The Observer and for all the lovely people she has met there! Favorite hobbies include sewing, playing table tennis and ignoring her alarm clock.