Trick-or-Treating at the BLUMHOUSE
Amazon debuts new thriller film collection in time for Halloween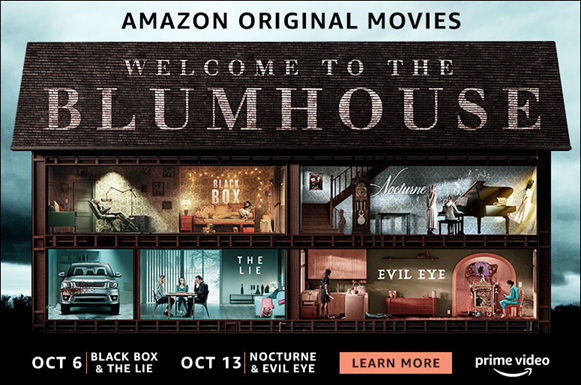 Amazon Studios and Blumhouse TV released their thriller collection "WELCOME TO THE BLUMHOUSE" just in time for Halloween. The collection brings diverse stories to the screen to celebrate the spooky season, and the directors recently hosted a roundtable interview to provide a better understanding of their intentions with the films. 
"The Lie," directed by Veena Sud, stars Joey King from "The Kissing Booth" playing a young girl who commits a heinous crime. This prompts her parents to go to dangerous lengths to protect their daughter.
The film is both frustrating and exciting in the way it conveys, as Sud stated at the roundtable, how "people make horrific mistakes in the name of love all the time." The movie begins with what seems like a fairly normal, albeit unhappy family —  divorced parents who don't get along and a daughter struggling to make friends at school. But it ends with a fragmented family, attempting to tie up the loose ends of their illicit acts, all because of a split-second decision made by their 15-year-old daughter. 
While exploring complex family dynamics, the film also highlights issues of race in America. When the white family brings innocent people into their struggle with the law, we observe the racial biases against Muslims and South Asians embedded in the police force. Sud brings a subversive take to the thriller genre, forcing viewers to wrestle not only with moral ambiguity but also with the prejudices in institutions of power. 
"Blackbox," directed by Emmanuel Osei-Kuffour Jr., provides answers for the philosophical question of how memory impacts identity in this soul-stirring thriller. The film follows the life of a previously comatose man who, while undergoing revolutionary medical sessions to retrieve his memories, discovers something much more sinister beneath the surface.  
In addition to its exploration of memory, the film explores a flawed but powerful relationship between a Black father and his child and cautions against the potentially dangerous uses of untested scientific devices. At the roundtable, Osei-Kuffour, whose previous work has been in the drama genre, explains that he believes he was chosen to direct this film for his "sensibility." This is reflected in the way he leans deeply into the lead character's introspection and creates a suspense-driven world in his mind.
"Evil Eye," directed by twin brothers Elan and Rajeev Dassani, tells a deeply personal story using themes of reincarnation, motherhood, parental pressure and abusive relationships. At the roundtable, the directing team explained that they spoke to survivors of domestic abuse to understand the psychology of it and include realistic elements of it in the film. 
The movie wields the ancient concept of the evil eye as a tool to bring audiences into a modern, relatable story. Set simultaneously in New Delhi and New Orleans, it follows a mother's journey to protect her daughter from an evil presenting itself as her attractive new boyfriend. 
The film begins with flashes of the past, melding together with a present-day, typical narrative of an Indian mother pressuring her daughter to find a husband. But when the daughter meets someone who seems perfect, her mother senses an eerie discomfort about this strange new figure imposing on their life. The mystery unravels as the relationship between mother and daughter develops, ultimately expressing the power of family in a story about multiple generations coming together to fight against a common evil. 
"Nocturne," directed by Zu Quirke, takes the competitive nature of music schools to a new level of intensity. Juliet, pitted against her more talented, more popular sister, Vivian, goes down a dark path to attain a highly coveted solo that will open her up to a successful career in music, even if it costs her everything in the process.
The film is about sisterhood, competition and teenage relationships, highlighting just how easy it is to be controlled by a desire for power. Loosely inspired by Quirke's own experiences at music school, as she mentioned at the roundtable, "Nocturne" shows just how much people are willing to sacrifice for the promise of success. 
Watching thrillers in 2020 may feel like doubling down on the nightmare we're already living in, but this unique collection of films gives us a renewed appreciation for family, love, art and science, allowing us to teeter on the line that exists between the terrifying and the endearing. 
These films and others in the "WELCOME TO THE BLUMHOUSE" collection are now available on Amazon Prime Video.