Students Advocate for Voting in New Sunrise Movement Hub
Combating climate change opponents, students created the Sunrise Movement for localized initiatives
The beginning of fall in New York City is usually marked by the annual Global Climate Strike, where thousands gather to demand action on impending climate change crises. The coronavirus pandemic has pushed the majority of events online this year, prompting people to try alternative methods of activism. 
Hannah Davies, Gabelli School of Business at Lincoln Center '21, began the Sunrise Movement Fordham hub to create a space for Fordham students from both campuses to engage in environmental political action and form a united front against climate change and racial injustice — both at the local and national level.
The Sunrise Movement is youth-led and advocates for environmental justice — including national endorsement of the Green New Deal and other policies that combat climate change. The movement is devised of hubs, which are local chapters that anyone can organize. Fordham's hub is one of over 400 hubs nationwide.
"The whole thing is basically just meant to be an outlet where people can find out about opportunities for political action, or potentially learn about local politics," Davies said.
The whole idea is to create localized movements that have a national effect when working together. Hannah Davies, GSBLC '21 and founder of the Sunrise Movement Fordham hub
The hub plans to participate in local climate initiatives, phonebank to advocate for environmental issues and create networks for passionate students. Davies said that there are both in-person and virtual opportunities for students. 
On Oct. 3, the hub hosted a postcard initiative at Van Cortlandt Park to write to voters in Pennsylvania. More than 20 students attended the event, producing more than 300 postcards encouraging people to vote. 
"The goal of this initiative was to encourage voters not necessarily to vote for Joe Biden but simply A. to vote and B. to not vote for Donald Trump," Davies said. "While Joe Biden doesn't have a particularly progressive environmental campaign, Trump actively destroys the already-weak infrastructure protecting our environment and has no plan to turn that around."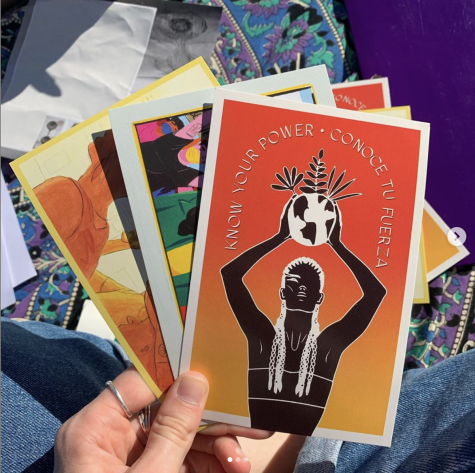 Davies said the event was "super successful."
"I wanted to go because I know PA is an important state and I wanted to do something to help encourage voter turnout," Corina Fuentes, FCLC '21, and an attendant of the event said. "It was a really great event and it was just a nice way to spend an afternoon in the city."
Dane Westerlund, FCLC '21, also attended the event and said that the postcards were directed to young voters, telling them that "Trump is not a president for us as he's destroying the environment and splitting up the American people."
Elisa Crespo, a candidate for the New York City Council, spoke at the event. Crespo's designated district, District 15, includes the Rose Hill campus. Davies said that they hope to collaborate with Crespo more often to do community work around Rose Hill.
"Environmental justice work is crucial for the survival of our planet and to the borough of the Bronx, which for decades has suffered from environmental racism," Crespo said. "It is future generations who will deal with the catastrophic impact of climate change."
Crespo said she will always be a "partner in this fight" with the Fordham Sunrise Movement hub.
The event was in collaboration with another Sunrise Movement hub centered in the Bronx and southern Westchester. Davies said mobilizing the community by working with other hubs is essential to its goals.
Other New York schools such as New York University and Columbia University also have their own Sunrise Movement hubs.
"The whole idea is to create localized movements that have a national effect when working together," Davies said. "While hosting our own events is great, attending and spreading information about events other hubs are hosting is fundamental to what we do."
According to Davies, the Sunrise Movement filing process for a new hub was easy and included an introductory course on running a hub. She also said that the Sunrise Movement has been helpful by continually checking in with her and offering more ways to help.
The hub is not officially recognized as a Fordham club, but Davies said that they "aren't particularly interested" in recognition.
"First, we want a movement that spans both campuses, not an LC or RH based club," Davies said. "Additionally, we're not doing things for or through Fordham, we're doing things as a like-minded community of Fordham students rather than as an extension of the University. Our main focus is on activities occurring outside of Fordham that involve NYC/state politics and US politics in general."