Campus Dining Favorites Close and Cut Hours for the Semester
As indoor dining opens at Fordham, campus favorites have closed their doors for the semester or reduced their hours and offerings
The first month of the fall semester has brought unexpected dining changes to Fordham Lincoln Center, specifically the temporary closing of the Schmeltzer Dining Room and significant cuts to the selections and operational hours of Ram Café and Argo Tea.
Deming Yaun, the university dining contract liaison, explained that the plan from the start of the semester was to cut back on dining. 
"We knew we were going to have less (business)," Yaun said. Meal plans last year totaled 577, but there were only 312 this year. Yaun attributed this drastic change to online learning.
"We opened the semester with as many hours and as many options as we could, with the strategy that we would watch and see where people went and then cut back to somewhere," Yuan said. Because the dining hall is self-supporting, "We certainly knew we couldn't responsibly maintain all of that at what is going to be a negative drain on the university budget."
Signs placed in dining areas on Sept. 29 indicated that Schmeltzer would be closed starting Sept. 30 for the remainder of the semester. Signs also announced that the Ram Café would only be open from 8 a.m. to 2 p.m. Monday through Friday for grab-and-go food. Previously, the Ram Café was open from 8 a.m. to 8 p.m. Monday through Thursday, 8 a.m. to 5 p.m. on Friday, 8:30 a.m. to 2:30 p.m. on Saturday, and closed on Sunday.
Some people had built their schedules around these places and hours and had to deal with the sudden closing along with the stress of midterms and other responsibilities. Lily Carlisle, FCLC '24
This announcement came as a surprise to students. "I wish Fordham had given us some semblance of a warning before closing everything down," Lily Carlisle, Fordham College at Lincoln Center (FCLC) '24, said. "Some people had built their schedules around these places and hours and had to deal with the sudden closing along with the stress of midterms and other responsibilities."
Around 2:30 p.m. on Sept. 29, a sign was posted indicating that Argo Tea would be closing at 4 p.m. on weekdays and would not open on weekends.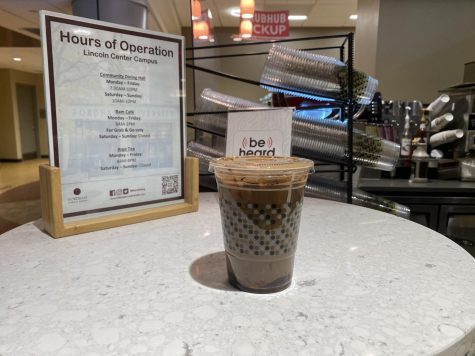 "Late night Argo trips were a staple with me and my friends," Gracey Downer, FCLC '24, said. "Cutting the hours at Argo is very disheartening for me because it was such an amazing way to fuel study sessions."
Downer, among other students, also expressed her concern for the employees who lost their jobs or had their hours cut as a result of the dining changes. 
Yaun said that of the 300 dining employees, a "significant portion" are being affected. This is a large change from a statement Yaun made on Sept. 5, when Yaun said they had not experienced significant layoffs yet. He also assured that "Aramark has some terrific ways of transitioning people to other options that they hope are short term."
Yaun explained that they initially thought to close Argo, but as they studied where students tended to go, Argo was preferred to the Ram Café. "I personally enjoy Argo more than the Ram Café, not only because it is more convenient but I also enjoy what they offer more than the Ram Café." said Downer.
Yaun said he believes that students will still be offered the variety and options they used to access through the Ram Café and Schmeltzer. "They have access to the same or many similar options they had access to before during the same operating hours. I think we can make that more apparent to them when they walk through the door."
To account for these cuts, the Community Dining Hall is now open from 7:30 a.m. to 10 p.m. Yaun said that the dining hall has not "risen to the occasion since the change in hours, and there is opportunity for it to do so," explaining that it needs to do a better job of displaying fresh options that are already offered throughout the day.
As for the spring semester, Yaun said, "I am convinced that we cannot open spring semester with the hours we have settled on," but it is uncertain if dining will return to normal hours and offerings.