The Crisis in Yemen and How to Help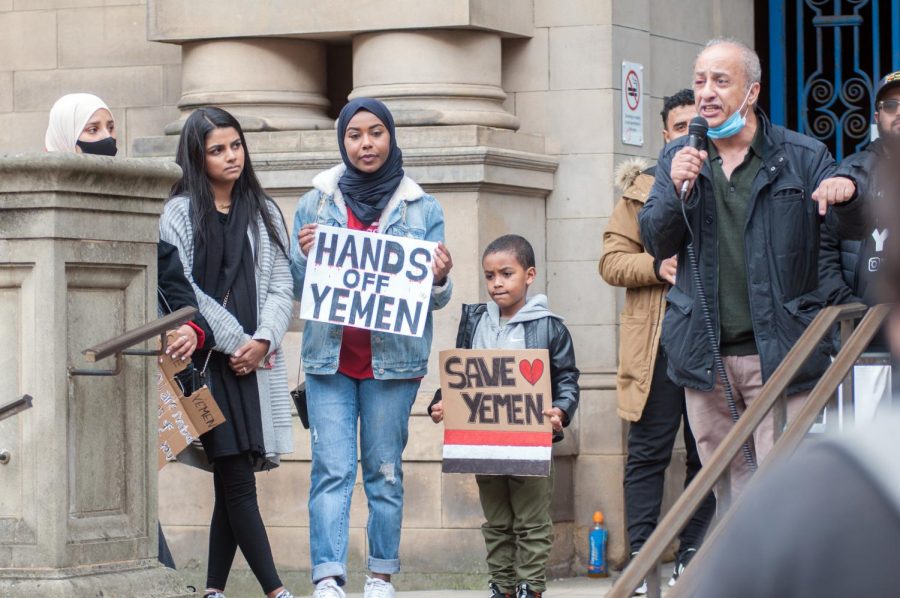 Yemen is currently facing the largest humanitarian crisis in the world. For the past five years, there has been a civil war in Yemen between the government and a faction called the Houthis over religious sectarianism and control of the country. This conflict has been ruthless to Yemen's quality of life as schools and hospitals are destroyed, making access to clean water and medicine scarce. As of April 2020, 24 million people, which is 80% of Yemen's population, depend on aid to survive. 
To make matters worse, Saudi Arabia, which borders Yemen and supports the Yemeni government in the conflict, has a blockade surrounding the country that prevents aid from coming in. Saudi Arabia is not the only country exacerbating the conflict. Several other nations, including the United States and the United Kingdom, provide assistance through weapons deals and air raids, leading to claims that the U.S. is allegedly committing war crimes in Yemen. The instability caused by the conflict in addition to interference and aid prevention by powerful countries put Yemen especially at risk of a deadly coronavirus outbreak.
Fordham students have addressed the Yemeni crisis in the past through the Muslim Student Association (MSA). The MSA at Fordham Lincoln Center has held several events about Yemen, including a gala event raising awareness of Yemen and the need for aid in February, which I attended. Students of the neighboring John Jay College were also in attendance, and the gala had several eloquent guest speakers and graphic yet motivating videos. Many of the participants of this event and I were moved by the speakers and videos presented despite our various backgrounds.    
The memories I have of that gala offer an important perspective on the atrocities going on in Yemen. Due to the current pandemic, 2020 has made many people long to "go back to normal" and to have relatively comfortable lives again. While that is understandable given how dire things are at the moment, that "normal" also featured a great amount of needless death, and the Yemen crisis is just one example of such atrocities. Suffering is caused by more than pandemics, so Yemen reminds us that our material comfort in America and other industrialized countries comes at a price.  
"
Suffering is caused by more than pandemics, so Yemen reminds us that our material comfort in America and other industrialized countries comes at a price."
Some Fordham students tried to spread word about the Yemen crisis off-campus as well. Cassie Kim, Fordham College at Lincoln Center '24, was a part of her high school's Asian Culture Club and did a week's worth of posts on Yemen, culminating in a presentation on the country and what it's facing via Zoom on Friday, June 19. Unlike some others who addressed the Yemen crisis, Kim also shared the history and the culture of the country, as it is worth remembering there is more depth to Yemen than its suffering.
When asking about her inspiration for the presentation, Kim said she knew that "the Yemen crisis was so severe and yet not enough people were aware of the many dimensions of it. It's not just a humanitarian crisis fueled by disease, famine, etc. It's exacerbated by human rights violations enforced by military and diplomacy, too, and it's nowhere close to a new issue." 
One of the more illuminating facts Kim learned while doing research on Yemen was the cost of a cholera vaccine; the delivery fee ranges from $0.36 to $6.32 and the procurement fee ranges from $0.29 to $29.70 USD. Kim added that "this kind of money for a cholera outbreak seems like nothing to us, but that's the outbreak that played such a huge part in the Yemen crisis. It really puts into perspective just how much we as Americans have — and people in the West as a whole have — so much privilege that we take for granted." 
Kim told her friend Denyce, who also worked on the presentation, that if a few people paid for vaccines to be sent to Yemen, it would make a difference. Denyce responded by mentioning that the current blockade on Yemen prevents a lot of aid from coming through, making action even harder. Organizations like the International Rescue Committee or Doctors Without Borders still have done work in the country. Kim said that it's "very easy to be discouraged by horrific instances in the world and feel useless in the greater scheme of things." However, she also said that "everything counts for something," no matter how big or small.
There are several ways that people can help Yemen, should they choose to do so, including signing petitions, sharing posts and watching videos that donate money to aid organizations.