Fordham Details Hybrid Learning Plan for Fall 2020
This fall semester, Fordham is exploring uncharted territory to provide a fulfilling educational experience for students, despite the ongoing pandemic. On May 28, the university announced that it will implement a new learning model, described as a "flexible hybrid learning environment," which offers both in-person and online coursework. By employing this plan, Fordham aims to seamlessly transition to online instruction in the case that New York faces another coronavirus outbreak.
The Office of the President released an update for the Fordham Forward plan on July 20, stating that every student will be able to choose whether they would prefer an online, in-person or hybrid learning experience in the fall. The university also plans to break at Thanksgiving, meaning students will not return to campus until the spring semester begins. 
Dennis Jacobs, Ph.D., Fordham's provost and senior vice president for academic affairs, played a key role in a task force formed by the Commission on Independent Colleges and Universities, which quickly developed safety guidelines for higher education in New York. Jacobs is confident that Fordham's plan delivers in both safety and quality of education.
"We wanted to create an environment that's versatile and resilient, to deliver a quality Jesuit education under any circumstance,'" he told Fordham News.
Fordham is demonstrating its versatility by updating learning software for the university's classrooms and online mediums. Steven D'Agustino, Ph.D., Fordham's director of online learning, stated that there are plans underway to install new cameras and microphones in classrooms to improve the quality of learning for remote students. 
Aside from the continued use of Zoom and Blackboard, D'Agustino spoke to the success and future use of VoiceThread, an asynchronous discussion tool, and Perusall, an online tool for textual analysis and close reading.
"
If you even remotely care about New Yorkers, your fellow commuter students and professors, and our Black and Brown communities like some of you have repeatedly emphasized on social media this summer, please stay home."
— Anonymous Commuter Student
"We have learned and grown so much over the past few months – new approaches, new synergies, new skills – and that, in the midst of sorrow and loss, it is important to recognize those small but essential victories," D'Agustino said. "Teaching is at once backward looking (here are things you should know) and forward looking (you are part of a better future), so we are used to these kinds of tensions."
Columbia University is approaching the fall semester similarly, with most courses slated to occur either remotely or following a hybrid format. Although there is no mention of students being able to choose their preferred method of learning at Columbia, both Fordham and Columbia faculty members are at leisure to choose the most appropriate and effective mode of teaching for their course. Columbia is also updating its equipment and technology to better serve the student body, regardless of location.
New York University (NYU) is currently offering in-person, online and hybrid courses; every course will make remote attendance possible for students who are unable to attend. NYU courses with more than 40 students will be taught remotely to optimize safety for their community. Columbia is limiting in-person attendance to 50 students. Fordham has not provided a concrete attendance limit yet. 
Despite Fordham's optimism for a hybrid learning plan, many students have voiced their concerns about returning to campus and reconvening with students from other states where coronavirus cases are rising rapidly. The anonymous-submission Instagram account @letstalkaboutitfordham recently featured multiple commuter students voicing their concerns about Fordham's reopening and learning plan.
Responding to a survey conducted on Instagram, one anonymous commuter student was shocked not only by the online model vs. in-person model interest ratio, which was around 40-60, but also by the "sense of community" students appeared to value above all. 
"For those of us who live here (New York City), we just cannot afford risking our lives and our family's lives just so we can have a sense of community," they stated. "If you even remotely care about New Yorkers, your fellow commuter students and professors, and our Black and Brown communities like some of you have repeatedly emphasized on social media this summer, please stay home."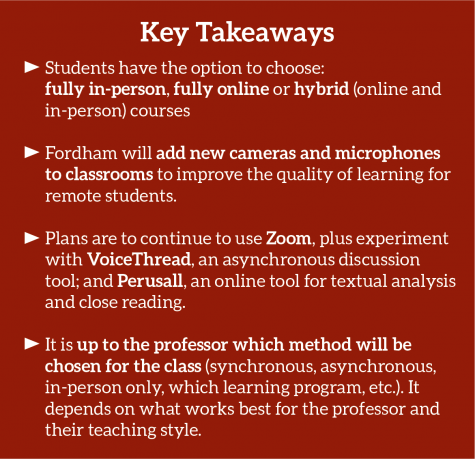 Another submission sent in by a commuter student amassed nearly 900 likes. While most of the submissions and commenters acknowledge that an exclusively online semester is not optimal, they are willing to sacrifice an in-person experience to secure their safety. 
Fordham has partially addressed these concerns by allowing students to choose their preferred style of learning for the fall semester, but certain students are calling for more –– namely, a complete deconstruction of any in-person or hybrid plans in favor of an exclusively online experience and their safety guaranteed.
This sentiment was relayed by another anonymous student on July 24: "I think it's completely irresponsible for Fordham to even offer the option of in-person classes… this is coming from someone who hates Zoom classes (a lot) but we have to urge Fordham to make all classes virtual."
On July 28, The Office of Academic Records announced that students planning on taking more than two online classes will have to complete a form declaring their preferred choice of learning method for the fall.  Students will have until Aug. 6 to complete the form. A list of classes already planning to go online for the fall semester was also included, with plans for daily updates.