Fordham's Reopening Plan is 'Too Little, Too Late'
After a summer of uncertainty about whether Fordham students would be allowed back on campus in the fall, the Office of the President released an email on June 30 detailing Fordham's fall 2020 reopening plan.
"Fordham Forward," as the reopening plan is referred to, explicitly states, "The Fall Semester will begin on time, and on-ground instruction will begin as scheduled on 26 August." According to the email, Fordham is planning to instate on-campus instruction and housing using a "measured, phased approach."
The decision to do so comes after over a month of waiting for a definite plan on instruction in the fall. On May 28, the Office of the President released an email promising to outline the "framework for planning the reopening of the University." However, the email did not contain any concrete decisions or preparations for the fall semester.
The university said they were waiting for guidance from New York state for how to proceed before making any decisions.
Reactions to Housing Guidelines
Even without having a clear view of what classes and housing in the fall would look like, the Office of Residential Life at Lincoln Center sent an email on May 29 listing the housing withdrawal deadlines. 
Some students reacted to the withdrawal deadlines email with frustration, specifically the part that outlined penalties for late withdrawal, as many wanted to wait for a clearer view of Fordham's plan for the fall before making the decision to return.
"At this point everything is sort of stuck in the air," an international student from Myanmar, Wendy Myat, Fordham College at Lincoln Center (FCLC) '23, said. "Fordham wants us to deposit our housing, health insurance and tuition, but nothing is given for us to be able to decide."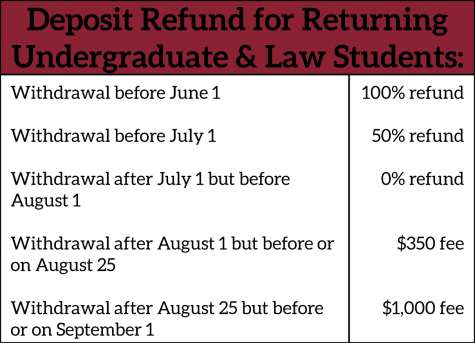 How Fordham

'

s Plan Matches With Government Regulations
On June 24, Gov. Andrew Cuomo of New York issued guidelines for higher-educational institutions to follow as the upcoming school year approaches. 
Included in the guidelines are mandatory protective equipment, routine cleaning, a comprehensive system for testing and screening, recommendations for physical distancing, and other preventive measures. 
"Fordham Forward," a 35-page document, details procedures that conform very closely to the guidance issued by the governor. 
Many concerns students have about returning to campus revolve around the tight hallways, packed elevators and high density of the Lincoln Center campus. Spanning 349,000 square feet and 361 rooms, the Lincoln Center campus lacks the space that other universities have to utilize for proper social distancing.
New York University (NYU), for example, has over five million square feet of interior space in its New York, Washington Square campus.
"Fordham wants us to deposit our housing, health insurance and tuition, but nothing is given for us to be able to decide."
Wendy Myat, FCLC '23
"What is the plan for use of the elevators in Lowenstein Center at the Lincoln Center campus?" James Groenier, Gabelli School of Business at Lincoln Center '23, asked. "Before (COVID-19), they were already notorious for having long wait times and being extremely crowded. How will that be solved?"
In the Fordham Forward plan, the university intends to reduce seating capacity within classrooms to one-third of their original value, increase the time between courses to 20 minutes instead of 15 and schedule more courses on lower floors to reduce elevator and stair traffic.
"I believe the university's current reopening plan feels inadequate, as, in my opinion, there aren't drastic enough changes to operations for the campuses to be safe," Groenier said.
How Other Universities Plan to Reopen
After Cuomo issued guidance to colleges and universities to allow for partial face-to-face operations and classes in the fall, other New York universities, such as NYU, Cornell University, Pace University and The New School, proposed their own reopening plans that are unique to each university and its needs. 
In May, NYU informed incoming freshmen that students and faculty would be reconvening in person at all campuses for the fall 2020 semester. The university plans to create a flexible and safe environment, meaning classes will be conducted in a "mixed mode" of online and face-to-face instruction. 
Pace University is approaching the semester with similar guidelines, while The New School diverted from the typical path and chose to conduct all classes online in the fall.
Although Cornell University resides outside of the New York City area, the university's reopening plan is in line with the aforementioned colleges. According to a CNBC article, however, Cornell is set to spend $3 million to $5 million to implement a semester-long coronavirus tracing and testing plan for students and faculty.
How the Virus Has Affected the Campus Community
Even with Fordham's Bronx campus, Rose Hill, which contains over three million square feet of open green space, some Fordham students are worried about the effect that bringing students from other parts of the country back to campus will have on the Bronx community.
"How can you say you care about the Bronx community and then actively endanger them by bringing students back?" Mariana Beltran Hernandez, Fordham College at Rose Hill (FCRH) '22, said in a comment on Fordham University's Instagram post announcing its reopening in the fall.
"How can you say you care about the Bronx community and then actively endanger them by bringing students back?"
Mariana Beltran Hernandez, FCRH '22
The novel coronavirus (COVID-19) has had disproportionate effects on the different boroughs in NYC. Manhattan residents, on average, have higher incomes and better access to healthcare. Meanwhile, the Bronx faces scarcity in good-quality food, income inequality, public housing inefficiencies and less access to proper healthcare.
Despite Manhattan having a higher population than the Bronx, the total number of COVID-19 cases in the Bronx (as of July 6) is 47,300, whereas in Manhattan, the total number of cases is 25,788.
"One of their (Fordham's) big selling points is that they bring the students and community together. By bringing students back, it is actively endangering the Bronx," Beltran Hernandez said.
On May 28, Fordham announced that the university will be embracing a "flexible" style of learning for the fall. Also referred to as "hybrid courses," this will allow the university to offer education to students in-person as well as online and enables a quick switch away from face-to-face instruction if the health situation changes.
What the Plan Means for International Students
This style of learning is particularly appealing to international students and high-risk individuals who either cannot get back into the country because of their situation or who do not feel comfortable returning to campus. 
"At this point, I have accepted and come to terms with the fact that it is unfeasible for me to travel back to New York and attend the Fall 2020 semester due to the health hazards posed by the pandemic," international student from the Philippines Jonathan Ng, FCRH '23, said. 
"In lieu of attending in person, I will have to enroll as an online student and take my classes over Zoom — that is if professors and Fordham will be able to effectively and efficiently use technology to support international students," Ng continued.
International students have further obstacles trying to return to campus. On July 6, ICE announced that international students are at risk of losing their student visa licenses if they are unable to take in-person classes.
"At this point, I have accepted and come to terms with the fact that it is unfeasible for me to travel back to New York and attend the Fall 2020 semester due to the health hazards posed by the pandemic."Jonathan Ng, FCRH '23
Due to Fordham's delayed and vague decision-making, "it's very difficult for me to gauge whether or not I will be able to (fulfill) the parameters to simply maintain the viability of my F1 visa," Ng said.
According to Ng, Fordham has not communicated with international students regarding their situations beyond informing them of the U.S. government rulings.
"There has been a noticeable lack of information regarding policies for international students who cannot attend the Fall semester in person, how Fordham can support such students, and protocols for returning international students who wish to attend in person," Ng said.
The Online-Only Option
Currently, there is no pathway for students to declare their courses fully online. Although, according to Dean of FCLC Laura Auricchio, they are currently in the process of developing a system for students to declare their classes online. In an email to the Fordham community issued July 1, the university provided further information regarding courses in the fall — the "first of a series that will be sent throughout the summer," Auricchio said.

Neither the email nor the Fordham Forward document have discussed whether declaring online courses will cause disruption for students' current schedules.
"I seriously doubt that they'll be super accommodating to students who decide not to return for these reasons, amongst others," Beltran Hernandez said. "It's pretty evident that students who decide to do all classes virtually will be at a disadvantage academically."
Without the ability to declare their courses online however, Fordham students are still required to make payments for all expenses by the quickly approaching due date, July 8. Under these circumstances, Fordham announced on June 22 that they will not be charging fees for a late payment.
"I would like to commend Fordham for persevering to prepare the campus and academic situations for such an unprecedented crisis," Ng said, acknowledging the measures Fordham has taken thus far to deal with the unpredictability of pandemic. 
However, "if I were to summarize Fordham's response and decision making, in a nutshell, I would simply condense it to the phrase, 'too little, too late,'" he added.