Fordham Baseball Welcomes 11 New Players for 2021 Season
For the Fordham baseball team, not even an aborted season can stop the endless cycle of college athletics. This summer, 11 incoming freshman players were announced as the newest members of the highly successful program. They've yet to step foot on the Rams' home turf, but their prior success elsewhere indicates promising seasons in the Bronx for years to come.
The Shortstops
Following the signing of current Fordham shortstop Jake MacKenzie, Gabelli School of Business at Rose Hill (GSBRH) '21, to the Boston Red Sox on Monday morning, it seems recruiters were wise in preparing for his departure. They did their job exceptionally well, receiving commitments from two high school shortstops for the 2020-21 academic year.
Nicolas Boza and Christopher Genaro, both Fordham College at Rose Hill (FCRH) '24, may have wildly different backgrounds, but they find common ground in their stellar high school play. Boza hails from Miami Lakes, Florida, and started at shortstop for three years on the varsity team at Cypress Bay High School. He was also a member of South Florida Select, one of the top travel baseball teams in the state. 
In his scouting report, Miami Mudcats Baseball Academy head coach Noel Figueroa said that Boza's "offensive and defensive skills are commendable but the characteristic that sets Nico apart are his leadership and mental approach … He is a winner and a leader that would be an asset to any program."
Meanwhile, Genaro will be staying in the northeast to continue his playing career, moving to the Bronx from Connecticut. A two-sport athlete at Greenwich High School, he served as the captain of both the baseball and basketball teams in his time there. He played travel baseball for the Greenwich Cannons.
In an interview with his hometown newspaper, Greenwich Time, the three-year shortstop said, "It was the best fit for me academically and athletically. Fordham's baseball team has been awfully successful, so I have to make sure my body is ready to go in the fall."
The Outfielders
In addition to two new shortstops, two outfielders will also be joining the Rams' roster with high school statistics that can only be described as eye-catching. Seattle, Washington, native Ethan Cramer, FCRH '24, would have completed four years of varsity baseball at Ingraham High School if not for the cancellation of his senior season. Batting .396 with 13 extra base hits in his junior year, he was selected to the 2019 Seattle All-Metro baseball team and helped Ingraham reach its first State Championship since 1979. Such an impressive prospect would normally be considered exceptional, but Fordham has been blessed with two such outfielders in this class.
For Ryan Thiesse, FCRH '24, his time in high school was split between two passions. Beginning each school year on the football field at St. Charles North High School in Illinois, the outfielder/wide receiver was the star player on two seasonal teams. His divided attention had no impact on his performance on the diamond, however, as he hit .359 in his junior year. He also proved a demon on the base paths, stealing 30 bases over the course of the season.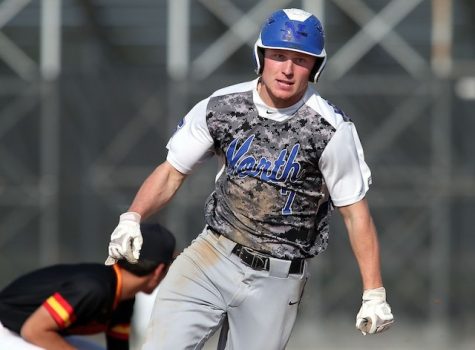 Based on Coach Todd Genke's overwhelmingly positive opinion, a Fordham fan could not help but grow excited about Thiesse's prospects entering Rose Hill. In an article for the Chicago Tribune, the St. Charles North coach said, "Pound for pound, just one of the purest athletes we've had come through St. Charles North … I felt like he was ready to explode this year and be an all-state player, maybe even an All-American-type player. He was ready."
The Utility Players
At shortstop and in the outfield, Fordham has recruited four high school hopeful players in an effort to fill potential holes in their lineup. The next two players may prove more versatile, however, as they have experience as first basemen and on the mound. Michael Taylor, GSBRH '24, is the first of these, a New Jersey native who played four years of varsity baseball at Gill St. Bernard's School in Chester Township. Although he was recruited as a first baseman and was recognized as a notable player in his home state, he also has pitching experience that could prove valuable.
The second such utility player is Trey Maeker, a Texas native and Pearland High School graduate. Like many of the other recruits, the 6'2, 230-pound first baseman and pitcher was a dual athlete, playing as an offensive lineman on Pearland's football team. On the baseball field, he played on the varsity team for four years and was named the seventh-best first baseman in Texas in 2020, according to Fordham Athletics. As a left-handed pitcher, he brings an additional element to an already exceptional skillset bolstered by his power hitting.
The Pitchers
Anyone with ability on the mound is valued by Fordham baseball, especially after Fordham pitcher John Stankiewicz, GSBRH '21, joined shortstop MacKenzie in signing a professional contract this week. Despite going undrafted, he signed as a free agent with the Minnesota Twins Monday morning. As Fordham looks for someone to replace their pro-caliber ace, they are welcoming five freshman pitchers to their roster for the 2021 season.
Left-handed pitchers are always in demand for college programs, and Fordham has two such committed newcomers. At the Chaminade College Preparatory School in California, Jake Clark, GSBRH '24, was stellar on the mound. The Calabasas pitcher played travel baseball for GBG Marucci Navy, and received Pre-Season All-American standing from Under Armour and Perfect Game. 
Nolan Hughes, FCRH '24, won't have to cross the country in order to showcase his talent in the Bronx, but the lefty from Halifax, Massachusetts, is no less valuable to the Rams' pitching staff. With a maximum fastball speed of 89 miles per hour as of February, the former captain at Silver Lake Regional High School is yet another player with upside as Fordham prepares for the new season.
"
In a testament to the Rams' recruiting program, 11 new players will be arriving on the Bronx campus this year from 10 different states."
Three right-handed pitchers will also be joining the team this year, as Declan Lavelle, Cameron Knox, and Brooks Ey, all FCRH '24, will all be entering a historically stout Fordham pitching staff. Lavelle, a graduate from Rye High School in New York, was team captain and regularly selected for local honors within his league. 
Knox, a former three-year varsity pitcher at Mt. Lebanon High School in Pennsylvania, also found great success at the local level, with Coach Patt McCloskey saying, "When you have players like Cam Knox, coaching is easy."
Ey's high school performance, meanwhile, is particularly interesting from a statistical standpoint. In 11 appearances in his junior year at Central High School in Philadelphia, Pennsylvania, Ey recorded a 6-0 record with a 0.89 ERA, striking out 70 batters in 39.1 innings. He also batted .541 in 61 at-bats that same season, though he is currently designated solely as a pitcher by Fordham Athletics.
In a testament to the Rams' recruiting program, 11 new players will be arriving on the Bronx campus this year from 10 different states. In prior years, players like MacKenzie and Stankiewicz went through the same process as these young men. Since then, they've won an A10 Championship and found their way into Major League Baseball. At this point, the college baseball experience lies directly ahead for these incoming freshmen, a world of opportunity within their grasp.