Matthew Tarabek: Looking Back on a Halted Fordham Career
Matthew Tarabek, Gabelli School of Business at Rose Hill (GSBRH) '20, received numerous offers in high school to continue his baseball career at universities around the country. He was a highly touted prospect and could have committed to any number of high-caliber programs. However, after taking some time to review his college career, the senior third baseman confidently said, "If I could go back and do it again, I think I'd pick Fordham." 
Since entering the baseball program in 2017, Tarabek has established himself as a key contributor in all facets of the game for the Rams. The Pennsylvania native started in every single game of his sophomore and junior seasons, batting .257 with 59 RBIs in that time. He also hit three home runs and proved effective on the base paths, stealing 30 total bases. The best was yet to come.
Through the first 16 games of his senior season, Tarabek was having what he described as a "breakout year," batting .340 with 14 RBIs in the preseason. What he didn't know when the season started was that his 16th game would be the last of 2020. The day after a Fordham victory against Wagner College, it was announced that all Atlantic 10 (A10) Conference events would be postponed indefinitely, effectively ending the season in March.
In a season that will never be fully realized, Tarabek seemed ready to make a case for his future in baseball, a career beyond Fordham. For him and many other seniors, however, the only remaining certainties now lie in the past.
After nearly four years, Tarabek eagerly praised Fordham as a place for "Division I baseball and a great education on top of it, a win-win for everything." His first year at the school, however, was one of pain and emotional tumult.
"I came in, had a really good fall and was planning on starting," Tarabek remembered. "Then, it was like a week before the season on a 35-degree day, and I dove for a ball."
The hustle play during practice resulted in a torn PCL, or posterior cruciate ligament, a major ligament in the knee connecting the thigh and shin bones. It dashed his hopes of starting from the outset and affected him in more ways than he anticipated.
"I was on top of the world, especially after the fall," Tarabek said. "I was feeling good about myself, and then as a young kid, for everything to get taken away, it was a learning experience for me." 
Several months later, the freshman recovered from the injury and could return to the field that season, but his results were hampered by a large leg brace that he claimed affected 70% of his normal athletic abilities. He hit just .170 through 36 games as he struggled to fully heal while also playing.
Following the spring season, Tarabek realized that he would have to take time off. He canceled his plans to play summer ball and instead spent those months in rehabilitation. Eventually, he worked past the injury and returned to Fordham in the fall in good health.  
Over the next two years, the young infielder established himself as an integral member of the team. In his sophomore year, he began to play at third base more often as Jake MacKenzie, GSBRH '21, started to take on more duties at shortstop. He made the transition to third seamlessly, proving to be a dependable glove, as well as an excellent base runner with a consistent bat. 
When asked about his favorite personal performance, Tarabek struggled to think of an answer. He eventually referred to a 2019 game against Fairleigh Dickinson University, in which he had five hits and six RBIs as the Rams crushed the Knights 22-10. However, his personal performances were not nearly as clear in his memory as his favorite team performances, which came to him immediately.
"Obviously, without a doubt, last year when we won the championship," Tarabek said, the response ready before the question had been asked. "There's really no words to describe how that felt."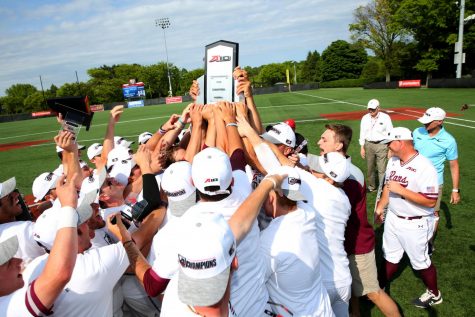 The feeling may be indescribable, but the astounding performance of Fordham in the 2019 A10 Championship will be spoken of for years to come. Entering as a 4-seed, Fordham defeated the heavily favored Virginia Commonwealth University (VCU) Rams in the second round before defeating Dayton University in two straight games to capture the conference title. For Tarabek, it was an incredible run speaking to the importance of timing in baseball.
"I don't think we were the most talented team last year at all," Tarabek said. "We were one of the top teams, but if you asked anybody, most reporters were saying VCU without a question. I just think we bought into the plan we had as a team, and in the long run, we got hot with the bats, the pitching was on, defense was great and we just rolled through everyone."
For Tarabek, the months following the championship were special, a time for him and his teammates to celebrate their success. He described the strong bonds such an experience creates, and as the 2019 seniors departed, he was proud that he had contributed to giving them a farewell worthy of their four years of effort and dedication. For his final year, he was simply excited for what was in store.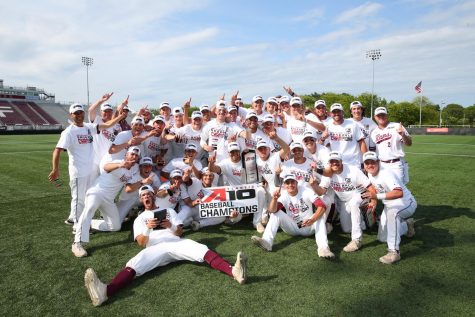 In addition to his own improved performance early in the 2020 season, he was also encouraged by the team's progress in all categories. In early March, the Rams were in an enviable position: They were averaging 6.25 runs per game on offense and hadn't allowed more than five runs in a game since February. The team was riding a nine-game winning streak and had just defeated Wagner College as they headed into a weekend series against St. John's University.
"That Wednesday game, we were preparing for St. John's and then Thursday, we find out the entire season's canceled," Tarabek said ruefully. "It was definitely something I'll remember, but not in a good way."
When the announcement was made, the senior thought of his own goals for the season that would never come to fruition. He said that he aspires to play professional baseball, and his performance early on was an excellent start in working toward that goal. However, it was the team that first occurred to him, considering how promising the season had once appeared.
"We were playing as good as I've seen us play in my four years here," Tarabek said. "There's always going to be that question of how good we could have been."
As the season comes to an abrupt end and seniors scatter to restructure their futures, Tarabek could only use one word to describe the experience: uncertainty.
In an attempt to rectify the suspension of spring sports for affected students, the NCAA announced that all spring athletes would receive one additional year of eligibility. Tarabek expressed intense interest in taking the opportunity to return, but questions remain regarding that possibility for him and many others.
"As of now, we're still waiting to find out from administration if they're going to fund back seniors' scholarships," Tarabek said. "That plays a lot into it, because obviously the school is $70,000, and I'm sure a lot of guys won't be able to pay all of that to come back and play baseball."
In addition to potential financial issues, there are many other reasons for an athlete to give up their sport. Players like Tarabek may return to pursue dreams of playing their sport professionally, but many others would consider other pursuits beyond college more important. Those pursuits would require a diploma and time, giving those student athletes little opportunity to return for an additional season.
"Everyone's in a different boat," Tarabek said contemplatively. "Some people, it's more important for them to go on and do other things in life, and other people want to keep playing. At least with the Fordham guys, it's all uncertain until we find out what's going on."
Even if scholarships are granted to fifth-year students, Tarabek still doesn't anticipate every senior returning to the baseball team. However, he remains optimistic that the team will continue to play at a high level next year, and fully intends on sharing in that success in what he hopes is his final year of play.
For Fordham's third baseman, baseball is more than a recreational activity. He showed a world of promise coming out of high school, and when an injury sidelined him, he fought his way back into the lineup. When he was forced to switch positions, he did so without issue, maintaining a consistent role on the team. He was a member of an A10 Championship team and was well on his way to a landmark senior season before it was taken away from him. This isn't anything new for Tarabek.
What is new is that he can't rectify this situation by himself. He could work through an injury and familiarize himself with a new position. He couldn't, however, give himself an extra year of eligibility; the NCAA had to provide him that opportunity. He can't give himself a scholarship; Fordham will have to afford him that as well, but hasn't yet done so. 
As he always has, Tarabek will do everything in his power to continue playing baseball. For the first time, however, his fate may be determined by forces beyond his control.