The Roots of Resistance
The Queer Liberation March for Black Lives Against Police Brutality
This time last year, New York City held LGBTQ events all month around the city, including the inaugural Queer Liberation March (QLM) organized by the Reclaim Pride Coalition (RPC). A year later, Pride Month is very different — events have been forced to adapt accordingly or be called off entirely. 
Though Heritage of Pride (HOP)'s NYC Pride March canceled their events for Pride Sunday, RPC saw hosting a march in New York City too important to abandon and will take to the streets on June 28 for the Queer Liberation March for Black Lives Against Police Brutality.
This year's march will have virtual content for those who cannot attend, encourage people to wear masks, allow for marchers to social distance on the outer perimeter of the route and organizers will hand out hand sanitizer. It will be livestreamed on RPC's YouTube channel and Facebook page. In addition to the physical march, RPC will post pre-produced digital content on their page from different "thought-leaders" in the community from both queer-lead and straight-led Black activism organizations.
The Origins of RPC
RPC formed in 2018 by members from different progressive activist groups — like ACT UP (AIDS Coalition To Unleash Power), Rise and Resist and Gays Against Guns — with decades deep roots in New York City activism. The QLM was born in protest to the corporate pinkwashing and excessive police presence at HOP's parade, the main pride event in Manhattan. In 2018, HOP did not allow the "resistance contingent," made of New York City activist groups, to march together — these groups later became the RPC.
Jay W. Walker, one of the founders of the RPC and an organizer for the QLM, has been an activist in New York City for decades. He spoke on what exactly is being "reclaimed" with the Reclaim Pride Coalition. 
"Heritage of Pride's parade has definitely turned into exactly that — a parade rather than a march. In the past 20 to 25 years it has slowly moved away from the activism displayed at the original Christopher Street Liberation Day."
"
No cops, no corporations, no barricades, no BS."
— Motto of the Reclaim Pride Coalition
Walker explained how RPC was formed because of the "overwhelming police presence" at NYC Pride. In 1996, the Gay Officers' Action League (GOAL) sued the NYPD in federal court for discrimination. This resulted in GOAL being able to march in HOP's parade in uniform. In 2018's parade, RPC demanded that the NYPD Police Band do not walk and GOALS march out of uniform. The history of police brutality to the LGBTQ community, especially to the trans and colored communities at the original Christopher Street March were a large factor of RPC's demand. "The excessive police presence made groups of color feel unsafe," Walked said.
In recent years, the NYPD has taken a far more active role in the NYC Pride March, like deciding the final parade route and barricading the streets. "The beauty of the original route was that people watching from the sidelines could hop off the sidewalk and join the march. If you saw the parade and saw yourself and were overcome with the urge, you could join and march." Walker attributes the overpoliced Pride parade to the outer boroughs organizing their own marches through the years.
In the West Village, where the parade route originally began, Walker described how the "over-barricaded route is now unsafe and inaccessible for elders and members of the community with disabilities." 
On top of the NYPD's presence at Pride, "as acceptance of the LGBTQ+ community grew in our country, corporations became more involved and Heritage of Pride began valuing them more than actual members of the community," Walker said. "There was long term drift from the origins of Pride. Heritage contributed to the drift from the real expressive needs from the LGBT community, colored communities, trans community, disabled community. There had to be an alternative." The QLM was how gay "we went back to the garden."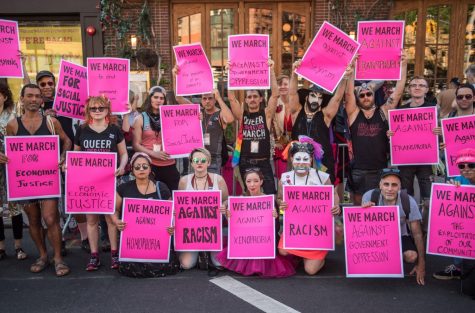 In an effort to go back to Pride's roots and through RPC's motto of "no cops, no corporations, no barricades, no BS," the Queer Liberation March was born. "Everyone marched as a community, representing all the beautiful aspects of our community." The first QLM in 2019 began had over 45,000 participants and was completed in four hours. 
Some of Walker's colleagues who are in their 50s and 60s who had not attended Pride for over a decade described the QLM, saying, "This is the Pride I remember."
'We're All Marching': Intersecting with Black Lives Matter
When George Floyd's death sparked outrage, RPC's decision to resurrect a physical march for this year was, "simple, no debate, no tension — it was only the question of 'How are we going to get this done in three weeks?'" Recentering the focus of QLM to supporting Black lives and defunding the police was a simple decision because RPC's mission already aligned with the Black Lives Matter movement. "The death of Mr. Floyd resulted in a national outpouring of support from all races, all genders, all sexualities — and we're all marching."
The QLM showcases the intersection between LGBTQ pride and Black lives activism. "Queer people owe everything to BIPOC (Black, Indigenous and people of color), especially trans women of color. In the last couple of weeks, I've heard people say Pride was 'cancelled' or 'forgotten.' RPC is keeping Pride rooted in its history and looking forward to all of the work we have left to do. In the face of all the corporate, capitalized performative allyship, marches like these remain necessary forces for change," Alexandra Prado, FCLC '21 and former secretary of Lincoln Center's Rainbow Alliance, said.
"
Pride is not cancelled, in fact it is reborn this year. LGBTQIA+ people only have the rights that we have because of the BIPOC who fought for them."
— Ky Hayward, Rainbow Alliance president
"Pride is not cancelled, in fact it is reborn this year. LGBTQIA+ people only have the rights that we have because of the BIPOC who fought for them, and yet, sadly, those rights are not distributed equally to all within our community." Ky Hayward, FCLC '21, president of Rainbow Alliance, said. "Rainbow is notoriously white and we want to change that." Rainbow Alliance is working on increasing diversity on its E-Board and recruiting more members in general.
The mission of the QLM for Black Lives Against Police Brutality extends beyond June 28. To young activists and student leaders of LGBTQ organizations, Walker urges them to "focus on subjects of intersectional fights of justice. Reach out personally to highly marginalized members of the community, bring them into leadership." 
Prado said, "For pride month, we've called on our white club members to complete Layla F. Saad's workbook Me & White Supremacy, and we're having weekly zoom meetings to reflect on and discuss our antiracism work. I'm hopeful these sorts of discussions will continue through the rest of the year, as we continue to hold each other accountable and work to make our space more genuinely inclusive and intersectional."
"This is a post-Trump resistance moment," Walker said. "This is what the resistance is all about. This is the movement we have all been waiting for. This is the moment where there's actual hope."