FLOW Students Give Back to the NYC Frontliners
Students raise $995 to deliver meals to healthcare workers on the front lines
Shelter-in-place orders have led many students to feel a lack of motivation to do the most mundane of tasks. For students who are still in the New York City area, there is an additional concern of safety as the county continues to be the global epicenter of the coronavirus, leading with 182,318 confirmed cases as of May 5. 
Despite this trying time, the Fordham student club Filipinos of LC Offering Welcome (FLOW) took it upon themselves to give back to NYC health care workers, demonstrating Fordham's mission of being women and men for and with others.
FLOW partnered with Mount Sinai Morningside Hospital near Columbia University to create FLOW for Frontliners Fund. The donation fund aims to feed health care workers in NYC hospitals who risk their lives every day on the frontlines of the pandemic.
Former President of FLOW Josh Castilon, Fordham College at Lincoln Center (FCLC) '20, was the first to initiate this partnership as a way to give back to health care workers.
"My mother works as an emergency room nurse at Mt. Sinai and talks about how every day in her hospital during this pandemic is a battle, so I decided to utilize the platform of FLOW to give back to the healthcare workers who risk life and limb every day during this global health crisis," Castilon said.
Mount Sinai is one of the hardest-hit hospitals in the city; across its seven citywide locations, 80-90% of its patients are being treated for the new coronavirus.
Castilon made the first food delivery on April 23 at 7 a.m. After putting on a mask and gloves, he was able to bring breakfast to the Mount Sinai emergency room nurses, doctors and staff members using the donations from the FLOW for Frontliners Fund.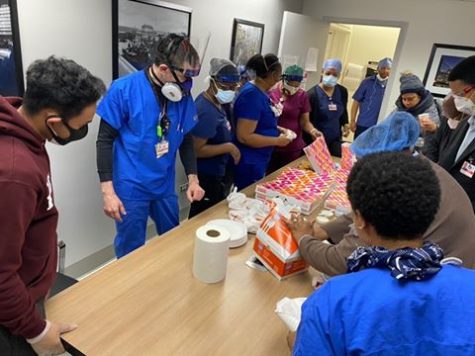 He said he had the privilege to speak with those on the frontlines about their experiences treating COVID-19 patients as the pandemic reached its peak.
"It was nothing short of humbling," he said. "For me, it's important as a leader to be adaptive in times of crisis, while also finding ways to take care of the well-being of your community."
Castilon's mother, Jovy, who has been an emergency room nurse for 16 years, said that she and her co-workers were touched by the kind gesture from Fordham students.
"We will never ever forget the love, support, kindness and generosity of the neighborhood and the people that supported us — the FLOW Club at Fordham," she said. "This has lifted our spirit from all the support, big and small!"
Joseph Romero, Gabelli School of Business '22 and the vice president of FLOW, furthered the initiative by taking advantage of his connections with the non-profit Advancement for Rural Kids (ARK).
Romero said he had been working with ARK for a few months, offering to bring meals from Filipino-American-owned restaurants in Manhattan and deliver them to hospitals in the NYC area. He set up a partnership between FLOW and ARK to help promote donations and volunteer work to feed frontliners.
"
It was nothing short of humbling.
FLOW and ARK have also delivered meals to Memorial Sloan Kettering Cancer Center, NewYork-Presbyterian Hospital, Bellevue Hospital and North Shore-LIJ Health System. 
Romero has made five deliveries so far, each including 50 to 60 meals. He said that he hopes to do more deliveries after finals.
On April 30, FLOW received a large donation from the non-profit Filipino Intercollegiate Networking Dialogue (FIND), bringing the fund to a total of $955. FIND aims to promote the growth of collegiate Filipinos on the East Coast.
Gabby Rivera, FCLC '20 and club treasurer, is also making the donors bracelets as a thank-you for their support.
"It's a team effort here at FLOW," Romero said.
As a nurse on the front lines, Jovy Castilon said she has recently been called a hero by friends and family members. Even though she appreciates the kind words, she said, "I am not a hero, we are not heroes, we are here to do our job which is to save lives."