BERNABEI: Mayor Corey Johnson? Let's Hope Not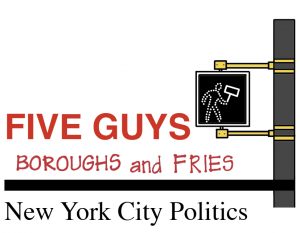 Although there is still over a year left until New York City's next mayoral election, it's never too early to start getting prepared.
Mayor Bill de Blasio isn't the only one shaping up in preparation for the mayoral election, in which he himself won't be participating due to term limits. Current City Council President Corey Johnson, who represents the district containing Fordham's enclave on the Upper West Side, will likely be joining the mayoral cagematch. Although Johnson's background is weathered by struggle due to his sexuality and former drug use, he has found great success in this city's politics. After dropping out of college, he moved to New York at 19 years old, joined Manhattan's Community Board 4 in 2005 and was elected to the City Council in 2014 where he has served ever since. While he may be a dedicated public servant to the City of New York, his ideas are grounded firmly in the wrong places.
Now, let's not whitewash the utter failure de Blasio's mayorship has been. From giving his wife nearly $1 billion on a failed mental health initiative, to overseeing rising crime in the five boroughs, to driving to his gym with an entourage of security in Escalades while crowing about climate change, de Blasio is no beacon of common sense or moral brilliance. But Corey Johnson would be even worse at the helm of the United States' most populated city.
Look no further than the subway protests on Jan. 31. Even de Blasio, as vehemently anti-police as he is, issued a tweet opposing the vandals and their protests. He even later said in a press conference that he was one of the people "repulsed" by them. 
The current city council president, on the other hand, was silent. Johnson, clearly afraid of alienating the farthest-left-wing voters in Williamsburg, has either proved his allegiance to their cause or doesn't want to face the electoral fallout in standing up to them.
On economic issues, Johnson is similarly entirely out of bounds from the mainstream. In what is almost certainly a campaign publicity stunt, he is calling for the city to increase the reimbursement rates for its apartment vouchers to cover market-rate rents, costing an estimated $236 million over five years. The current voucher rates are low enough that many social service groups argue they keep homeless people in shelters, as landlords find it impractical to take advantage of these rates. Instead, they would rather rent them on the open market, garnering them not only higher rates, but also more assurance of payment than the city's system.
But these incentives would do nothing but encourage more low-income New Yorkers to claim homelessness themselves, hoping to live in a better abodes than their current residences. If Johnson adhered to any standard economic consensus, he would realize that the best way to help people get on their own two feet would be to directly address the issues they face — substance abuse and mental illness. But, as is usually the solution to any problem in New York, throwing more money at anything perceived as lacking it should do the trick.