UPDATED: Water Main Break Forces Closure on First Day of Spring Semester
On Jan. 13, the first day of the spring semester, Fordham College at Lincoln Center (FCLC) was forced to close after a 36-inch water main broke and flooded West 63rd Street at Broadway. The burst happened at 5 a.m., and by 7 a.m., Public Safety contacted students announcing that classes were delayed. 
The break prompted the closure of Broadway between West 61st and West 72nd Streets and suspended the 1, 2 and 3 subway lines from Times Square to 96th Street. 
NYC Water announced in a tweet that "there will be temporary water outages in the area," as crews try to make repairs. Students were advised not to use the water in McKeon Hall and the 140 West Building. 
Martha de Pumarejo, residence director for upper-class students, contacted students that morning explaining that water "is very scarce due to the breakage from our neighborhood." 
"The water in the building is shut off and facilities are working their best to mitigate this issue," she wrote in an email at 11:30 a.m. After being told they were unable to use the water, McKeon Hall residents were given permission to utilize the showers in the McMahon Fitness Gym. 
Water in McMahon Hall was also affected, and de Pumarejo warned residents of cloudy water, which she advised could be resolved by running the water until it clears.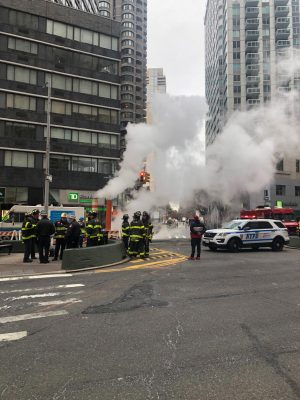 The limited water services also caused dining services on campus, including Argo Tea and the Dining Hall, to close. Without water, dining room staff were unable to wash their hands or properly clean equipment, making it impossible for them to meet food safety and Department of Health standards. 
Deming Yaun, the university dining contract liaison, explained that "if an inspector were to walk in and see us operating without water or steam, there would be all kinds of issues. Everything with food safety requires that kind of support."
The Ram Cafe was partially closed as well, only selling pre-packaged food and beverages that had met food safety standards. 
"In the case where we cannot use our facilities, we are able to feed residents for three days with pre-packaged food supplies we have on campus," Yaun said. The university also has relationships with vendors who would bring food onto campus if that support were needed. 
In this type of emergency situation, Yaun explained that the biggest priority is supporting students in McKeon Hall who don't have kitchens. 
"It's really frustrating to have to go out and spend money on food right away because of the limited options at Ram Cafe," said McKeon resident Larry Hetz, FCLC '23. 
At 3:30 p.m., de Pumarejo announced that water had been restored to McKeon Hall, and that the Community Dining Hall, initially indicated to be closed for the day, would be open from 5 to 7 p.m.
Ram Van services were also disrupted, with service between Lincoln Center and Rose Hill suspended until 4 p.m. Students with classes at Rose Hill were still obligated to attend, most using the D train to get to class on time.
While the reason for the burst is still unknown, Ted Timbers, a spokesman for the department of environmental protection, told the New York Times that wintery conditions put pressure on New York's city older pipes as the water expands and contracts with the temperature changes.
The day before the pipe burst, Jan. 2, temperatures in the city soared to over 60 degrees Fahrenheit before dropping back down to 45 degrees on Jan. 13. 
The rupture also affected steam services which connect the Lincoln Center campus to the city and help heat and cool buildings. The Lowenstein Building and the 140 West Building's heating systems were compromised. Students, staff and faculty were advised to bring an extra layer of clothing to campus on Jan. 14, according to a 2:30 p.m. Public Safety email.
The university was able to use a temporary external piece of equipment supplied by Con Edison to supply the campus with steam and heat temporarily. That system allowed Argo Tea, the Ram Cafe and other on-campus dining options to resume full services on Jan. 16. 
Full services were expected to be restored across campus on Jan. 21, but Public Safety emailed the Fordham community at 5 p.m. that day explaining that damage to the steam lines was worse than anticipated.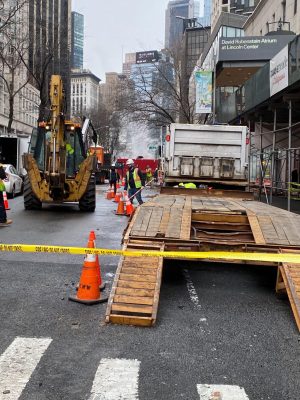 Without central heating, students have complained about cold temperatures. "Classrooms in Lowenstein are still freezing," Caleb Pelmas, FCLC '21, said. "Everyone was sitting in class with their jackets on trying to stay warm. It made it really hard to concentrate and actually take notes because I was so cold," he continued. 
Public Safety assured students that they have ordered a special high pressure boiler from Con Edison to provide heat to the campus. 
"We apologize for the inconvenience that our Lincoln Center community has endured and are actively working to bring appropriate heat to every space," John Carroll, associate vice president of public safety, wrote in an email. 
"Obviously the school has no control over it, but I wish there could've been better preparation and a clearer protocol for this situation," Hetz said. 
However, Yaun believed that FCLC had a great response to the emergency. He said that Fordham officials were on conference calls almost immediately after learning about the burst and were in constant communication throughout the day. 
"Emergencies are not scripted," Yaun said, noting that the incident with the burst pipe will be something that he and other members of Fordham's emergency response planning committee will be able to learn from in the future.