The Designer Diaries
Tales from New York Fashion Week
I Love (Being) Pretty Busy
By CHLOE FELOPULOS
Contributing Writer
This season of New York Fashion Week (NYFW) was a totally new experience for me, as I saw it from the eyes of a stylist. I was no longer attending only to write and create content for Soul, an online fashion magazine; I was now dressing clients for the shows as well as playing the role of a plus-one – and I managed to get backstage. I discovered a new world of what goes into the prep for attending shows: obtaining invites and seats, maintaining good relationships with designers, picking samples for clients and taming the monster that is a styling assistant's email inbox during NYFW.
Along with this new mindset were new shows to attend, and one stuck out to me in particular: the I Love Pretty runway show held at Spring Studios. I was absolutely in love with every look that passed by me on the runway. From the sheer and dreamy textiles and harsh leather to the exquisite accessorizing and upbeat rhythmic music, I enjoyed every second of it. I Love Pretty cared for every guest by gifting everyone with the most fabulous pink and black goodie bag filled with its products. The looks were an amazing contrast; edgy and feminine against and sexy and laid-back. I loved seeing the I Love Pretty Spring/Summer '20 story being told right in front of my eyes.
A Holly Golightly and Lizzie McGuire Fashion Week
By CATHLEEN FREEDMAN
Contributing Writer
During my first foray into NYFW, I feel like I saw it at its best and its most mediocre. NYFW's best was going to the Jennifer Diederich Suite show at the Norwood Club; it was one of those moments where you clutch your chest and say to yourself, "This is so New York."
The Norwood Club is an artists-only clubhouse fit for a Wes Anderson set. Diederich's brand, Suite, featured clothes inspired by New York's society swan leader Truman Capote and his legendary Black and White Ball. The models wore the new line and interacted with guests as they sipped cocktails and swayed to "Moon River." I even got to try on one of the model's coats. 
On a Tuesday night that week, I went to a joint-designer fashion show. (Trust me, there is no greater thrill than nonchalantly telling your study group, "Sorry, I have to leave. I've got an NYFW show!") For this fashion show, though, the bragging rights ended there. PR personnel, photographers and influencers desperately wanted to get to the check-in line and were not afraid of shoving to get there. 
When the show began, I immediately thought of the fashion show sequence from "The Lizzie McGuire Movie." The room was stark white, the clothes were odd and the models looked miserable. There were delays between the designers. An announcer kept saying, "Please uncross your legs if you are in the front row." Apparently, people are either hard of hearing or very disobedient because the announcer said this at least six times. I ended up sneaking out early with an Instagram influencer. 
As someone outside the fashion industry, I always looked at NYFW with wide-eyed curiosity. Now, I'm curious as to why designers do not take advantage of their space, their clothes and this city. The Suite showcase epitomized what NYFW should be: glamorous, innovative, immersive. The other show I went to was the complete opposite. During the week, several people in the industry told me, "I love fashion. I hate the fashion world." Perhaps if the fashion world focused more on its presentation style, people in the industry would not feel this way.
Trendy Twists and Stylistic Risks
By ALEXANDRA CHAMBERS
Contributing Writer
NYFW is a phenomenon unlike any other. I was fortunate enough to attend a show this year, and it was an unforgettable experience that made one feel as if they belonged to the fashion world for a fleeting moment. As soon as I stepped into the Angel Orensanz Center, there was a whirlwind of action as photographers snapped pictures of models, frantic employees rearranged chairs and swarms of people shuffled around in search of a space to claim. It's a strange yet exhilarating energy that's best described as a blend of chaos and purpose.
The atmosphere while waiting is just as thrilling as the show itself; the crowd was packed full of people, exaggerated networking and otherworldly outfits. As I took my seat and the show began, music pulsed throughout the cathedral-like venue, echoing off the walls and establishing an aura of creativity and excitement. Moments later, the models began their strut down the catwalk. Vacant expressions rested on their faces, but the fabrics that adorned them screamed with life and color as the textiles twisted and turned into fantastic avant-garde designs. The collection was dominated by reds, whites and blacks, with strange spurts of camouflage interspersed throughout. Each article of clothing seemed to include some type of cape, skirt or dress, creating a flow throughout each design, as well as the ones that followed.
I sat in awe of the innovative use of style and was reminded of how fluid the definition of fashion is. The uniqueness of each piece and unconventional use of material elevated the collection beyond the runway, flooding my imagination with inspiration. The show itself was quick, yet its impact was lasting. When I glance at the press pass hanging on my wall and glimpse the words "New York Fashion Week" typed across it, I can't help but smile at the surrealness of it all and hope to experience a show again, especially one with the ability to make me think as deeply as this one did.
Life Behind the Runway 
By STEPHANIE SABIDO
Contributing Writer
This year marks the first season I finally got the opportunity to attend NYFW, and it was genuinely everything I could have hoped for and more. Working as a public relations (PR) intern at an up-and-coming firm, I got to attend shows while also organizing and facilitating the show of one of my favorite designers, Jennifer Diederich. Although press relations is an unlikely internship option for a pre-med student, I enjoyed working with Jennifer to create such a unique and special presentation of her designs.
Her Kate Spade-esque style is similar to my own; I walked away with not only inspiration for everyday dress, but also the opportunity to try on styles straight from the models from the Suite Spring/Summer collection. This season I truly learned that a room full of enthusiastic creatives and supporters is unlike any other.
One of the first shows I attended this season that showcased that unique energy was the Patricia Field show at Playboy Club on 42nd Street and 10th Avenue. The energy and excitement was enough to make me fall in love before the show even started. I was surprised at how willing people were to engage with complete strangers around them. After many conversations, it was almost like these strangers turned into good friends, tied loosely together with an invisible string that is the appreciation for fashion. 
Life from a PR perspective is not always this glamorous, especially during the busiest week of the year. Nonetheless, my constantly full inbox, never-ending list of tabs and late nights at the computer always proved worth it when it was time for those heels to hit the runway. I am already looking forward to next season.
Rituals Don't Need Runways
By GILLIAN RUSSO
Arts & Culture Editor
After two years, one of my greatest freshman-year dreams came true: I was going to Fashion Week. I had starry-eyed visions of celebrity sightings and red carpets alongside catwalks and hordes of street-style photographers clamoring to photograph my impeccable outfits. Spoiler alert: I saw seven shows in five days, and none of that happened. But nothing could have been further from my expectations than my very first show. 
Long story short, I walked away feeling like I had witnessed some sort of secret magic ritual.
The show was set to take place on a grassy hill in the middle of Central Park not easily accessible by public transit. Picture: a young NYFW rook traipsing through the park in light rain in a formal coat and heels, clearly missing the practicality memo in the interest of "fashun." When I finally arrived, I was stunned to see … absolutely nothing.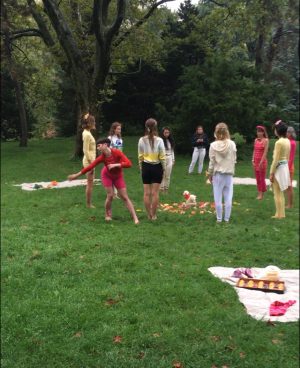 If not paparazzi and celebrities, I at least expected a buzzing crowd, perhaps a sign, some indicator that an event was going on. Nope. Just a trail of flowers leading to the top of the hill. I took 15 minutes to notice them, but once I did, I dutifully followed.
No runway at the top either, by the way — just a circular setup of jewel-toned picnic blankets and fruit, purely for show. The models formed their own circle around a small stuffed lamb placed in the center. Each model performed a small solo dance in their outfit — that was a refreshing change of pace from the normal "walk-in-a-straight-line" setup of most shows. For most of the 30 minutes, though, I tried to keep my heels from sinking into the mud while watching models do yoga poses in knitwear that looked like something you'd only wear in your dorm room, all while sipping warm chamomile water and listening to a woman sing Ave Maria and a hymn about sanctuary.
How many people can say that of their first fashion show?