A Month in Concerts
This July was one of extreme weather, with torrential showers flooding the subway platforms and dangerous heat waves that made going outside a hazard. Thankfully, lots of talented bands played in New York that month, providing an escape from the hectic conditions outside. Read on for a list of standouts I saw while sheltering from the summer heat in air-conditioned venues.
The Chats at Brooklyn Bowl
July saw a lot of international bands make the journey across the ocean to play their first American shows. Aussie pub-rockers The Chats made it stateside on July 16 to play their first-ever NYC headline show at the Brooklyn Bowl. Joined by local acts Cutie and Gnarcissists, the rockers played to a sold-out crowd in the eclectic venue, where the stage is directly adjacent to several lanes.
The Chats are perhaps best known for their viral hit "Smoko," where their characteristic style of comedic storytelling describes several people just trying to enjoy their smoke break. The lyrics for each of their songs often discuss the mundane parts of life, elevated by Sandwith's biting vocals and Matt Bogis' drums. 
Gnarcissists' incendiary punk rock riled the crowd up, causing a furious energy to build before  the headlining set. A fair amount of people had already crowd-surfed, pints already lay shattered on the ground and shoulder bumps had turned into hard shoves. Maybe it was the clap of thunder outside the venue or the suspiciously large puddle forming by one of the exit doors, but by the time The Chats made their way to the stage it felt like a tide was about to be let loose.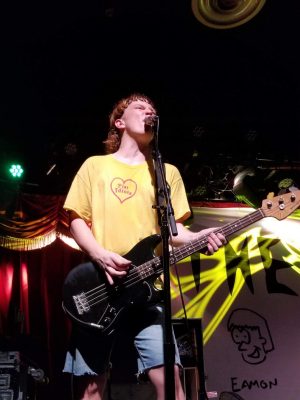 Bassist Eamon Sandwith and guitarist Josh Price set the tone for the night before the set began, flaunting the backs of their respective instruments where the words "F***" and "YOU" were written in electrical tape. For those in attendance, the band's irreverent attitude is a huge part of the appeal. Sandwith's opening remarks, during which he said "New York f***ing sucks" for the first of many times, were eagerly lapped up by the sweaty masses. 
The band played a raucous 12 songs, featuring personal favorites "Nambored," "Bus Money," "Temperature" and the trio's newest single, "Identity Theft." Each song functioned like a proverbial middle finger to the proverbial Man, with the seriousness ranging from playful to more caustic. Singing candidly about being broke, drunk and hungry — often all at the same time — The Chats make music that almost everyone can relate to. 
Before the first song ended, the crowd had reached peak rowdiness; beers were slung on stage and eager fans grandstanded on stage before getting the literal boot from Sandwith. The antics felt like they wore Sandwith thin, as he tried to reign the crowd back in with some colorful warnings. While introducing a song, a fan yelled "What?" at Sandwith, which led him to scowl into the mic, "Don't what me, f***ing listen."
Despite the overzealous attitudes of some crowd members, the band rocked through their set without pause. The Chats have played their fair share of rowdy crowds, and weren't about to let New York stop them from having a good time. They kept the energy upbeat and cheeky, with Sandwith at one point telling the crowd, "What we lack in talent we make up for in sex appeal."
The Chats ended the beer-soaked night with "Pub Feed," perhaps foreshadowing the crowd's plans to search for something greasy and cheap to eat after the show. The Chats have just finished the North American leg of their tour, but hopefully the trio returns to New York City soon.
Yeah Baby and Pom Pom Squad at Pianos
Lower East Side venue Pianos hosted a showcase on July 12. The event took place during Independent Venue Week and highlighted local rock bands Yeah Baby and Pom Pom Squad.
Yeah Baby specializes in music that is arrestingly somber. Opening song "Sunday" paired atmospheric shoegaze with the anxiety of maintaining a sense of personal autonomy in a world where "everything is for sale." Vocalist Hanna White layered wistful lyricism over the drifting instrumentals from guitarist Kean Won and bassist Skyler Skjelset (also in Fleet Foxes). The beat that drummer Casey Mullen kept was reminiscent of rolling waves, slowly lapping over the audience.
"Neptune Hotel" is their strongest offering, transporting the listener underwater with haunting vocals and rippling riffs. White's nautical pantsuit, featuring all sorts of underwater creatures, and the blue wash of the stage lights only added to the atmosphere. The Brooklyn-based band only has a few songs out, but its members are already working on mixing and mastering their album.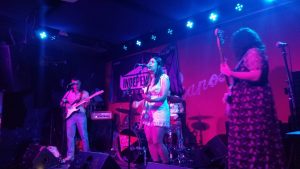 Next up were Pom Pom Squad, a Brooklyn-based rock band who were recently tipped by music publications Stereogum and The Fader. The set changed the pace of the night, introducing crashing drums and sizzling guitar solos courtesy of drummer Shelby Keller and bassist Maria Alejandra Dale Figeman. Having recently been covered by music publications Stereogum and The Fader, Pom Pom Squad is a band to watch.
The band is set to release its follow-up to 2018's "Hate it Here" on Sept. 6. Singer Mia describes the forthcoming EP, "Ow," as an exclamation of pain, but made it clear that the literal reading isn't meant to undercut the EP's themes. Pom Pom Squad's latest single "Heavy Heavy" gave the audience a taste of the new material, jumping right into the dark and lonely feelings that accompany depression.
Despite the lyrical content, the song was clearly a crowd favorite, with many singing along as Mia lamented, "It's getting heavy, heavy, telling everybody that I'm fine." Berrin was candid about the fact that the material is personal, and it was hard not to feel affected by Mia's raw vocals as she screamed over Keller's crashing drums. 
While the songs are very much inspired by Berrin's own experiences, she purposefully centers the other members in her bands. She introduced guitarist Ethan Sass, who recently joined the band, and made it a point to congratulate Figeman on receiving her visa. The band went on to play a cover of Weezer's "Undone (The Sweater Song)" before rounding out their set with "Hate It Here" and "Sunday Song." Catch them next at their EP release show on Sept. 15 at Baby's All Right. The latest single off the EP, "Honeysuckle," is out now.
Grace Ives and Pixx at Elsewhere Zone One
The month ended with another international artist landing in Brooklyn, this time at Bushwick event space Elsewhere for an early show. Pixx traveled to the converted warehouse on July 27 to play the New York City show of its first American tour, bringing along Brooklyn native Grace Ives to open. 
Unlike the headliners, Grace Ives is a solo pop act. The stage in Elsewhere's Zone One is meant to accommodate a full band, and rather than seem swallowed by it, Ives filled the room with her quick and snappy pop music. Light on her feet, Ives easily transitioned between songs from her album "2nd," released back in April, while using her exuberant energy to keep the show afloat. Ives was chatty and personable, at one point introducing one song by talking about her previous job as a dog walker.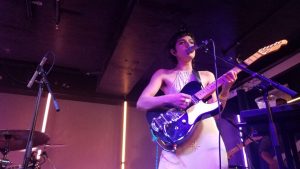 She didn't need to work hard to keep the audience enthralled, as her set felt like it was made for those whose attention span has slowly been whittled away by micro-blogs and Twitter. Each song in Ives' repertoire is like sonic Pop Rocks, letting off short but powerful sparks of pure, spunky electro-pop. Rather than flit away as soon as they come, each song is made memorable by capturing a mood in a few verses. "Mansion" and "Something in the Water" were standouts, Ives' simple yet effective sound transforming the repeated lyrics. It's a minimalistic approach to pop music, standing out in a field crowded with overproduction and unnecessary features.
Ives will play MoMa PS1 as part of the museum's summer Warm Up Series before embarking on a country-wide tour, which will see her stop off in New York two more times in the fall.
London-based band Pixx took the stage next. Awash in deep blues and magentas, singer Hannah Rodgers took center stage in a semi-transparent gown and laced-up boots. Her bandmates made similarly showy sartorial choices, with one layering a cowboy hat with an American flag visor with the word "Obama" scrawled in sharpie between the stripes. The British band, whose music traverses a variety of different genres, was touring in support of their latest album, "Small Mercies." "Small Mercies" follows 2017's "The Age of Anxiety," and two years later, Rodgers seems to still be preoccupied with themes of religion, environmental degradation and gender inequality. 
It's a transparent record that sees Rodgers contemplate herself and the world around her, revealing some personal truths in the process. The synth beats of "Andean Condor" giving way to the grungy riffs on "B*tch" and "Mary Magdalene" illustrate how Rodgers refuses to be tied down, whether it be by a particular sound or her past. It's eclectic, and while the lyrics are pensive, that seriousness never muddies Pixx's sound. Although every song on the album is different, "Small Mercies" features Rodgers working through a relationship or grievance (past or present) in each track.
"Peanuts Grow Underground" features this overall theme, serving as a timely critique of environmental exploitation. While Rodgers is particularly venomous towards human greed, she also indicts inaction for the climate crisis, with the lyrics "Melting in your contemplation" repeated throughout the song. Less of a call to action than it is an observation, "Peanuts" ironically doesn't burden the audience with the climate emergency. The song itself is upbeat despite the climate anxieties it underlines, and the crowd dances along. Someone in the crowd requested they play it again, but the band didn't have time for an encore. Instead, Pixx brought out tracks from "Age of Anxiety" before ending on "I Bow Down," the techno-inflected opener to its debut album. 
Pixx has already wrapped up its U.S. tour, but you can stream "Small Mercies" on all platforms.