Fordham Cost of Attendance Soars for 2019-20 Academic Year
Higher tuition, housing and insurance costs spell mounting expenses for students and families
On June 6, 2019, the Office of the President sent out a university-wide email announcing a 3.3% increase for undergraduate tuition across all programs. The language of the email highlighted the school's efforts to minimize the inflating cost of higher education.
"The University and its Board of Trustees are concerned, like many of you, about the cost of a college education," stated the email signed by University President Reverend Joseph McShane, S.J. "[We] are doing what we can to rein in the cost without affecting the academic experience at Fordham." 
The 3.3% tuition increase, which the university claims is relatively small in comparison to previous tuition increases, comes amid rising on-campus housing costs and the recent Fordham health insurance mandate, potentially resulting in a much higher total cost of attendance (COA) from last year for many students. 
For a student living in a shared McMahon bedroom and utilizing the Fordham-Aetna Student Health Insurance Plan, the COA for 2019-20 reaches $73,068 — all before any required fees, books or meals, which could increase that number to over $75,000 for one year of school. 
Further, one can expect expenses to increase if living in a single in McMahon Hall, or living in McKeon and utilizing a meal plan with the university. Certain classes can also incur additional expenses, such as extra required fees or textbooks. 
Some students have reported that the university has shared personalized COA estimates upwards of $77,000 before aid. This estimate only calculates the bare minimum of living at and attending Fordham, and not the expensive entertainment options or tastes students often indulge in while living in New York City. 
This number contrasts sharply with Fordham's COA for 2018-19. Minimum required expenses sat at just $67,659 (before fees, books and meals) last year — assuming a student attended under the circumstances of sharing a bedroom in McMahon and using a pre-existing health plan.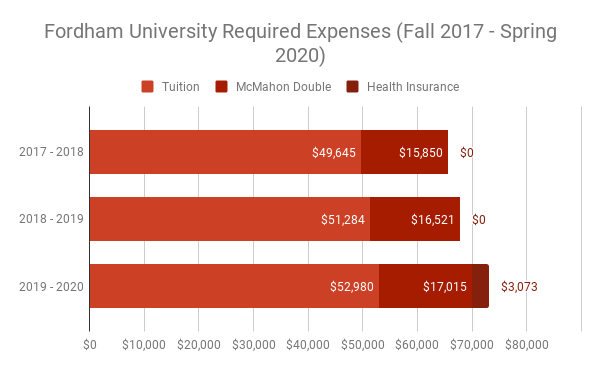 A student attending under those same circumstances this year can estimate paying roughly 8% more for their minimum required expenses, at $73,068, if their previous health plan is deemed ineligible by Aetna. A student who is eligible to waive the new mandatory health insurance fee can take $3,073 (4%) off of that estimate. For comparison, students going into fall 2018 could expect to pay just 3% more for all minimum required expenses, from $65,495 to $67,659.
While the 3.3% tuition increase was proportionally smaller than recent national trends and Fordham's own previous increases, many students have reported being surprised by the size of their bill this summer. Of course, the exact charges billed to each student depend on countless factors, such as housing status, transportation, required fees, meal plans and health insurance eligibility, which all have an effect on individual billing statements. But even estimating conservatively, Fordham's COA now reaches roughly 1.5 times the median for a private four-year university, which sits at around $48,510 per year.
Available student meal plans also increased by about 3% across the board.
Stefano Terzulli, director of student accounts at Fordham, explained that the changes to tuition are a result of Fordham University's high costs of operation and expansion. 
"Virtually all universities raise tuition annually to keep pace with inflation and rising costs," he said. "This is especially true in New York City, where goods and services are more expensive than they are in many locations." 
However, new Fordham students and parents concerned about affording school shouldn't be too worried. While Fordham ranks among the most expensive universities in the world, its financial aid ranks in the top fifth of U.S. institutions, meaning most students are paying far less than the $75,000 sticker price.
According to collegefactual.com, the average yearly aid package for first-year students is $34,495, with 91% of students receiving some kind of aid. However, a significant portion of that aid is in the form of student loans. Scholarships and grants are given out to 81% of students, with an average yearly award of $24,954.
The email from the President's office highlighted Fordham's commitment to financial aid, stating "Fordham dedicates more than $150 million in financial aid to undergraduate students each year."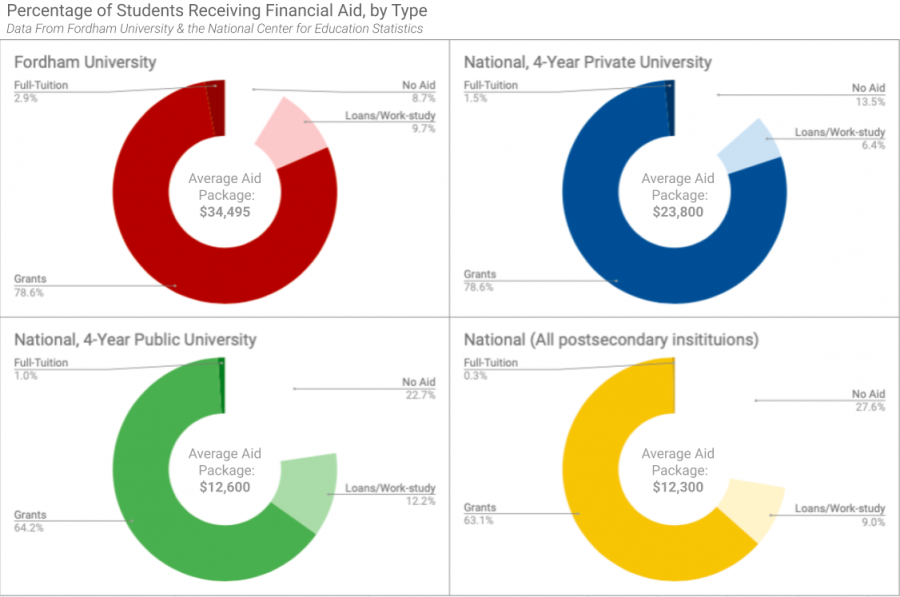 Unfortunately, that commitment to financial aid does not extend to raising scholarship award amounts for students that are currently attending. According to Terzulli, "Students receiving full tuition scholarships will see their awards increased. However, in most cases, school-provided grants and scholarships will not match the rate increases."
According to Fordham's financial aid website, across all undergraduate programs, just 22 students are offered scholarships that cover both tuition and on-campus housing through the university's Presidential Scholarship and its Excellence in Theatre Scholarship. In addition, "the top 2-3% of all admitted students" are offered full tuition scholarships through the Fordham Scholarship for Semifinalists. None of these grants cover fees, books, meals or living expenses, but this contingent of students — assuming they actually accepted their offers of admission from Fordham — may be able to avoid most of the new charges this year.
According to Terzulli, "students not already utilizing their loan eligibility may opt to use that eligibility to cover the increased cost." However, students should be aware that borrowing for education is a high-risk financial strategy, and while there is good news about federal loan interest rates for this fall, borrowing may become even more dangerous in 2020.
Fordham's high cost can most likely be attributed to its location in New York and its low student-to-staff ratio. As Fordham continues to grow in prominence as a nationally recognized university, it finds itself in the position of needing to attract a diverse, qualified array of students and professors — typically through expansion of the University's physical and academic offerings.
"Fordham is making a concerted effort to routinely improve facilities to enhance the student experience," said Terzulli. Fordham's most recent expansions at Lincoln Center include the renovation of both the second and sixth floors of the Leon Lowenstein Building and the reopening of the "QuinnX" study space. Rose Hill has also been the site of "major construction" this summer. Additionally, the school has expanded its scholastic offerings in recent years, creating or upgrading degree programs in academic fields both established and exploratory.  
However, Fordham's growth hasn't come without its fair share of issues — the 2018-19 academic year saw dozens of first-year students packed into forced nine-person apartments in the lower floors of McMahon Hall, in rooms that were originally meant to accommodate just three to six people. 
Students living in those rooms reported that they felt overcrowded and segregated from the larger first-year community in McKeon Hall, contrasting with conditions a decade prior when one of the first ever eight-person apartments in McMahon was the "center-point" of first-year social life.
Yet the number of forced triples on campus isn't the only housing statistic increasing. Housing rates at Fordham Lincoln Center have also risen significantly over the last decade. Rent for a basic six-person, three-bedroom apartment in McMahon Hall increased 3.3% between fall 2017 and fall 2018 (from $7,925 to $8,260.50 per semester), and is projected to increase another 3% for fall 2019 (to $8,507.50 per semester). 
While yearly rent increases are very common in New York, Fordham Lincoln Center has vastly outpaced the rest of the neighborhood. Over the last eight years, the average rent for an apartment in the Upper West Side or Hell's Kitchen has risen around just 2.5% annually.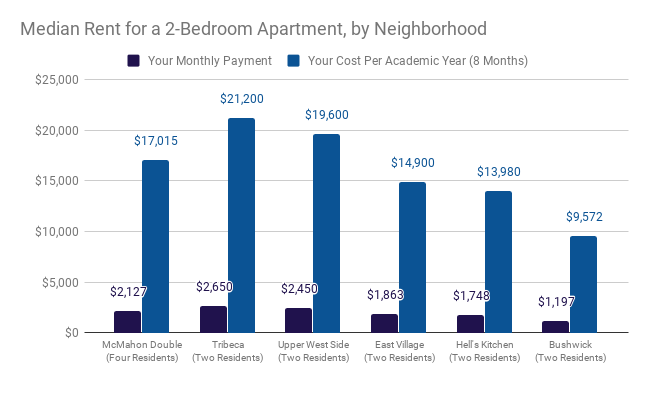 Broken down by the month, in the 2019 fall semester, a student living in a standard six-person apartment will be paying around $2,125 for a three-bedroom apartment split among six people. This puts the total monthly cost shared by roommates in a standard McMahon triple close to $12,750. By the end of the semester, the university will collect more than $50,000 from each 6-person apartment.
A similarly priced 3-bedroom, 2-bathroom apartment in the Upper West Side is typically a high-end condominium in a luxury apartment building. 
These housing rate changes also come amid a slew of protections for tenants in private residences passed by the New York Senate this summer — but these regulations would not be enforced in a residential dorm building such as McMahon Hall, giving students all the more reason to consider braving the New York real estate market.
The graphs and grammar in this story have been updated after its initial posting on Aug. 13, 2019.