Fordham Mandates Health Insurance Plans For All Undergraduate Students
Starting next fall, Fordham will offer a new group plan underwritten by the health insurance company, Aetna.
Hang on for a minute...we're trying to find some more stories you might like.
On May 6, the Office of Student Affairs announced that all Fordham undergraduate students will be required to have health insurance coverage in order to attend classes. University Health Services (UHS) confirmed that one in five Fordham undergraduates students remain uninsured or seriously underinsured. Previously, Fordham's Student Health Insurance Plan was mandated only to graduate and international students, with undergraduates having the option to enroll in the plan only last year. The new policy will go into effect in fall 2019.
The University stressed their concern about uninsured or underinsured students in a university-wide email, stating that students without insurance plans "place their education and financial well-being in jeopardy."
There have been prior incidents in which Fordham students with insurance plans from regions like New England and the west coast, which are both home to a substantial part of Fordham's student body, were rejected at local hospitals or health clinics in the New York area. This "non-guarantee" for health coverage plans was a primary reason for the University to institute the change, after it had received complaints for lacking comprehensive coverage options for students.
"When students have to go to local hospitals or are referred to physicians for non-emergency related tests or treatment, we are learning that many or all of the expenses are not covered by family plans," said Jeffrey Gray, vice president for student affairs. "In many of these cases, it does not make financial or logistical sense for the student to return home for in-state treatment."
The plan will cost students $3,073 annually, which will be sent to students' e-bill accounts. Semester-long plans will be offered as well, with a fall semester fee of $1,103 and a spring and summer fee of $1,970. According to UHS, the new group plan is slightly cheaper out-of-pocket than most available plans, and it also provides prescription drug benefits and guaranteed local coverage. "The University is making every effort to offer a group plan to undergraduates that is both comprehensive and affordable," said Gray.
All undergraduate students are now mandated to either enroll in the new Fordham-provided insurance plan or show proof of "adequate, pre-existing" health coverage. Students with current coverage will be required to fill out a questionnaire detailing their current insurance plan. If they do not fill out the questionnaire, or their coverage fails the standards established by UHS, they will be charged the aforementioned prices via their student accounts. Students' pre-existing insurance coverage must comply with the Affordable Care Act and be valid in the New York metropolitan area in order to be accepted by the University.
Students can enroll in the new group plan over the summer on Aetna's student health web page starting June 1. The deadline for registration is Sept. 10, 2019.
About the Contributors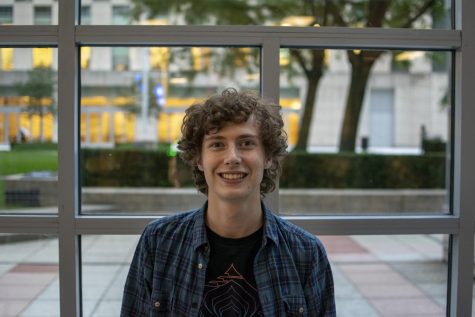 GUS DUPREE, Assistant News Editor
Gus Dupree, Fordham College Lincoln Center '22, is an Assistant News Editor at The Fordham Observer. A psychology major at Fordham, Gus prides himself in reporting the news and investigating the happenings on campus. When he's not covering a story, Gus can be found enjoying some chicken tenders at Ram Café, playing Slither.io wherever there's Wi-Fi, or taking a nap somewhere on the 6th floor in Lowenstein.