Rock and RAICES
A night of rollicking music and rallying for a cause
I'm on the subway to Arlene's Grocery, one of the few venues that survived the 90s music scene, and like most people, I'm on my phone. It's July 9, and every recent day has felt like a never-ending barrage of news about racism and xenophobia. My timeline is flooded with "Know Your Rights" information in preparation for ICE raids and updates on the concentration camps at the border, all on the back of Independence Day celebrations. Even in a city like New York, which prides itself on its immigrant community, it can feel like no one cares. 
But I'm not headed to the Lower East Side for an escape from the 24-hour news cycle. Rather, I'm on my way to a fundraiser show for RAICES, a nonprofit that provides aid to refugees and migrants. 
The bill is stacked with Brooklyn-based rock bands, including local heavyweights Stuyedeyed and Native Sun and newcomer Superbloom. I'm there to see Native Sun, a rock quartet with roots from all over the Western hemisphere. Vocalist and guitarist Danny Gomez is originally from Colombia, while bassist Mauricio Martinez relocated from Monterrey, Mexico. The band's drummer, Alexis Castro, left California, and guitarist Jake Pflum is originally from Florida. The band had just celebrated the release of their new double A-Side, "Juarez/Oedipus Race," currently only available on 7" vinyl.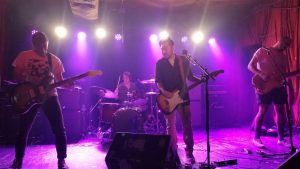 The venue is small; its maximum capacity of just over 100 people is quickly reached as the bands start to play. Superbloom opens the night and teases new music, only playing two songs off their 2018 debut EP, "No Requests." It's grunge rock at its finest, and towards the end of their set, I realize that they remind me of early 90s Green Day.
Native Sun filters onto the stage next, joined by guest musician Julian Anderson who plays the tambourine and keyboard. They also play mostly new material, though the crowd moshes indiscriminately to both new songs and older material from the band's latest EP, "Always Different, Always the Same."  
Between songs, when both the band and audience rush to catch their breath before catapulting into another frenzy, Gomez engages with the crowd. He dedicates a song to a band from Akron, Ohio, jokes with a fan in Spanish and invites everyone to come a bit closer. 
The band plays with a sense of urgency — not anxiety-inducing, 24-hour-news-cycle urgency, but an urgency that dares you to try and sit still. "Big Succ(ess)" opens with pounding drums courtesy of Castro before Gomez tells the tale of an immigrant over jolting bass and guitar riffs from Martinez and Pflum. The song is one of the last the band plays, and there is no lull in energy. The band leaves it all on the stage — literally, as Gomez knocks his own hat off in the middle of an instrumental break. It's roaring, triumphant and almost too short, with the percussive force of their music still ringing in my ears as the next band sets up.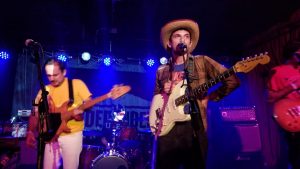 Stuyedeyed sets a different tone, lowering most of the stage lights and challenging the energetic crowd to come to a halt. Singer-songwriter Nelson Hernandez-Espinal puts a single finger to his lips and the venue goes quiet, though the air is thick with anticipation of his next move. The excitement is just barely containable, a heady shout to my left prompting a shush from Hernandez-Espinal, who quickly follows it up with a "just kidding" before the band leaps into their set.  
Bassist Humberto Genão and guitarist George Ramirez let off shrieks that electrify the darkened room, eerie as they split the silence. Each sound that Luis Ruelas punches out of his drum set knocks me hard in the chest as the mosh at my back threatens to surge forward. The band revels in contrast, with the more subdued instrumentals in "Funeral" interrupted by Hernandez-Espinal's bombastic delivery of the lyric "repent for your sins." It's a performance from a band that is confident in its stagecraft, with Hernandez-Espinal jumping into the pit and onto the bar throughout the set. 
Before Stuyedeyed closes out the night, the band announces that $1,200 had been raised for RAICES on ticket sales alone. It's a touching moment as Hernandez-Espinal thanks the crowd for coming out. Everyone on stage is Latino, and proudly so; Ruelas had draped a Mexican flag over his bass drum before the show started. Genão tells the audience how that much money may not seem like a lot, but it makes a difference, and how his own immigrant parents would appreciate the support.
It was a night celebrating not only rock and roll, but also community. The crowd was friendly, and I got the chance to speak to many other people throughout the night. A woman from Westchester told me about the trek she'd made to see Native Sun perform, later being kind enough to block off the brunt of the mosh pit. An amateur photographer told me how excited he was to see Native Sun perform, and on the way to the bathroom I bumped into a drummer from another Brooklyn band who had shown up to support them.
The welcoming vibe extended to Native Sun's merch table, where the price list included love (it was free) and the phrase "hug yourself." Stuyedeyed had announced during their set that the money from their merch table would also go towards RAICES, a surprising move as most artists receive the most money from merch sales. 
Later that week, as the bruises from the concert are still healing, I find myself again staring at my phone on the subway. This time a post from Stuyedeyed pops up, announcing limited edition shirts whose proceeds will go to support RAICES. I'm reminded of the crowd at Arlene's Grocery and how even when the news can feel oppressive, at least 100 people cared enough to show up on a Tuesday night.