Making a Musical: 'The Shakespeare Company'
"I hadn't moved here yet when I wrote a story about a kid who moved to New York," said Carli Freeman, Fordham College at Lincoln Center (FCLC) '21. "Hilariously, the songs about New York are the ones that I didn't change."
When Freeman was 13 years old, she imagined a story about a playwright who moves to New York. Now, she is that playwright.
On April 12 at 7 p.m., the first-ever concert performance of "The Shakespeare Company" will premiere. The musical follows a high school boy, Kyle, who finds solace and family in his drama club, the titular Shakespeare Company. It has been in the works for years.
Freeman, a film and television major and math minor "just for fun," always loved writing musicals despite not having the typical theater composer's background. "I'm from Nashville, which is a big songwriting city, but no one reads sheet music," Freeman said. "Most of the music I just taught myself. I'm a self-taught pianist."
"The Shakespeare Company" underwent several drafts over the years. Freeman wrote the story, but it wasn't until the beginning of this semester that someone decided to tell it. "It's been a Shannie Rao production from beginning to end," she said.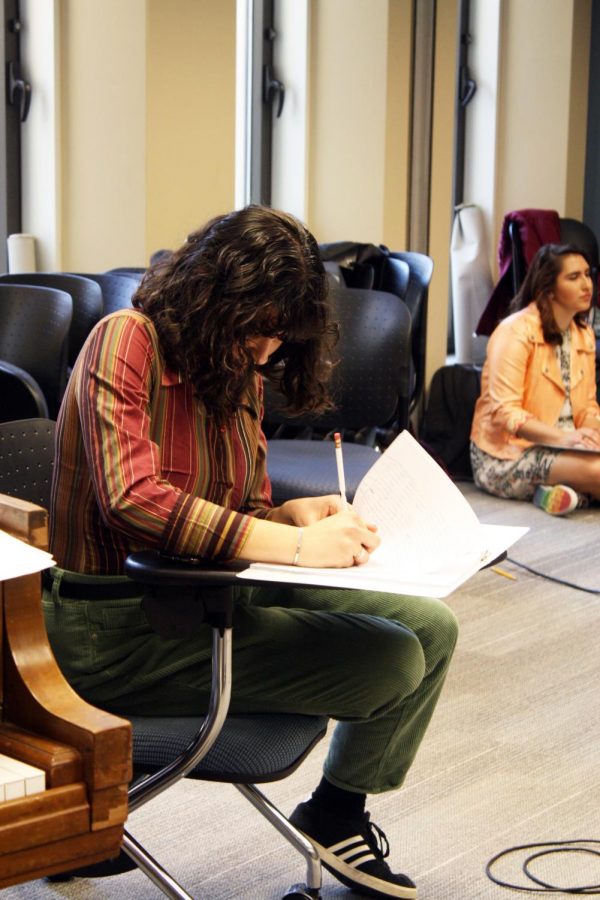 Freeman met Shannie Rao, FCLC '22, in French class at the beginning of the year, bonding over their love of writing. Rao held a writing salon at a coffee shop with other Fordham students, where Freeman shared a draft of what would become the cast-favorite squirrel scene from "The Shakespeare Company." Rao urged Freeman to finish her play so they could put it on. The pair revised the draft of the script over the course of a month while Freeman finished up the music. After they were done, they quickly launched into auditions.
"This really has been a two-woman show," Freeman said. As the director and producer, Rao handled scheduling, logistics and blocking while Freeman led the writing and music direction. Another non-theater student, Rao, as a film and English double major, said her background as a movie director and dancer have come in handy during the process.
The creative team is rounded out by psychology major Sammi Fontana, FCLC '21, who serves as the assistant director and assistant musical director. Fontana and Freeman's friendship blossomed from their love of music. "It felt really healthy and pure, being around her and singing," Fontana said. "She mentioned [the musical] to me and I was all for it. She wanted me to be part of it."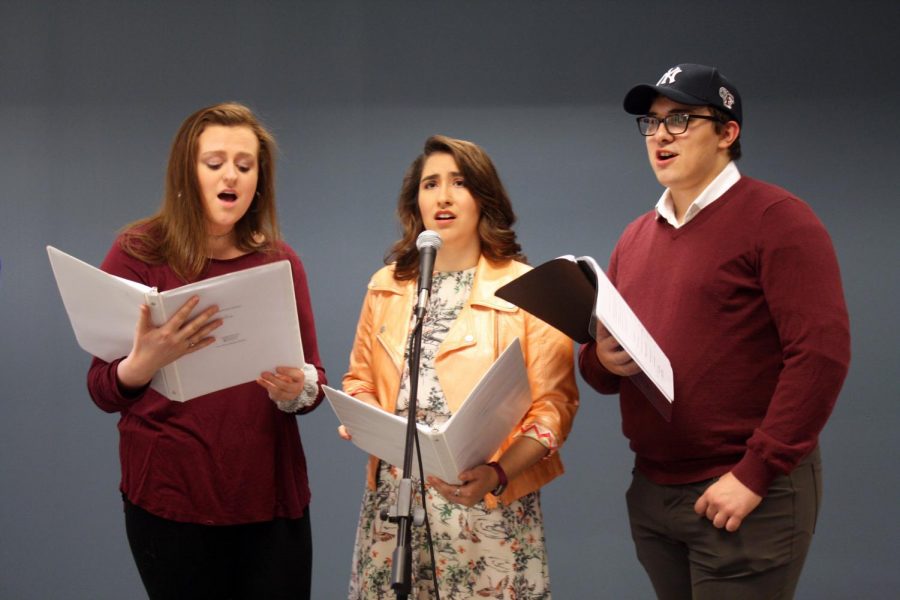 "None of us are particularly qualified to do this, but it's working out really well," said Freeman.
Rao's strategic directing makes her the brain of show. Fontana's positivity and adoration for the cast and crew make her the heart. Freeman is the soul.
Although the visions of many are woven into this production, it is still Freeman's story. "I've been working on this show in a very different form since middle school," she said. "There are elements that I wrote in eighth grade that are still in the finale. As I grew, I changed the script and it's gone through a million different renovations."
Rehearsals for "The Shakespeare Company" hold a lively energy, Freeman and Rao bouncing ideas off each other from across the room while Fontana hums out a harmony with the performers. The creative team flits through conversations and the show evolves with each rehearsal.
The shockingly short three weeks of rehearsal will culminate in a concert performance of "The Shakespeare Company." After workshopping a new version of the show before spring break, Rao said, "It's the next step where we can put it out to an audience without it being in its final stage where everything has been done. It's a learning process to figure out what audiences respond well to and don't before making it into something bigger." The concert performance includes stage directions read aloud for clarity, minimal costuming and piano accompaniment by Freeman.
Freeman's vision is actualized by the lifting tenor of John Bologna, a friend of Fontana's, who plays the lead. The sweet and sincere performance of Leah Garza, FCLC '20, brings a depth to the show that makes the lack of sets seem unimportant.
The most moving part of the show is how supportive the cast and crew are of each other. All of the actors had nothing but praise for Freeman's script. "The Shakespeare Company" is the first time that most of these performers had originated a role. It is clear that the cast holds the show close to their hearts.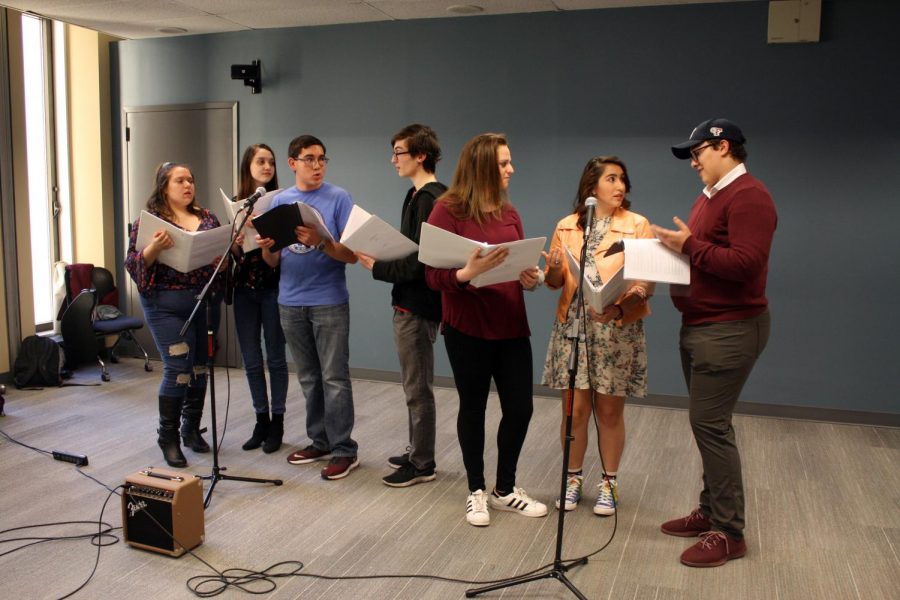 "I want audiences to see that no one is the bad guy in their own eyes," Bologna said. "Such a big thing in this show is that it shows each individual person's struggle and what they want. I think that's the most beautiful thing."
The journey of Kyle, the lead character, parallels Freeman's own life. "For me this is a show about the power of teenagers," she said. "I think that's reflected in the show, but also by the fact that I'm 19, Shannie's 18. Two teenagers put on this entire show."
Putting on a musical in three weeks is no small feat, and Freeman and Rao aren't relying on the resources of a club or class. "We're getting rooms booked from the Dean's Office," Freeman said. "We thought about what we needed, and all we really needed were the rooms. We've done everything on our own."
"The Shakespeare Company" will have its concert performance in Room 213 of the 140 West building. Admission is free and first come, first serve.
"If my dreams came true, I would be writing for musical theater," Freeman said. Her dreams definitely seem to be coming true. The success of the production has only motivated Rao and Freeman to proceed with the next steps of "The Shakespeare Company." They've made it clear that Friday's performance is just the beginning.