Students Left Confused as ResLife De-Triples McMahon Hall
At the start of the academic year, McMahon Hall was overfilled with students, causing the Office of Residential Life to place freshmen in McMahon into forced triples. Yet the end of the first semester saw nearly 300 McMahon residents moving off campus.
At first, the new space seemed exciting for freshman students who spent the first semester in such close quarters with one another. However, this exodus raised concerns on how Residential Life relays information to and supports its freshman residents.
Vickki Massey, associate director for Housing Operations, explained that "it is normal to have partial apartments in the Spring semester as students withdraw from housing for multiple reasons." She noted that in past years there has been an increase in students moving after only one semester, as more students have found alternative housing or chose to study abroad.
Aidan Rice, Gabelli School of Business (GSB) '22, a freshman who shared a six-person suite with eight other students last semester, explained that "over break we found out that our rooms were being de-tripled after two of our suitemates moved out."
Freshmen living in forced triples were given a reduced rate for the first semester, paying only $5912.50 per semester, compared to the regular $8262 fee. Now, with fewer residents, the price of housing increased for some students.
"We were never notified," Rice said, "We only discovered it when my father happened to look at the bill for the next semester. There was no breakdown or explanation for the increase that was almost $2000."
To note, upperclassmen whose roommates moved out at the end of the first semester did not experience a change in housing costs.  
Elena Jastrzembski, Fordham College at Lincoln Center (FCLC) '22, was also surprised to learn about the change in cost to her suite, which was de-tripled at the start of this semester. After learning about the increase, Jastrzembski said, "my mother began calling the school looking for answers, as they did not tell us about the increase or warn us."
"My mother spoke to [Massey]" Jastrzembski continued, "and was given very little explanation or help."
On Jan. 24, Jastrzembski received an email notifying her that a student would be moving into the apartment, effectively re-tripling the room. After a series of miscommunications, she realized that Residential Life had assumed that re-tripling the room would solve the issue of the price increase that her mother had complained about.
Jastrzembski said, "I do not understand why they [Residential Life] thought this would be a possible solution, or how they came to this conclusion," since her original dissatisfaction was with the previous lack of communication.
With fewer students living in each room, Residential Life is also facing the challenge of removing extra furniture from their suites.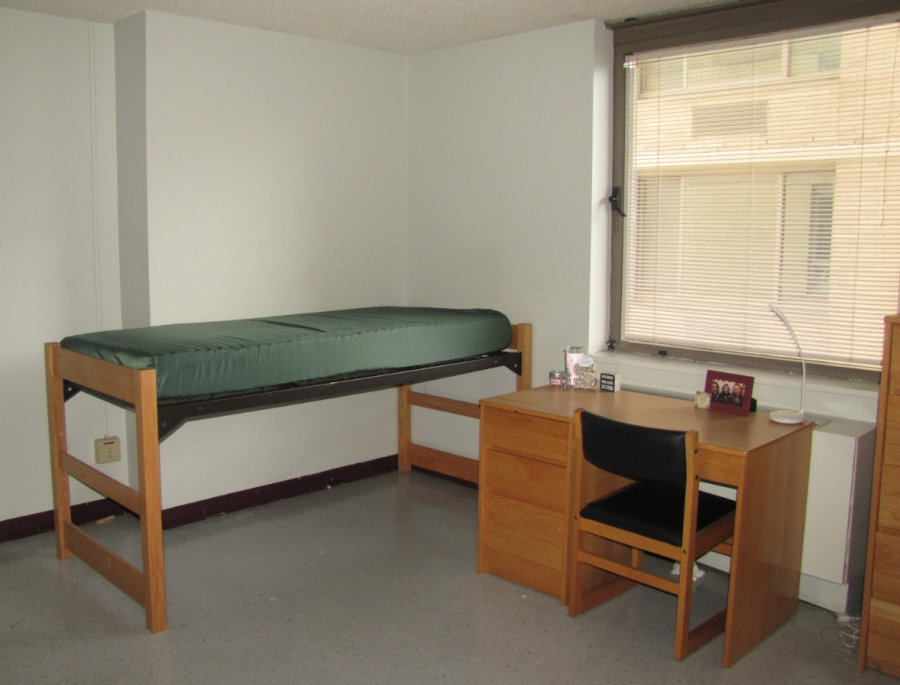 Rice said that "coming back from break, I expected to find my room with one less bed, desk and dresser. Unfortunately, it took them more than one week to remove a bed. We still have extra dressers and tables."
However, this wasn't the case for Olivia Bonenfant, FCLC '22, who shared a single room that was converted into a forced double with bunk beds last semester. After her roommate moved out, she said, "ResLife put in a work order to take away the furniture without communicating to me about it; the guys just showed up one morning completely out of the blue."
Last semester, Bonenfant shared a three-person apartment with four other students. This semester, only two students remain. Bonenfant explained that when the student in the single bedroom moved out, Residential Life locked her old room. "ResLife never said anything to either me or my remaining roommate about any of this," Bonenfant said.   
Although students expressed their frustration with the tight space last semester, the lack of communication from Residential Life this semester caused increased stress and confusion for many.
Rice said, "I believe that it's quite unfair that the university does not show as much care for their students' residential lives as they should."
The Observer did not receive a comment from Housing Operations on de-tripling or notifying students of changes in housing costs.