Shutdown Forces Student Into Leave of Absence
The longest government shutdown in American history, effective since Dec. 22, 2018, has done damage to hundreds of thousands of Americans. In addition to the 800,000 federal workers that are not receiving paychecks during the shutdown, one Fordham student has taken a direct hit due to the limited functionality of the Internal Revenue Service (IRS), a bureau of the Treasury Department responsible for handling Americans' taxes.
Etta Shaw was a freshman at Fordham College at Lincoln Center on track to graduate in 2022. The 18-year-old Jersey City native was a freshman senator of United Student Government (USG) and the public relations officer for the Black Student Alliance (BSA). Yet, her financial situation and the government shutdown have forced her to take a leave of absence from the university.
The summer before Shaw began her first semester at Fordham, her mother was hospitalized as her kidneys began to fail and she went into medical retirement. As a result of the ensuing financial difficulties, the family's financial aid packet was rendered inaccurate and they were forced to file a reevaluation packet.
"I'd turn in paperwork and they'd say it's the wrong paperwork," Shaw said. "It was a lot."
Then, in September, her mother found out that her identity was stolen, which forced her to file her paperwork in person. Since she was hospitalized at the time, it took a week to file all the necessary forms.
But this was only the beginning of the Shaws' financial troubles.
Fordham requires a transcript from the IRS that certifies Shaw's mother's tax payments. This information will be used to determine how much need-based aid, if any, Fordham should allot for Shaw.  Since the federally funded IRS is running in limited scope due to the government shutdown, the bureau will take months to deliver this transcript to Fordham. Further, the university cannot currently give Shaw's family any need-based aid.
"The transcript is the thing that's holding us back from getting that reevaluation and then being able to get a new packet that fits our budget," she explained. "And so, at this point, I'm at a standstill."
The initial time frame to deliver the transcript to Fordham that the IRS provided to the Shaws in late October was 180 days. "But with the government shutting down," she said, "the chances of me getting that transcript are farther and farther away."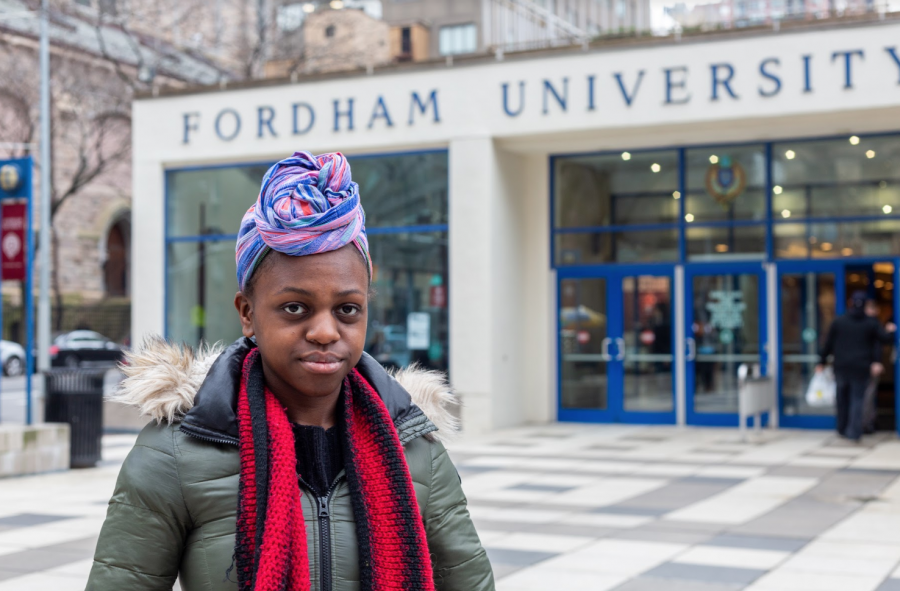 Shaw said she attempted to get a private loan — once in October and again in January — but she was denied both times because she has no credit and her family members' credit is not good enough.
For its part, Shaw said Fordham has attempted to alleviate some of her family's costs by having the financial aid office enter the family into a special payment plan.
"But even then," Shaw said, "that's $13,000 that I just can't pay."
The approximate total cost to attend Shaw's college at Fordham per semester as a commuting student amounts to nearly $20,000.
Shaw is taking a leave of absence from Fordham as she figures out how to pay for her education. She plans to get a job and make enough money to pay for books whenever she starts back up. In the meantime, she is waiting for the shutdown to end so the IRS can finally operate as a fully functioning federal bureau and, in turn, send her paperwork to Fordham.
In a statement to The Observer, Campus Director of Student Financial Services James Cirillo said that the financial aid office "continues to work with Etta" but cannot comment on specific details due to federal privacy laws.
"It's been really sucky," Shaw said. "Because I do love Fordham, probably way too much. I was on USG, I was Freshman Senator. I was really active in BSA. And I had to give all of that up, along with the idea of graduating on time, because of money. And I work hard. It's not like I'm slacking … It just sucks that you can do everything right and it still might not work out the way you plan it or the way you expect."
Shaw has launched a GoFundMe page asking visitors to consider donating money to help pay for the costs of her education, including tuition, books and food. On the crowdfunding platform, she states that she wants to "be a catalyst for positive change," which is why she wanted to attend Fordham in the first place. "[I]t is obvious that Fordham can be the place for me to flourish," she stated on GoFundMe.
Despite these circumstances, Shaw remains optimistic. She fully intends to return to the university once her paperwork is filed and the logistics come together. Though she lamented what she calls a "broken system," she is committed to making it out on the other side — a graduate of Fordham University.