Review: 'The Prom' Is a Celebratory Trumpian Footloose When We Need It Most
"The Prom" may very well be the musical comedy sensation of this Broadway season — its story of four clueless, Indiana-bound Broadway divas, determined (though misguided in their efforts) to help a small-town lesbian banned from her prom, too tempting of a political carrot for a Broadway community starving for witty political humor and the warm embrace of an indulgent Broadway musical.
Halfway through, I wanted so badly to dislike this Trumpian Footloose. I really did.
I wasn't sure that a ridiculous political parody, enlivened by refrains like "don't be gay in Indiana," could hit the mark of what's funny in a political climate where being gay in Indiana isn't. That its set designer and set design, director and direction, choreographer and choreography, musical coordinator and conductor are all "Mean Girls" expats, that its colorful, techno-conscious high school hallways could have wheeled themselves down from the August Wilson, was sure proof that "The Prom" fit perfectly into a socially-conscious, teenybopper musical  cookie cutter
I was positive its script, so perfectly groomed to attract the eye of every high school drama director, too thinly veiled the producers' ambitions, ready to milk this cash cow across the community and high school circuits. I was sure its mix of teen-centric content and adult Broadway humor, the kind of stuff only the most dedicated Broadway fan could catch, meant "The Prom" would function neither as a kids show nor as an adult show.
I thought lines like "we are liberal Democrats from Broadway and we're here to pry open your tiny little minds," while inciting roars of laughter from the audience, might turn the show into a joke of itself.
But, as hard as I tried, I couldn't dislike it; in fact, I loved it.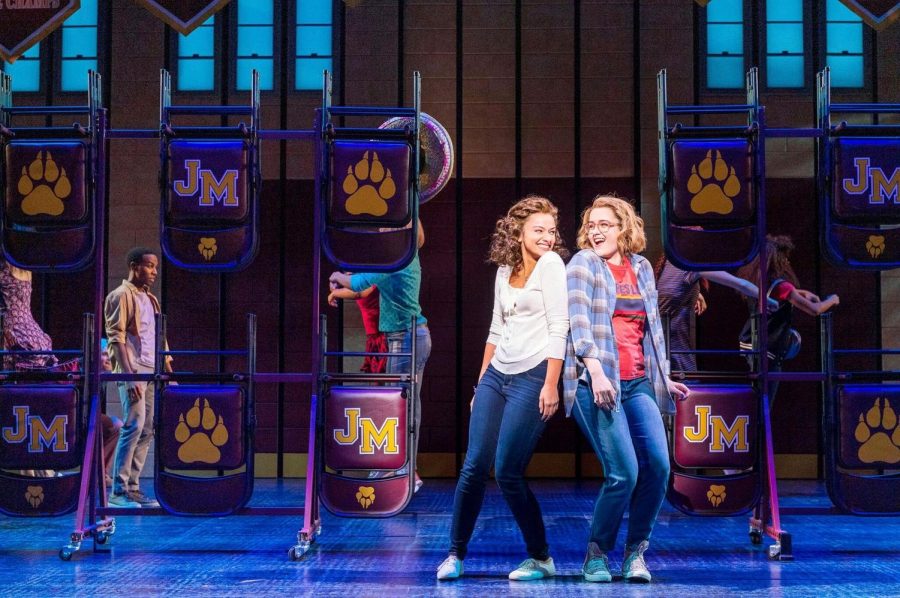 That's because Caitlin Kinnunen is an effortlessly lovable new Broadway star. (Not that she's any stranger to its stage, replacing Thea in "Spring Awakening" (at 16!) and originating Carolyn in "Bridges of Madison County.") As Emma, the soft-spoken, exceptionally courageous heroine whose life changes forever when she's ostracized from her community and caught in a whirlwind of Broadway's biggest personalities, Kinnunen washes away all of these critical concerns. She need only sing — her belt a thing of a musical director's dreams — to deliver "The Prom's" audience to the heart of what this musical is about: not blind, pompous fearlessness, but subtle, affecting courage.
As director and choreographer, Casey Nicholaw is a scholar of Broadway history through movement. Just as those Broadway divas who arrive in Indiana, led by fictional starlets Barry Glickman (Brooks Ashmanskas) and Dee Dee Allen (Beth Leavel), clueless to the real world, know only an insider's training of Broadway performance to aid their protest, Ashmanskas and Leavel's movements on the stage are themselves histories of Broadway. The right turn of a wrist brings Fosse to Indiana. A powerful ensemble number, delivered still and stalwart to the audience, whispers Michael Bennet, and a big, blousy show-stopper takes Gower Champion to the prom. Put your arms in the air before a gymnasium podium and Patti Lupone is in the room.
As a result, "The Prom," bound by a stingingly clever book, exceedingly well-written for musicals of its ilk (thanks to Bob Martin and Chad Beguelin), is as much a political parody of Broadway as it is a love song to its own form — not subtly arriving on the stage when reminding ourselves of an ever-great history of song and story might serve us well.
After all, its project to write a satirical love letter to itself could never fail, because "The Prom's" cast of misguided Broadway misfits are themselves beloved personalities of the New York stage.
A rousing, soul-stirring 11 o'clock number by Beth Leavel, even if it's purely satirical, is still a rousing, soul-stirring 11 o'clock number by Beth Leavel. A course in Fosse by chorus girl Angie, even if its ridiculously delivered in Emma's teen bedroom as fodder for self-love, still treats the audience to a dance number by Fosse-girl herself, Angie Schworer. Their presence, Ashmanskas and Leavel, Schworer and Christopher Siebel (as one-hit-wonder Trent Oliver, travelling with a band of washed-up "Godspell" players), paired with Kinnunen's shiny new talent, is everything you need and want in a night of extravagant musical theater.
Maybe "The Prom's" greatest success, in all of its glitter and be gay, is a validation that splashy, garish musical comedies, themselves no champion of political correctness, can still be made from scratch. "The Prom," exceptionally original yet cradled by tradition, is proof that bursting into jazz hands when someone puts you down is still a worthy prescription for joy.
Leave a Comment