Ram Jams — October 2018
twenty one pilots: "Trench"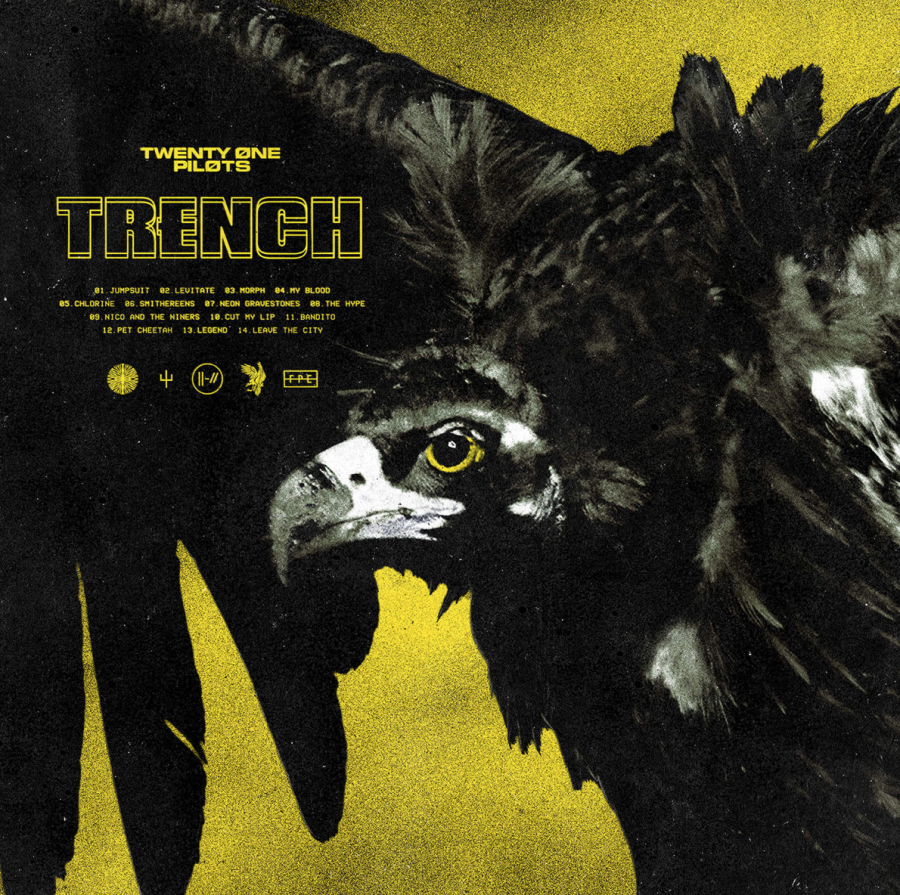 (via Fueled By Ramen, Elektra Music Group, Warner Music Group)
Genre: Alternative pop, pop-rock, alternative hip-hop
On a playlist with: Panic! at the Disco, Walk the Moon and Halsey
The deets: Tyler Joseph and Josh Dun comprise twenty one pilots, a musical group that is impossibly difficult to categorize. Are they pop? Are they rock? Are they alternative? I don't know, but I do know that their new album, "Trench," is good. Extremely good.
As a disclaimer, I am a sucker for concept albums, and twenty one pilots has made the better part of its career a fictitious storyline. From cryptic websites to lyrical lore that spans years of the band's symbolism, it's no surprise that fans are hyped about figuring out the newest album, which is certainly the most complex concept album Joseph and Dun have created so far. In fact, it is the most interesting concept album I have ever heard — and we live in a world where The Beatles' "Sgt. Pepper's Lonely Hearts Band" and Green Day's "American Idiot" exist.
The story follows Clancy, an inhabitant of a walled city called Dema. Guarded by bishops who promote a fictional religion called Vialism, the songs follow Clancy's attempt to escape Dema and find Trench, an area outside the city where other escapees — "banditos," Spanish slang for "criminal" — end up. Per a mix of fan speculation and band confirmation, Dema symbolically represents depression and other mental health issues. Bishops are the proverbial demons that people with mental health issues fight, and Vialism (root word "vial," meaning "small container") is the justification for bottling those problems up. Trench is the safe haven for banditos, which is always with each other. The message of the album is that in order to fight mental health, we need to talk about it openly and candidly.
The best example of this important message is on the track "Neon Gravestones," a slow ballad that seamlessly fuses mellow piano notes with quiet electronic and synthesizer beats. On this song, the frontman assertively states that "My opinion will not be lenient … Our words are loud, but now I'm talking action." Joseph's call to action fits quite nicely into the album's plot, but this line also feels like a call to action for listeners: We need to quit beating around the bush when talking about mental health and get ourselves the help we need without shame. He is also "pleading that it does not get glorified" on this track, emphasizing the "it," which, in context, clearly refers to depression and death.
Lyrically and conceptually are not the only ways in which "Trench" shines; the record's production and songwriting are also stellar. Take "Morph," for example: This cut features what appears to be a simple and catchy synth beat that is repeated, but closer listening will reveal layers of harmonies, voicings and instrumentation that make this track stand out. "Pet Cheetah," meanwhile, features a breakdown that is truly a percussive masterpiece. Clever left-right panning and beat production from Paul Meany combined with stellar drumming from Dun make this beat drop especially dramatic.
The raw talent of Joseph and Dun is prevalent throughout "Trench" as well. On "Levitate," Joseph raps impressively fast for two minutes straight seemingly without pausing for breath; all the while, Dun's drumming on this track is quick enough that my right hand hurts just listening to him strike the hi-hat with perfect precision every single eighth note. On "Jumpsuit" and "Nico and the Niners," the album's two lead singles, Joseph plays two different instruments while vocalizing: bass and ukulele, respectively. Not to mention he also sings, raps and screams. I'm tired just writing about it.
This album is Joseph and Dun at the top of their game. The pilots' music has changed dramatically in the last decade, but the maturation displayed on this album is beyond comprehension. Aside from a few less-than-perfect moments in songs like "Smithereens" (which takes a break from strict adherence to the album's plot), it's hard to complain about this record.
The bottom line: Displaying wisdom and musical mastery, twenty one pilots has outdone itself on "Trench." The songwriting, production, musical prowess, storytelling and lyricism are all top-notch, making this an album no one should skip over.
The peaks: "Morph," "Jumpsuit," "Neon Gravestones," "Levitate," "Pet Cheetah"
The valleys: "Smithereens"
The verdict: 9/10
LANY: "Malibu Nights"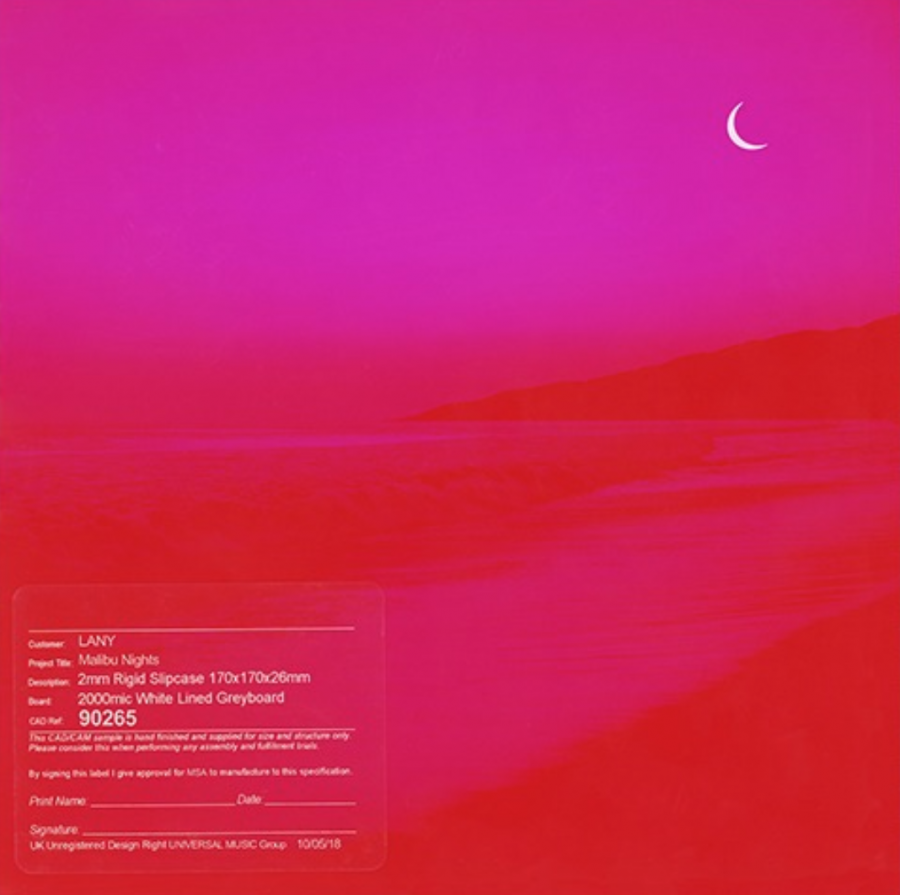 (via Side Street Entertainment LLC, Polydor Records, Universal Music Group)
Genre: Indie pop, indie rock
On a playlist with: Lauv, The 1975 and Dua Lipa
The deets: Paul Klein, lead singer and writer of LANY, leaves nothing unsaid on the band's second studio album. "Malibu Nights" conveys Klein's emotional turmoil as he comes to terms with his breakup with English singer-songwriter, Dua Lipa. The album serves as Klein's catharsis from the five-month-long relationship that left him "scarred." Each piece on this nine-song collection explores themes of betrayal, heartbreak, and moving on. Starting with "Thick and Thin" and ending with "Malibu Nights," Klein's vocals transport listeners into his heart and his brain as each cut explore a different caveat and progression of Klein's emotions after the break up.
Songs like "I Don't Want To Love You Anymore" and "Valentine's Day" are Klein at his emotional apex, telling Dua Lipa that, although he is incredibly saddened by the breakup, Klein "in the end will be alright." "Valentine's Day" is an especially emotional piece with its melancholic piano, sweeping arpeggios and defeated vocals. The album's incorporation of guitar, piano and drums creates a lush pop ambiance that listeners can fall softly into as Klein's vocals carry listeners through his nine-song therapy session.
Each song does an excellent job at conveying emotion and heartbreak, but the lyrics leave something to be desired; some of the songs sound cliche and lack substance. According to Genius, Klein wrote this album within the span of two weeks. This quick turnaround was apparent throughout parts of the album with the lyrics and rhyme schemes sounding predictable at times. Additionally, each song has the exact same structure, which creates a lack of variance and makes the album dry. Vocally, the same effect is used for every song which becomes stale after a few listens.
"Malibu Nights" is a heart-wrenching, raw and vulnerable album, but musically, there was more that LANY could have done. Although the album is well-produced, having the majority of its songs end with fade-outs misses the opportunity for definitive and powerful endings. Additionally, there were missed opportunities lyrically as the rhyme schemes seemed predictable and cliche at times. However, for the group's second album, it is exciting to imagine the potential of LANY and their music in the coming years.
Fun fact about the Album: On the Malibu Nights album cover, a crescent moon is featured in the corner. The album was released on October 5th when the moon was in its crescent phase. The group called themselves on their Twitter the "most artistically thoughtful band in the world."
The bottom line: Paul Klein sends a clear message of hurt to Dua Lipa and leaves his entire heart on this album, but lyrically, listeners are left wanting more. However, for a second studio album, it is exciting to imagine what is to come from the group.
The peaks: "I Don't Wanna Love You Anymore," "Valentine's Day"
The valleys: "Let Me Know"
The verdict: 7/10
Kero Kero Bonito: "Time 'n' Place"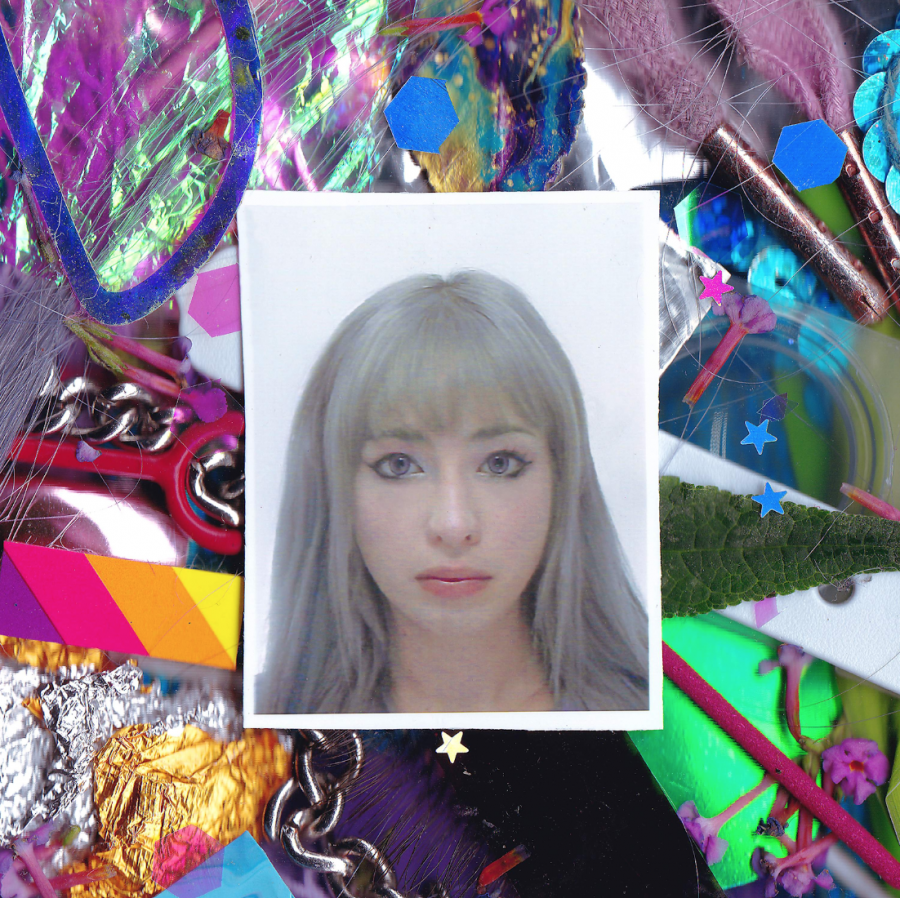 (via Polyvinyl Record Co.)
Genre: Indie rock, pop rock, noise rock
On a playlist with: Death Grips, Grimes and Iglooghost
The deets: Until recently, I was never interested in British indie band Kero Kero Bonito. Their aesthetic came off as too bubbly, which simply did not appeal to me. That changed with the release of "Time 'n' Place," which I heard about on Reddit. People were claiming that this new record was notably darker than the group's previous effort, "Bonito Generation," and giving it rave reviews. Intrigued, I decided to give it a listen.
As it turns out, "Time 'n' Place" is not the sugary electropop album that "Bonito Generation" was. Right from the opening track "Outside," there are still elements of dream pop, but the song is largely characterized by its aggressive guitar. "Time Today," a very soft but upbeat track, gives us a brief reprieve from the chaos, and is very pleasant to listen to. However, it doesn't take long for the album to begin descending into darkness, especially when "Only Acting" comes on. There are eerie screeches around the 2:00 mark, and about a minute later, singer Sarah Bonito's vocals begin glitching out as they become buried under the sound of loud, abrasive static.
"Make Believe" is easily one of the album's peaks. Sarah Bonito has a very dreamy voice on this track, and the instrumental is probably the best on the album. Interestingly enough, "Make Believe" doesn't feel that dark — at least not in comparison to "Only Acting" — but it doesn't take long for the darkness to rear its head again when "Dear Future Self" comes on. The song is written from the perspective of Sarah, talking to her future self. Like the previous track, I really enjoy Sarah's vocals and the instrumental, but what I really want to discuss is this line: "But I heard all the years'll leave you hurt / Everyone you love disappears and nothing works." What the hell? This song sounded so upbeat and positive until this point. Imagine you're talking with someone about the future, flying cars, and all that jazz, and then out of nowhere, they remind you of the finality of life. Like a lot of the darker moments on the album, it's super jarring, but it also doesn't feel out of place in the record's context.
A track that does sound out of place, however, is "Sometimes." It's an acoustic track, and while there's nothing inherently wrong with having an acoustic song on an album, it's stylistically inconsistent when all the other songs are synth- and noise-heavy. Case in point: the preceding song, "If I'd Known." It's a track largely characterized by the guitars riffs, bizarre samples and static effects peppered throughout. "Swimming," the penultimate track, is a welcome addition to the album; the lyrical themes of growing up and life going on are similar to those on "Dear Future Self." It helps tie the project together, making the album more cohesive.
Throughout the album, we've had a mix of lightness and darkness, but "Rest Stop" is nothing but darkness. The intro features a haunting piano, setting the tone for us to be spooked. From there, Sarah sings about being at a rest stop that is seemingly devoid of any human presence whatsoever. Immediately afterwards, the song breaks down into chaos as her vocals become increasingly quiet and lo-fi. Her voice is layered under sounds of static, growling, and even a little gunfire. Right at the end, the instrumental abruptly cuts out, leaving only Sarah's voice: "So when we walk among the clouds / Hold your neighbor close / As the trumpets echo round / You don't wanna be—" Be what, Sarah? Be what? The sudden interruption of the final line only adds to the terror.
The bottom line: Kero Kero Bonito's new album is a 30-minute descent into darkness as the songs become increasingly distorted and haunting. It's a significant tonal shift from their previous projects ,and a welcome one.
The peaks: "Make Believe," "Dear Future Self," "Rest Stop"
The valleys: "Sometimes"
The verdict: 8/10