A Beginner's Guide to Surviving the Thanksgiving Day Parade
You can't think of turkey without stuffing, just like you can't think of Thanksgiving without the Macy's Thanksgiving Day Parade. The world's largest parade takes place a mere two blocks away from Fordham Lincoln Center, making it the perfect activity for everyone staying on campus during Thanksgiving break. This massive and exciting event can seem daunting for the first-time New Yorker, so here are some tips from fellow students and parade-going pros.
Finding the best views
The parade kicks off at 9 a.m. on West 77th and Central Park West. The majority of the public crowds around Macy's in Herald Square. However, the national television broadcast restricts views of the parade and musical numbers between West 34th to West 38th Streets and 6th Avenue, and there is no public viewing in the actual square. Sophia Oliveri-Meyer, Fordham College at Lincoln Center (FCLC) '20, a seasoned parade pro, has attended nine times, and has also been in the parade four times. She advises first-time parade-goers to head away from Macy's. "Go more uptown! You can even watch from the rocks on Central Park West. The parade stops periodically and you'll get to wave at everyone before they're worried about being on camera," she said.
Viewing the parade is the perfect activity for students staying in the dorms over the holiday because the best views of Central Park West are from West 75th Street to West 59th Street, right next to campus. Margot Reid, Gabelli School of Business (GSB) '21, knew as soon as she came to Fordham that she had to experience the parade in person. "We're so fortunate that Fordham is so close to the route," she said. "I watched it from Central Park West and 63rd. I woke up around 5 a.m. and had no trouble getting a spot close to the barricades."
From Central Park West, the parade turns onto Central Park South in Columbus Circle before proceeding to 6th Avenue. Sometimes the best views aren't even on the route. Rebecca Slaman, FCLC '20, said, "The best decision we made was going inside and watching from the second floor of the Time Warner Center."
If you want to venture farther away from campus, there are great views of the parade on its 6th Avenue Stretch from West 59th Street to West 38th Street. Oliveri-Meyer's family members' involvement with the national broadcast of the parade made her an expert in finding the best views. "Even though the performers do acknowledge both sides, the floats are designed for the cameras so they favor one side," she said. "The parade goes down 6th Avenue for the bulk of it, so be on the east side of the street facing west. That's how the cameras are."
Hand warmers are your best friend
The number one tip sent in by Fordham's community was to bring hand warmers. The average temperature in New York City during November is around 50 degrees Fahrenheit, but it could feel a lot colder if you're standing in the streets for hours.
Be sure to check the weather and plan accordingly. Dress in layers in case it ends up being warmer or cooler than you were expecting. "Pay really close attention to the weather. The wind in the city can be really brutal," Oliveri-Meyer said. Reid agreed, "Gloves, hats, scarves and coats are a must if it is 40 degrees or below."
Kathryn Kunkle, FCLC '20, who performed in the opening number of the 85th Macy's Thanksgiving Day Parade, advised, "Wear comfortable shoes as you will be standing. The parade route is around two miles."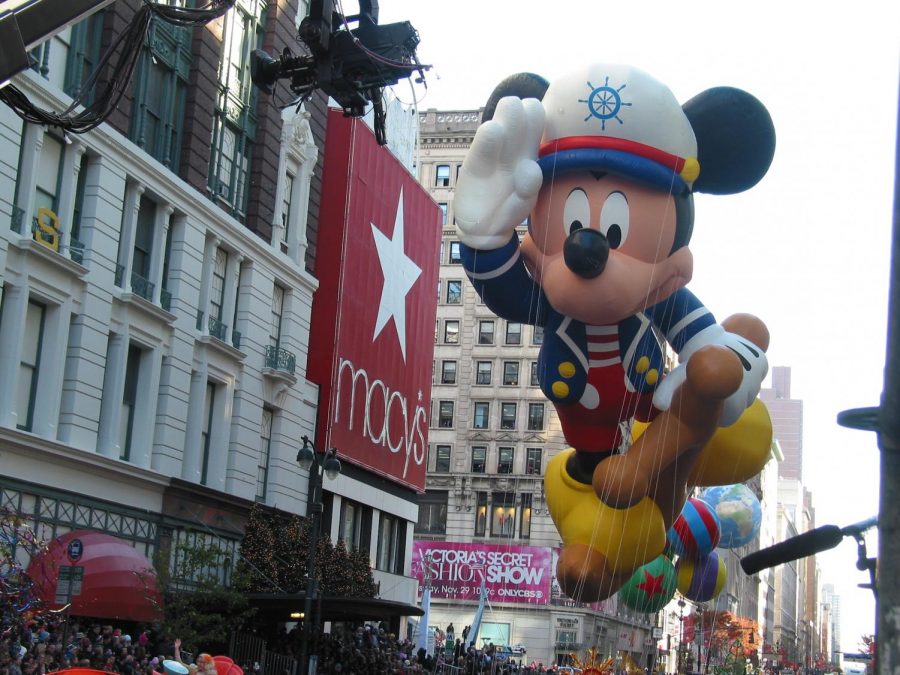 Let's talk about bathrooms
When it comes to any big, crowded event, one question causes me the most anxiety: How am I going to go to the bathroom? The majority of the bathroom locations during the parade are located inside Central Park near the Central Park West and South borders. Another option are the restrooms in the Time Warner Center. Depending on where you are on the route, walking back to Fordham is always an option, and it'll definitely be less crowded than public bathrooms in the city.
According to our experts, prevention is key: "As far as bathrooms go, make sure you go before you leave and don't drink too much because there are tons of people everywhere," Oliveri-Meyer said.
The intense crowds creates a bit of a crab mentality in the streets when it comes to keeping a good spot to view the parade. In order to combat this, Reid made some friends; "I went alone because all of my friends had already left for break. After a few hours, I was joined by a nice family who offered to hold my spot so I could get a drink and use the restroom."
It's all about the food
Thanksgiving is first and foremost about giving thanks, but undoubtedly includes stuffing your face with turkey and mashed potatoes until you go into a food coma. If you choose to attend the parade, fixing your Thanksgiving plate might not happen until later in the day.
Even though you might not have an appetite when you wake up at 5 a.m to get a good spot, it's going to be a long day. "Eat a hearty breakfast before you go," said Joanna Butler, FCLC '19, who has been going to the parade since she was three, "and keep little snacks in your bag and bring water — it is always good to stay hydrated."
"Consider making a lunch reservation for after the parade ends. You will want nothing more than to sit in a cozy restaurant and have some delicious food after your exciting morning," Reid said. There are several restaurants around Fordham that will be open in Thanksgiving day including Brooklyn Diner USA on 57th Street and Hudson New York on 58th.
On Wednesdays we blow up balloons
If dedicating a huge chunk of your Thanksgiving day or the large crowds of the parade are not up your alley, there are parade events the night before to get your fill of Thanksgiving Day festivities without getting up before sunrise.
"Check out the balloon inflation on the Wednesday before Thanksgiving, you can see all of the balloons being blown up and other parade preparations," Reid said. The balloons are inflated near the American Museum of Natural History on West 79th Street and Columbus.
"The balloons are my favorite part because they are just a lot bigger than I thought possible, it's really cool," Oliveri-Meyer said, "They also fly a few new balloons every year."
So if you're staying in the city or are around during Thanksgiving break, use these tips to survive the day and have a great experience. The parade has always been a family affair for Butler because her father drives a truck in the parade, and she's planning on taking her little brother with her this year. "While parades are not for everyone, I do think that freshmen should go if they are in the city. It is a really great experience, and you never know; you may meet someone famous," Butler said.
Reid is going home to spend time with her family this year, but she said she would definitely go again a different year. "The parade is not much hassle," she said. "If you plan accordingly and get a group of friends together, it is not that difficult to coordinate the day."