Review: In "Sugar in Our Wounds," The Measure of Black, Queer America
Little more than a century and a half separates the present from American chattel slavery, only six decades from American segregation. No American tradition has more permanently defined life for inhabitants of this country than institutional racism has for black Americans. This is a basic fact of American life.
In the 1920s, Bessie Smith and Ma Rainey sang openly, seemingly in plain sight, about black queer life in the classic blues. "Went out last night with a crowd of my friends. They must've been women, cause I don't like no men," Rainey sang, and a nation listened without hearing. In the 1950s, Little Richie helped invent rock n' roll in drag and James Baldwin wrote "Giovanni's Room." In the 1970s, Toni Morrison and Alice Walker brought a theology of black queerness to the feminist forefront. "Womanism is to feminism as purple is to lavender." In 1989, Kimberlé Crenshaw gave us intersectionality; in 1993, RuPaul became the supermodel of the world; and in 2013, a coalition of queer, black women began a movement called Black Lives Matter.
Here is the world in which Donja R. Love rears his harrowing new play "Sugar in Our Wounds," the first of a trilogy of "love plays" which seek to explore black oppression and queerness across American history.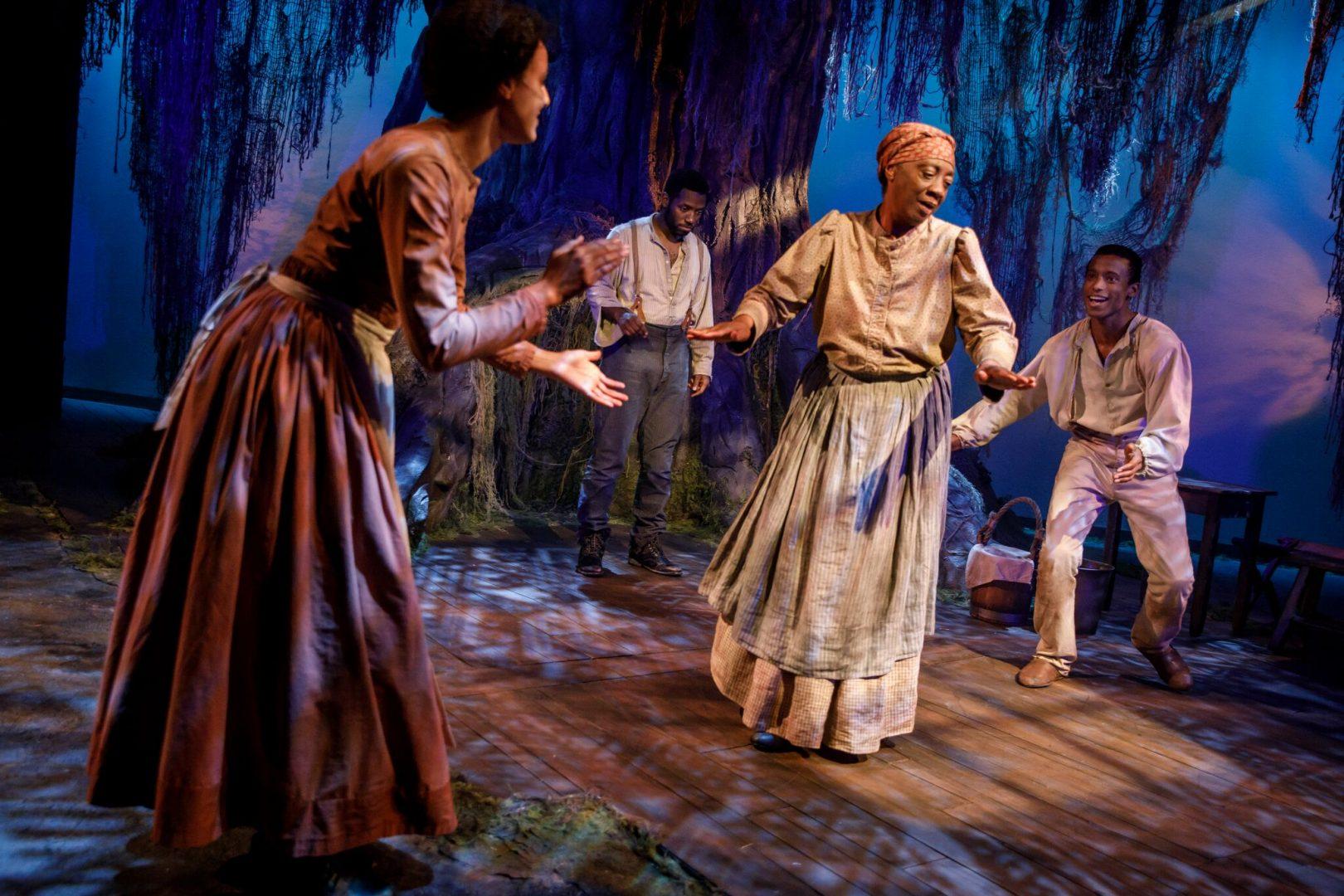 The small interior of Manhattan Theatre Club's second stage, where "Sugar in Our Wounds" opened last Tuesday, is engulfed entirely in the twisted bark and sprawling branches of some mammoth, ancestral tree, so large only the beginnings of its broad trunk can fit on this meager stage. "Some say it go straight up to heaven," Love writes.
Amidst the swathing Spanish moss that drape the tree's lower limbs, a hanging branch gestures inevitably to the back of the theater. Sunk somewhere below 52nd Street in midtown Manhattan, this narrow limb hovers above the actors, a branch on which Love can hang the sweat-drenched, ample bodies of his characters, their longing for the embrace of freedom and their hearts which beat for some unattainable, impermissible love.
Deep, somewhere in the South in the summer of 1862, Love sets this story of two young slaves, James (Sheldon Best of "Romeo and Juliet") and Henry (Chinaza Uche of "Sojourners & Her Portmanteau"), bound together by a forbidden love, bound to this tall tree by their ancestors which hung from its branches — strange fruit — and to the land by the systems of slavery which tied them to its earth.
Over the course of this 100-minute play, Love seamlessly brings together the experience of queer, black America past and present — this tale of slavery, after all, is not set far in the past. "Sugar in Our Wounds" tethers his audience to an individual, black, queer and ongoing struggle for love, tears with impressive precision into those white supremacist, heteronormative structures that have obfuscated stories like this for ages and lays bare the true, frightening questions of the making of America. "I can't tell da East, from da West, from North, from da South. And da North Star ain't as bright as day say."
It is an artistic, literary and conceptual triumph — not just for the queer black community, but for the greater pursuit of well-made, innovative theater that seeks to tell untold stories — that must be seen.
Not often does a theater sit in immovable silence after the actors have taken their bows, shaken by the art before them. But such is the case at "Sugar in Our Wounds," where the audience at the performance I attended sat for sometime, many in tears, stuck to their seats; some, instead, got up to slowly, soundlessly leave the theater, rattled by Love's writing and by the exceptional performances given by this show's cast.
The play is notably led by Stephanie Berry ("The Shaneequa Chronicles"), who as Aunt Mama, mother figure to the play's cast of young characters and an "old, old magic woman who's probably older than God," proves scene after scene to be the undeniable voice of black America. She gives a comedic and haunting performance that will likely hang in the minds of all who depart "Sugar in Our Wounds" for some time.
At the roots of the fictional tree which towers over Love's production lies buried the bones of all those ancestors who have come before, Aunt Mama instructs. Their blood has nourished its leaves. That's why it's grown so tall, why it's trunk has grown so thick.
So too lies the measure of the queer experience for many black Americans, buried at the base of some unattainable American way. So too lies the work of all those great American writers, Alice Walker, Toni Morrison and James Baldwin among them, who've attempted to weigh that experience, to tell it so as to instruct future generations of Americans, black and white, and among whose company Love's work will likely be counted.
The Manhattan Theatre Club production of "Sugar in Our Wounds," it's world premiere directed by Saheem Ali, is scheduled to run through July 8.