Review: In "Your Alice," A Wonderland Shattered
Inside the Brooklyn Academy of Music lies a dismantling of your childhood – not its destruction, by any means, but a subtle, unsettling excavation of its innocence, of those fairy-bound delusions we may have wished ever-tied to some far off, uncorrupted magic, that we might have hoped were true.
But "Your Alice," a musical play written and directed by Billie Aken-Tyers about the disquieting, disturbing relationship between Charles Lutwidge Dodgson (you may know him as Lewis Carroll) and ten-year-old Alice Liddell that led to the creation of the greatest children's book of all time, has opened briefly at the Brooklyn Academy of Music ahead of its international premier at the Edinburgh Festival Fringe this August.
Someone brought their baby to the performance of "Your Alice" that I attended; they sat in the mezzanine of BAM's Fisher theater coddling their child, the infant noisily cooing and gurgling throughout the show and scoring the production with accidental sounds of purity that only more forcefully administered the bitter, nauseating medicine at this play's heart — because this is a show about tampered innocence, about an unnerving fantasy world too real for the affections of a child, about one man's infatuation with a young girl and about his attempts to stop time altogether, to preserve his fondness for her vitality in amber — in a sprawling, frightening wonderland.
"I fear, Alice, that I will lose you to the ever changing measure that is time. Here, in this world I've created for you, I can preserve you just the way you are — innocent and beguiling," says Aken-Tyers' Lewis Carroll to his ten-year-old muse.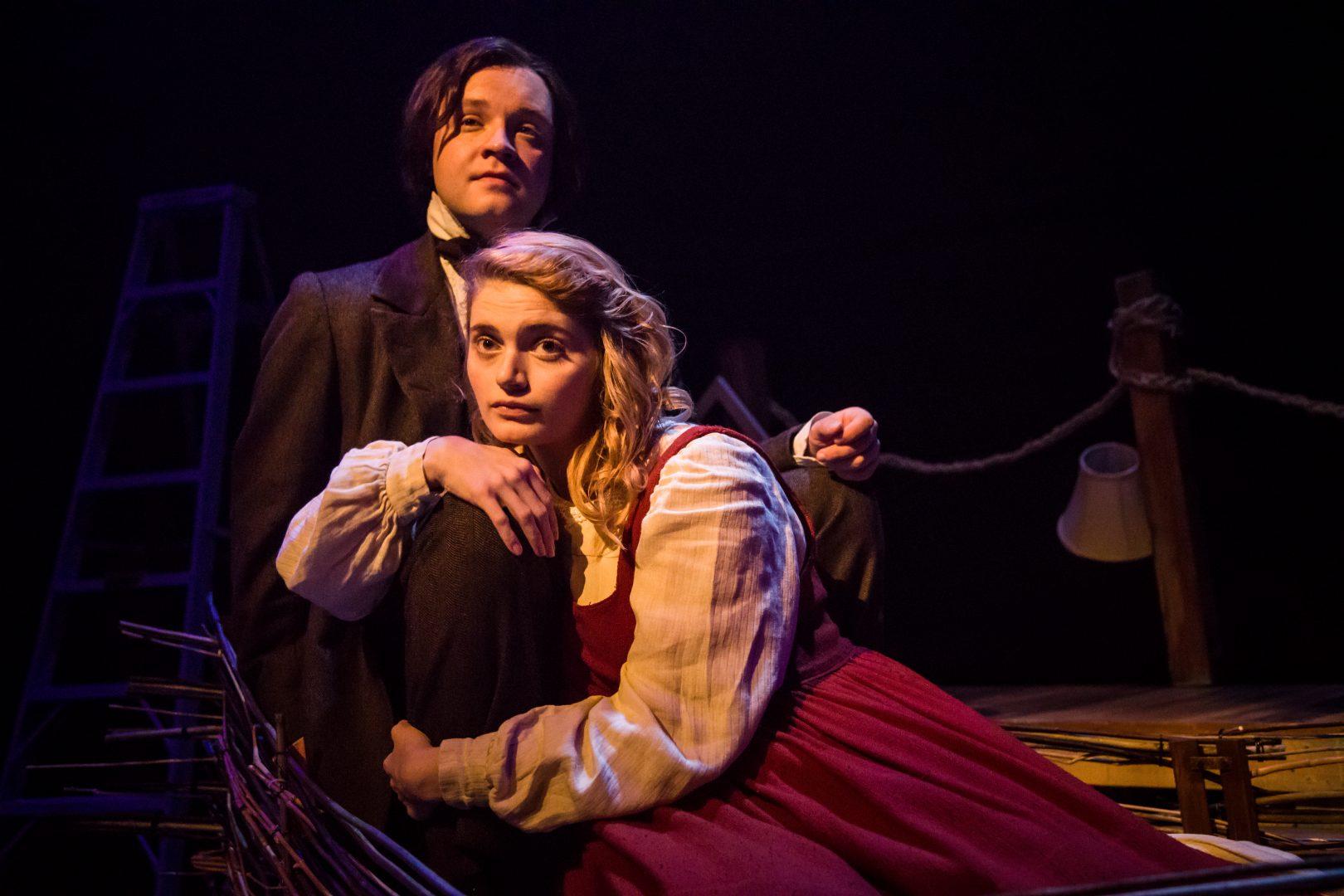 It's a play that is doubtlessly of the moment, its inquiry easily born out of the contemporary necessity to better name the actions and intentions of men too easily in possession of power.
But, for Aken-Tyers, the project began seven years ago when she discovered a self-portrait of Charles Dodgson embracing a young Alice Liddell, locked in an almost sensual embrace with the child; since, it has sent her deep within Carroll's personal journals and biographies, as well as Alice Liddell's own letters in search of an explanation for that peculiar relationship that inspired a wonderland. "It made me question everything I thought I knew about Lewis Carroll and his seminal work," she writes in her director's note.
Her play is as hallucinogenic and as dreamlike as the source material from which she crafts her story, weaving in and out of Wonderland as she probes the nature of Carroll's relationship with his young muse. Set on a long boat trip down the Oxford River on July 4, 1862, the 'golden afternoon' during which Dodgson and Alice conjured many of the stories which would materialize as "Alice's Adventures in Wonderland" (and the last of many afternoons spent between the two before the Liddell family would request Dodgson to stay away from the girl), Alice travels to and from Wonderland as its beloved characters interrogate Dodgson about his intentions. "You pushed her down that rabbit hole whether you liked it or not," they taunt.
And while Alice Liddell and Charles Dodgson are convincingly and vibrantly resurrected by British actors Eliza Shea and Luke Antony Neville (Shea is, truly, a brilliant Alice), the real star of this production is Aken-Tyers' writing. Haunting, imaginative and surreal, her central question is endlessly fascinating.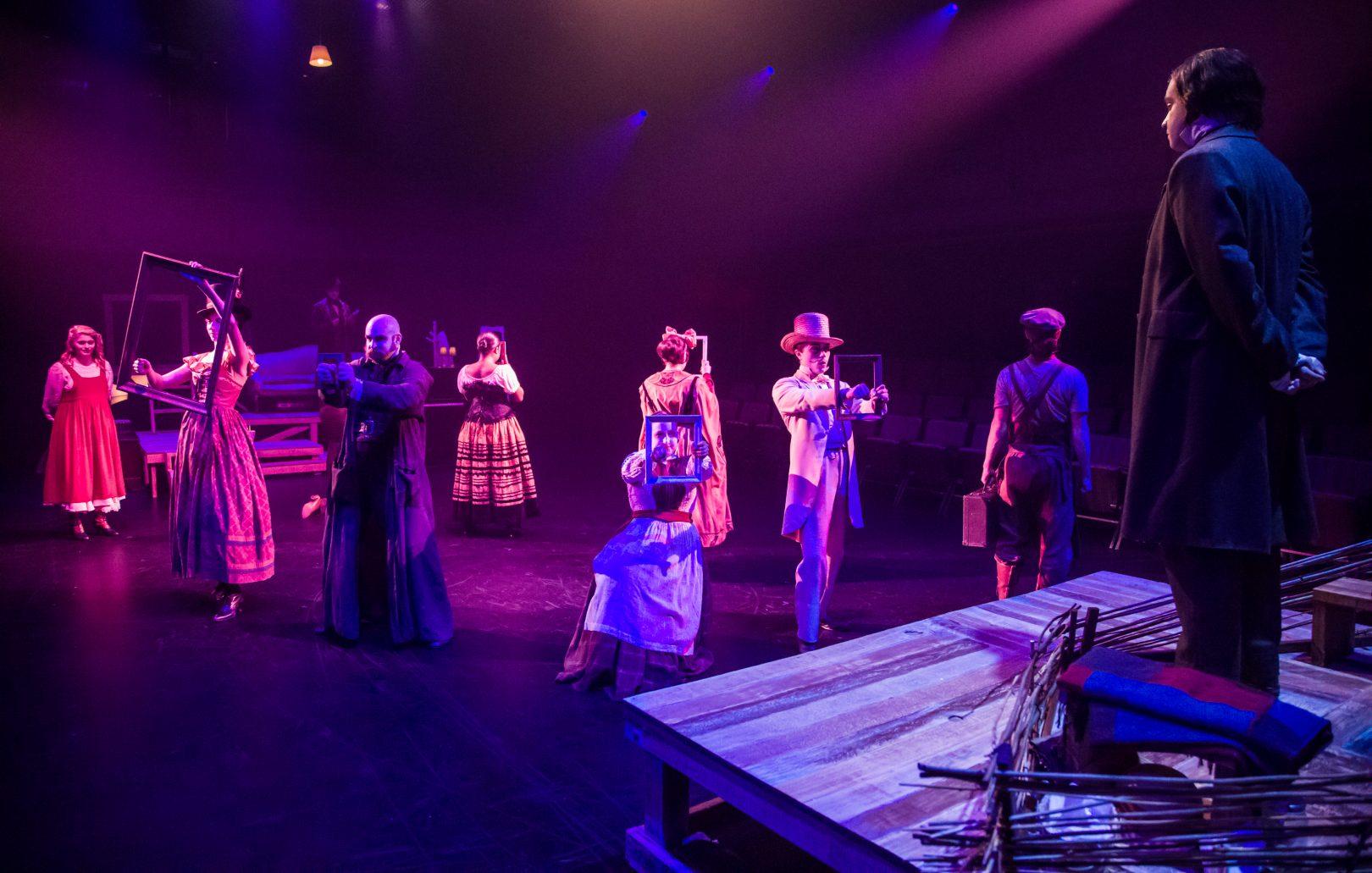 She asks: if a truly horrifying reality did govern Carroll's affections for young Alice, what, then, is Wonderland? In such an inquiry, Wonderland exists no longer as some fantastical reverie, but as a nightmarish delusion in which Carroll can forever preserve the Alice he loved, a boundless, hellish universe filled with every tortuous corruption of his own mind (whether he wants it to be, or not — Carroll is not wholly a monster in this show; Aken-Tyers recognizes the man as a tormented figure wrestling with the profane, haunted by his own creation). Floating in a space between two worlds, immersed in the complexities and perversions of Carroll's psyche, "Your Alice" challenges us to reexamine Wonderland, to consider, truly, who within might be mad.
And while the nature of Dodgson's relationship with Alice Liddell may never be known — following his death in 1898, Dodgson's family destroyed many of his diaries — Aken-Tyers leaves no questions for her audience. Ending literally in a trial by the Queen of Hearts, the verdict is clear: guilty — his crime one of consent.
"You sealed me on parchment," says Alice to Dodgson. Years after he was asked to stay away from Alice, Charles Dodgson would publish his stories without her consent, achieving international fame on the back of her youthful musings and, as it would be, succeeding in trapping her forever as the young girl he admired.
"Now," she says in the play, "I am everyone's Alice."
As the show closes, so too does Aken-Tyers' ensemble of Wonderland characters remind us of the dangers of fantasies turned too real, of nightmares just the same: "We are all but older children," the ensemble sings as Greek chorus, "who fright to find our bedtime near."