Review: "Saint Joan" is Revived on Broadway; Condola Rashad Soars
It's in the eyes. From the safety of the audience—removed if only slightly from the wrenching, tour-de-force performance given by three-time Tony Award nominee Condola Rashad in George Bernard Shaw's elaborate epic of the life and death of Joan of Arc—it's clear that everything, all of it, is in her eyes. They strain and dart around her stage with every urgency, every ounce of debilitating fanaticism and dedicated conscience that so filled that teenage girl known as Joan, that coming Christ who heard the voice of God and acted in the service of change. They haunt you, deeply and perceptibly, long after you've departed her performance.
You can witness Condola Rashad's ground-shaking portrayal in Shaw's "Saint Joan" at the Samuel J. Friedman Theatre, where a revival produced by the Manhattan Theatre Club opens tonight on Broadway.
She is directed by Tony Award-winning director Daniel Sullivan ("The Little Foxes") and stars alongside an equally impressive cast, including Walter Bobbie (Cauchon), Adam Chanler-Berat (The Dauphin), Jack Davenport (Warwick), Daniel Sunjata (Dunois), and Patrick Page (Baudricourt/Inquisitor).
Sullivan's "Saint Joan" is an intensely chilling production that draws heavily on the eerie, at times ghostly mysticism of a young woman propelled either by some godly presence or by sheer madness.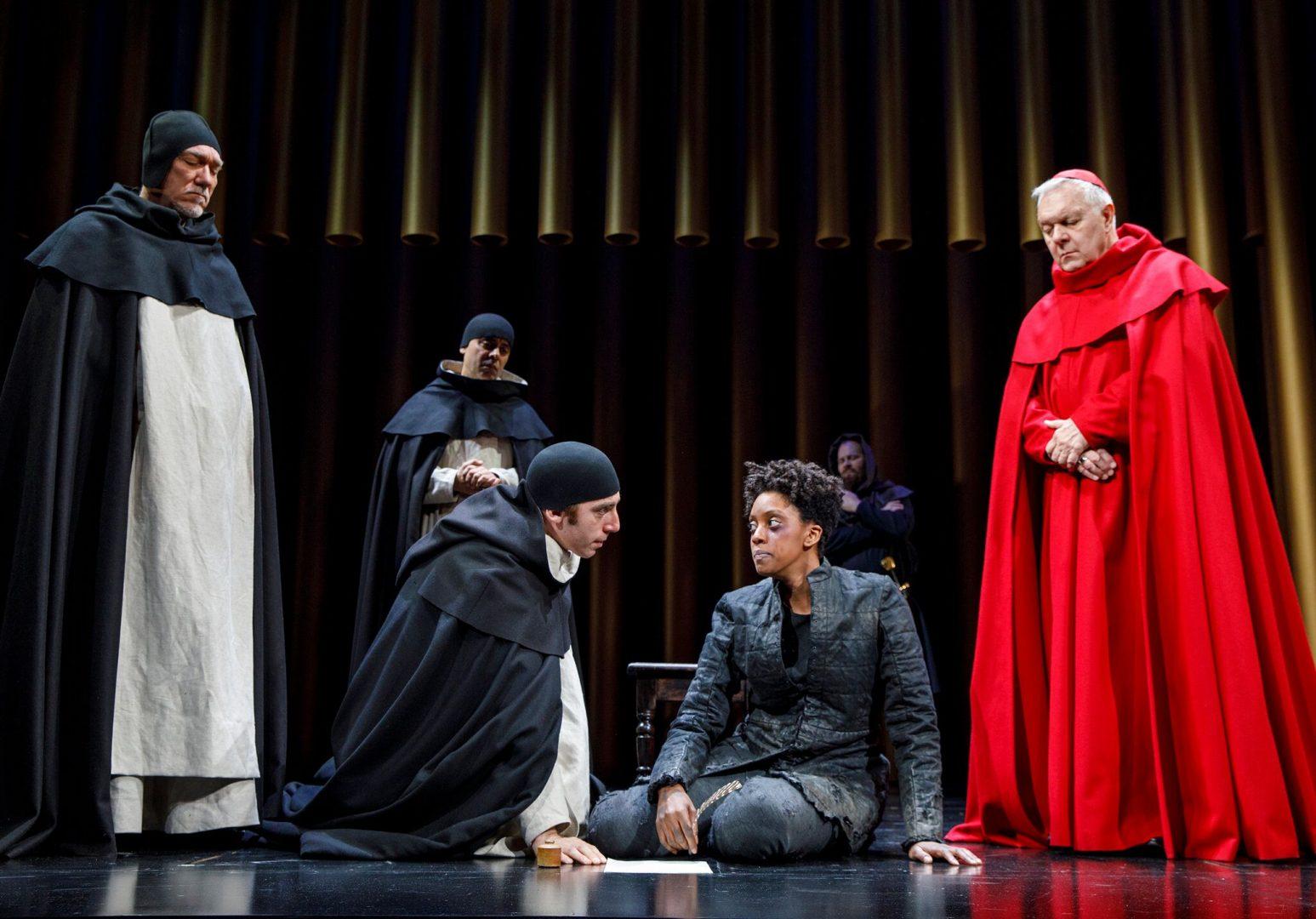 The stage (designed by Scott Pask) is encapsulated inside layers of colossal chimes, stretching the length of the proscenium as if the whole theater were submerged deep down within some ancient organ. Actors seem to materialize and vanish in thin air; at the end of the first act, Rashad appears to walk right off the front of the stage, dissolving, even evaporating into emptiness. Bill Frisell's original music, newly composed to decorate Sullivan's revival, stirs the mammoth chimes hanging from the rafters, and Jane Greenwood's costumes, situated soundly in the historical fashions of the 15th century, eschew the obvious impulse to place characters in some fuzzy, modern setting and instead ground Sullivan's production in the sanctity and brutality of the middle ages.  
The overall effect is one of some holy, medieval theatrical experience pulsing with the divinity and the sacrament of the moment, of an activist's martyrdom.
The resonance of a story centering around a powerful woman who stands in defiance of every man around her, of a dissident-deemed-heretic who refuses to yield to those injustices and hypocrisies so obviously surrounding her, is not lost on this cast and creative team. Nor is it lost on their audience.
It is not easy to draw a Broadway house so attentively to the edge of their seats that absolute silence befalls the theater. But when Patrick Page—who as the Inquisitor in charge of Joan's trial delivers one of the most poignant and moving performances in this production—stands at the end of the stage, staring with perilous gravity into the audience, instructing, "You must not fall into the common error of mistaking these simpletons for liars and hypocrites. They believe honestly and sincerely that their diabolical inspiration is divine. Therefore you must be on your guard against natural compassion," you would err to hear a sound.
The importance of protest, of dissent against political institutions and of protecting ourselves against the silencing libel of heresy is so relevant to "Saint Joan's" contemporary American audience, theater-goers of Sullivan's new production, cradled by an extraordinary group of actors, will be hard-pressed to keep themselves from pitching their bodies inevitably toward the stage, bewitched by this daring new revival and likely fearing that they, too, might burn.