Review: "Children of a Lesser God" is Revived with Breakout Star Lauren Ridloff
What is on the exterior a well-choreographed dance, a story of that careful circling two people madly in love must make before convincing each other of their devotion, is in truth an all-out battle for the limits of human difference in Mark Medoff's "Children of a Lesser God," revived this season at Studio 54 for the first time since its 1980 Broadway opening.
This is a show about power, about that word we've come to know well since this play's inception–privilege, and about the inevitable human weakness of erring to see beyond ourselves. In a glossy, chic new production, Tony Award-winning director Kenny Leon ("A Raisin in the Sun," "Fences") mounts a worthy revival of this once groundbreaking play.
The story of an unlikely romance between speech therapist James Leeds and former student Sarah Norman, a deaf woman who boldly refuses to bow to the demands of a hearing world, "Children of a Lesser God" was in 1979 an unconventional and radical piece of theater vigorously made in the service of inclusion. Its embrace of a non-speaking female lead who communicates to her audience in American Sign Language (ASL)—her romantic counterpart acting often as interpreter—was (and in many ways still is) a progressive, dynamic theatrical decision.
While in 2018 this work's radicalism is perhaps lesser felt, the production strives yet toward accessibility. The script scrolls in a screen above the stage for those in the audience who are hard-of-hearing or deaf, and speaking cast members incorporate ASL into their dialogue as often as possible—though the revival's design is admittedly a few years behind the innovations of other deaf-accessible productions, like Deaf West's 2015 revival of "Spring Awakening," which used clever design to incorporate projected lines into the show's set, rather than in a simple proscenium banner.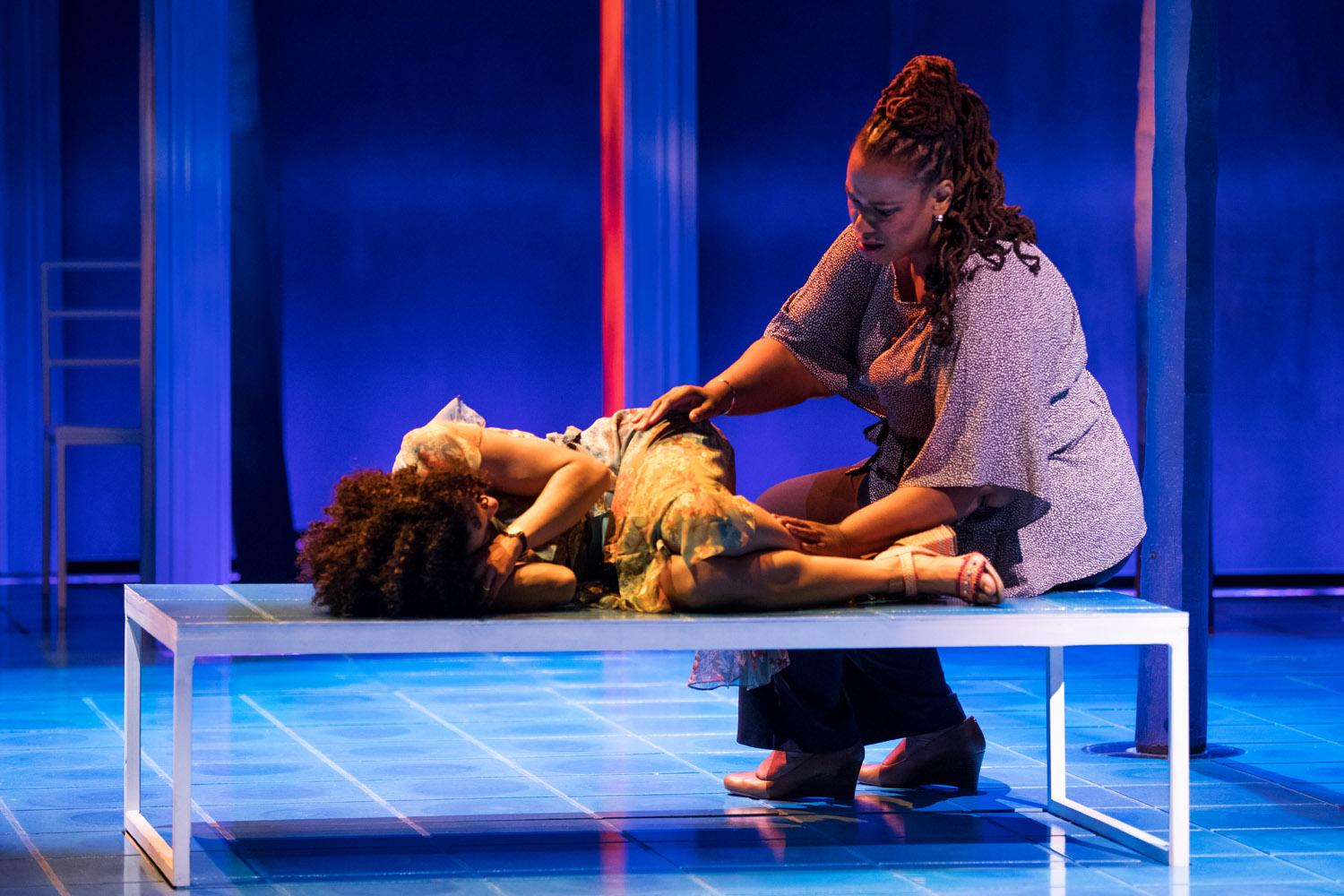 The show is led by Joshua Jackson ("Dawson's Creek") as James Leeds and Lauren Ridloff ("Wonderstruck") as Sarah Norman.
With half of Leeds' dialogue relegated to translation for his lover—a choice that purposefully emphasizes her inconvenience in connecting with an audience unwilling or unable to learn communicative skills beyond the world of the hearing—the silent Sarah Norman holds all the power in this show. In turn, Ridloff more than meets the demands of her role; she commands this stage.
While Jackson gives a warm-hearted and doubtlessly dedicated performance, Ridloff brings to this production an honesty and ferocity that is refreshing, poignant, and profoundly stirring.
Remarkably, Ridloff makes both her Broadway and stage acting debut in this role. Leon's former sign language teacher, Ridloff was asked to sit in on an early read-through of the production in lieu of a casted leading lady. Stunning the creative team, she was asked to step in. Ridloff is a discovery who has blessed this revival with the power to stand as a worthy reincarnation of Medoff's work and who, through expressive, resounding silence delivers a performance among the most exceptional this season.