Review: The Heartrending Rapture of Ars Nova's "The Lucky Ones"
"The Lucky Ones" is a show like springtime, like finding a fresh plot of dirt and digging your hands deep into it, like breathing in the earth and holding it up to your face because it is new and because it is old. "The Lucky Ones" is like looking into the sun, like looking deep into yourself to find something you didn't know was there, and it is like spring, like a spring that brings rain and a spring that brings thunder.
Nestled into the Connelly Theater, a jewelbox opera house tucked along a sleepy street in the East Village and a haunting, recondite little theater whose auditorium once housed the choir hall of an orphanage, Ars Nova's limited engagement, "The Lucky Ones," is a heartrending deep-dive into the vessels of childhood, the roots of adolescence that grow deep within us and those intensely human experiences of family from which we may never unbind ourselves.
Conceived, written and performed (with the aid of book collaborator Sarah Gancher and director Anne Kauffman) by the electro-folk married duo of Abigail and Shaun Bengson, together: simply The Bengsons, "The Lucky Ones" is a labyrinthine, psychotropic retelling of Abigail's childhood, of those dark horses that bound her family together and tore them apart the same.
Their music stirs this theater, claws at its timeworn facade with the same joys and sorrows one might imagine as written and etched into these weary walls. Sometimes their music, an arousing, arresting folk-rock that digs its hooks into your skin with every steady thud of the bass drum, feels like a romp in Levon Helm's barn, and sometimes it feels as ancient, as ancestral and as primeval as the bedrock on which this city sits. Abigail's voice soars in glorious imperfection above it all, sinks below it in deep growls of recollection, too, and howls, even wails for the innocence of her childhood in what can only be an electric evocation of the wind.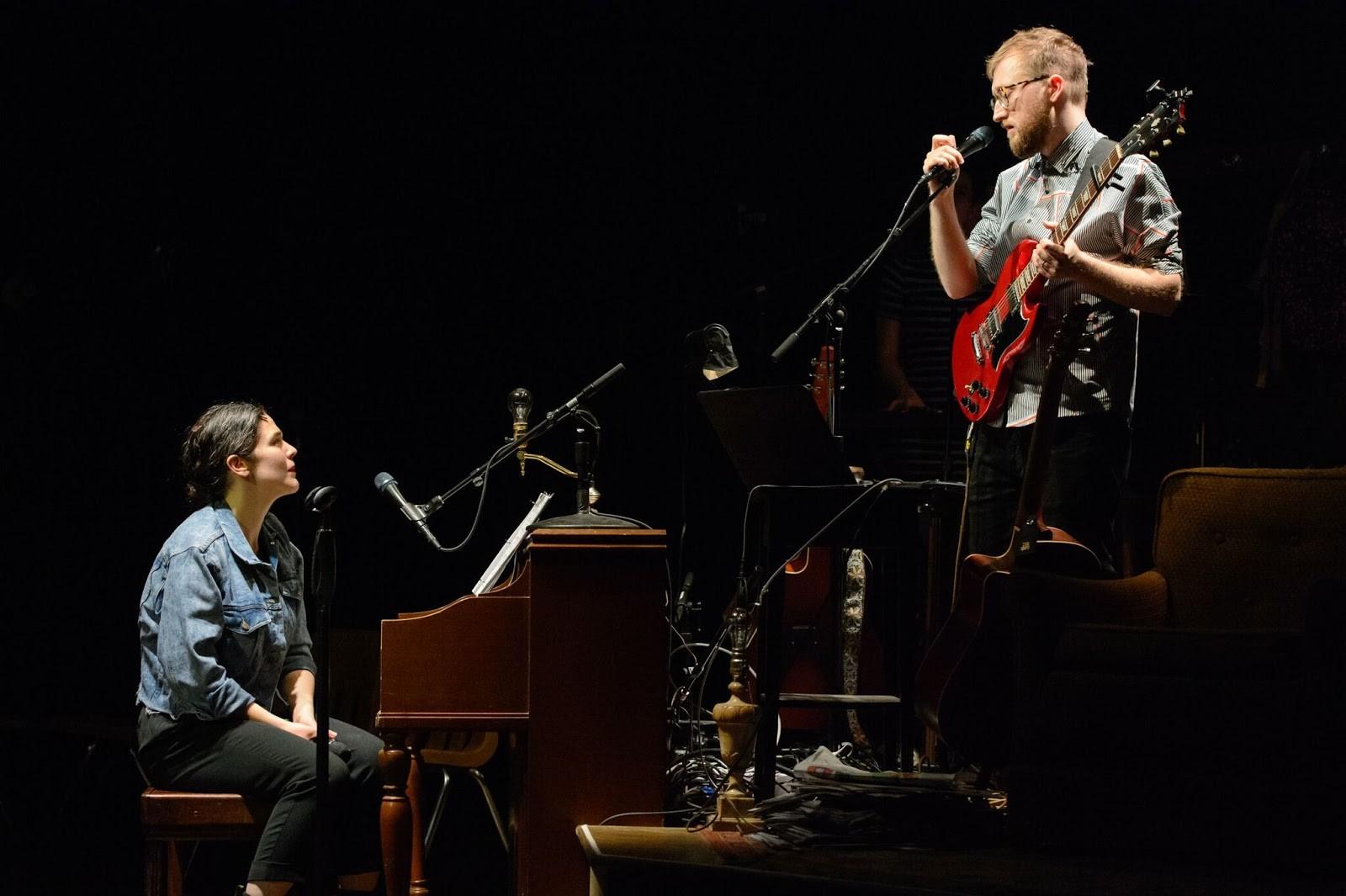 The Bengsons are cradled by a 16-member ensemble who vibrantly color Abigail's retelling. They are joined by Tony winners Myra Lucretia Taylor and Maryann Plunkett as mother and aunt, by "Indecent's" Adina Verson, "Natasha, Pierre & The Great Comet of 1812's" Ashley Pérez Flanagan and by "Brief Encounter's" Damon Daunno, too. Lit and choreographed brilliantly by Amith Chandrashaker and Emmy-nominee Sonya Tayeh, this cast grinds their boots into the stage and embeds themselves in the emotion that The Bengsons lay bear for us to solemnly and carefully approach.
Abigail Bengson begins her show with an invocation, with a prehistoric cry to the ghosts in her theater to join in prayer, to the ancestry we look to in both admiration and fear for support. As we join The Bengsons in Abigail's warm and loving childhood home, deep in the woods of Maine, there is immediately and perceptibly an acute sense that something here is not right, that something here is rotting. Balancing between narrative and hallucination, between theater and concert, "The Lucky Ones" winds through the events that destroyed Abigail's family, that left them fractured beyond repair and that propelled her to join with her husband on stage in order to finally find her way home. "Oh, I see I am leaving," she sings in the invocation. "Oh, I see myself."
This show is rapture. It is a daring examination of the limits of memory and trauma. It is chaos spoken in poetry, and it is the type of well-made, deeply personal theater that could be delivered only by a company with as much commitment to story and radical form as Ars Nova and that in the end serves as a valiant, daring reminder that in our lives and in our families sometimes we are lucky, and sometimes we are not.
This Sunday, Ars Nova, along with co-presenters Piece by Piece Productions and Z Space, extended The Bengson's limited run until April 28. The show will play an additional week.