A Weekend In James Joyce's Dublin
As I climb the narrow spiral of stone steps, my anxiety builds. With each slow, careful step I get closer to the top of the tower; the first stop on a long list of destinations. As I reach the last few steps, the muted light of the cloudy Dublin sky guides me through an archway and, finally, I'm on the roof.
The view of the Irish coast is breathtaking, but the experience is more surreal than anything. I sit to the side and play out the fictional moments in my head, projecting them onto a place that I'd only ever read about, until now. I watch Buck Mulligan imitate a Catholic mass as Stephen Dedalus broods about his mother's death, and the world of "Ulysses," the world of James Joyce's Dublin, comes to life.
When I try thinking back now, I have trouble remembering what my life was like before I began reading "Ulysses." Arguably James Joyce's most notable work of fiction, "Ulysses" is a novel that follows protagonists Leopold Bloom and Stephen Dedalus as they go about their daily lives in Dublin, Ireland. The entire book chronicles just one day—June 16, 1904—and during that time, the characters visit several dozen places across the city that actually existed in Dublin at the time, many of which still exist today.
Because "Ulysses" takes place over the course of just one day, every year on June 16—affectionately named "Bloomsday" after Leopold Bloom—fans of the book journey to Dublin to trace the paths that both Bloom and Stephen took on that day.
Six months ago, James Joyce was a name I'd heard but knew nothing about, and "Ulysses" was nothing more than a literary reference that went over my head. When I signed up for a course with Professor Stuart Sherman that would involve an in-depth reading and study of "Ulysses," I hadn't expected to become so absorbed in the text or so attached to the characters. But once I started exploring "Ulysses," it was impossible to stop.
When I took a course with Professor Sherman during the fall semester, he gave an enthusiastic pitch for his "Ulysses" class, a course that he's taught sporadically for over 40 years: "My favorite thing about Ulysses is the way it triggers us to think about how much there is in a day, and what kind of muchness it is. It's usually not ultra-dramatic and life-changing, but it can be small and pivotal nonetheless. You get better at understanding it with each page as you go; you start to get what kind of thing it is. It's not like anything else that people have read. Most books give you a lot, and they allow you to absorb, to consume, to marvel. This one makes you work for it, but it feeds you treats pretty often. You get little details along the way, and it's thrilling. I think it's an absolutely wondrous thing." Having enjoyed Sherman's teaching style and sensing his deep appreciation for the novel, I decided that if I were ever to read "Ulysses," I'd want to do so with his instruction.
On the first day of class, Professor Sherman offered his insight on how best to tackle the novel, saying that "group reading is probably the best approach to it; conversing about it, asking about it, and holding each other's hands through it is the very best." Throughout the course of the semester, I increasingly fell in love with "Ulysses," and I think a large part of that was because there was a group of us dissecting it together.
When my plans to study abroad in London this summer were confirmed, my first thought was that I wanted to find the time to travel to Dublin and orchestrate my very own Bloomsday—though Sherman recommended that I avoid the actual holiday. "I think Joyce would hate the actual Bloomsday excursions. The experience of doing Bloomsday on June 16 is radically different from the solitary experience that the book holds up as a model for life."
With the desire to avoid spectacle in mind, I made plans to visit Dublin the weekend after Bloomsday. As I began planning my trip, I consulted with Sherman about how to make the most of my trip, as he had made his first Bloomsday journey almost 40 years earlier. Though many things would have certainly changed in the decades between our respective trips, I still wanted his advice on which paths to follow, and what his favorite places to visit were. He mentioned several important locations that were featured in "Ulysses," but with so much to see and no possible way of seeing everything in one trip, he decided that "my favorite places to visit are the places I haven't visited yet." He said that the best places to visit are the places you remember best, that stick out in your mind as important to your understanding of "Ulysses." With a lengthy list of places in mind, I poured through the Bloomsday guidebook that Sherman recommended, downloaded a PDF of "Ulysses," and prepared myself for my arrival in Joyce's Dublin.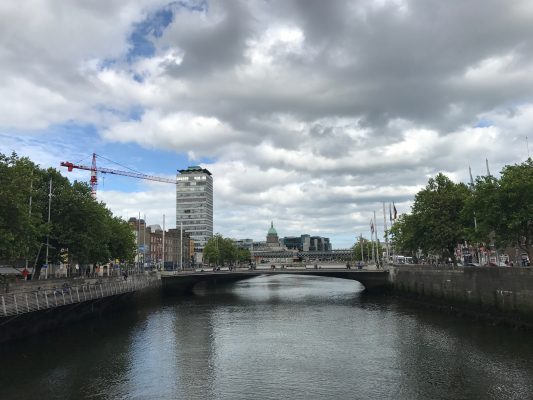 I landed in Ireland at 8 a.m. on Saturday and caught a bus that took me into the city to my hostel. Settling down at a table in the common room, I started fine-tuning my plans for the next 36 hours. The list of places to visit was endless, and I had no hope of being able to see absolutely everything. I decided to set aside most of my time for the greatest hits, and a few honorable mentions that weren't too out of the way.
I mapped out a detailed route (location-based as opposed to following a chronological account of the book) that I would follow across Dublin on Sunday, as well as a small number of places nearby to visit that afternoon. Map, notebook and phone in hand, I set off to begin my Bloomsday.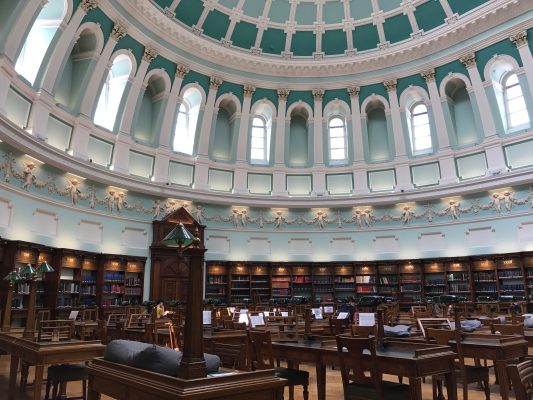 The first building I visited was the National Library of Ireland, featured in Chapter Nine of "Ulysses." In this library, Stephen explains his theory that William Shakespeare associated himself with Hamlet's father rather than Hamlet himself, though the critics and essayists he is conferring with are not swayed. The main reason for my visit was to see the reading room, a study space with dark wooden furniture, a domed ceiling and walls painted in several shades of blue. As I entered the room, I was struck by how bright it was, and I spent an hour sitting at one of the desks and taking in every ornate detail.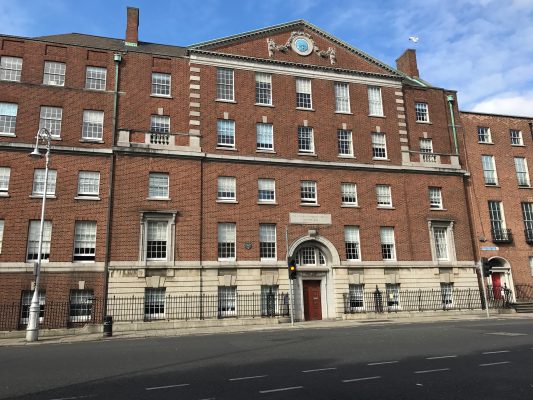 My next stop was the National Maternity Hospital. In Chapter 14, Bloom, Stephen, Buck Mulligan and a group of medical students gather in the hospital waiting room, talking and drinking as they wait for Mina Purefoy, a friend of Bloom's, to give birth. Though I didn't find the hospital scene all that interesting, my desire to visit stemmed from the written style Joyce implemented for the chapter. From beginning to end, each paragraph of Chapter 14 documented a new stage in the evolution of the English language, starting with a translation of early Latin prose and ending with modern (at the time) Dublin slang. After taking a few pictures, I found a bench in the park across the street to sit and read through some of my favorite passages, including a paragraph written in Middle English and another mimicking Charles Dickens.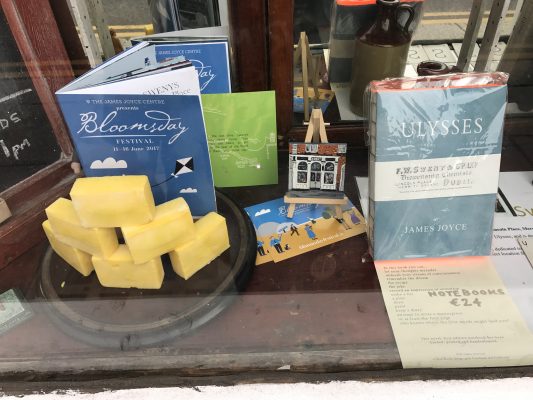 As I walked back to my hostel that evening, I decided to stop by Sweny's Chemist, a visit I had planned for the next day but happened to be on my way home. Though the shop was already closed for the day, I was eager to see what it was like, if only from the outside. Sweny's Chemist was probably the most important location in my study of "Ulysses," and the place I most looked forward to visiting. Though I wasn't able to go in, I spent a fair amount of time studying the window displays, which featured several rows of shelves crowded with Joyce- and "Ulysses"-related items, including photographs, figurines and copies of the book.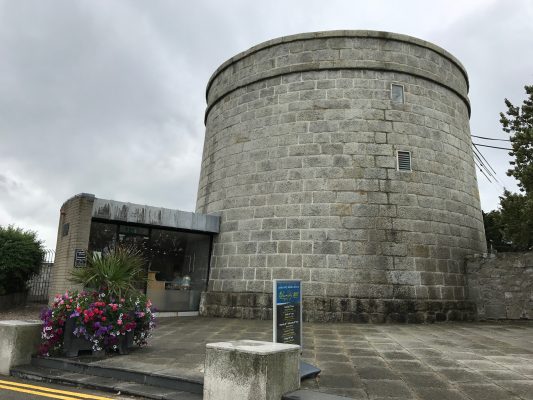 Sunday morning started early, as I had to be out the door by 8 a.m. in order to make the most of my last 12 hours in Dublin. I took a 45-minute train ride to the eastern coast of Ireland, and then walked along the bay to reach Martello Tower—now the James Joyce Tower & Museum. This particular tower, one of several Martello towers that were built across the British Empire in the 19th century, was converted into living quarters where Joyce briefly lived in 1904. Inspired by his time there, Joyce incorporated Martello into "Ulysses" as the residence of Stephen and Buck Mulligan and the setting for the very first scene.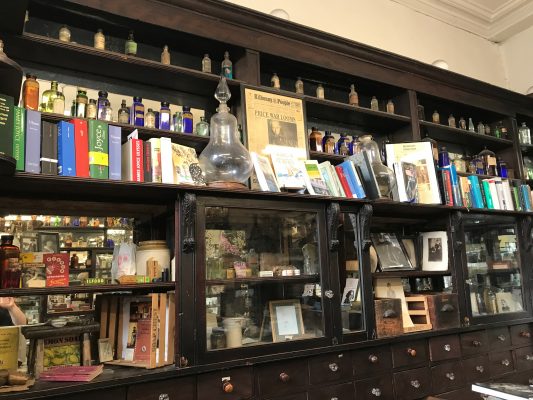 After walking through the rooms of the museum and enjoying the view from the top of the tower, I boarded the train back to central Dublin. By the time I arrived, Sweny's Chemist was finally open for the day, and as I walked through the door I could barely contain my grin.
The inside of Sweny's was more than I ever could've imagined. Though now a secondhand books and craft shop, the staff (all volunteers and passionate Joyceans) boast that little has changed in the shop since it opened in 1853. Colorful glass bottles still line the shelves and fill display cases, and one of the workers even showed me a drawer of orders that people neglected to pick up before the shop ceased being a pharmacy in 2009. The walls are covered in photographs of Joyce and drawings of different characters and items from the novel.
The most thrilling part about my visit to Sweny's, however, was being able to purchase a bar of lemon soap as Bloom did in "Ulysses." Though buying soap is not typically an exciting event, the lemon soap from Sweny's was the one item from the novel that most held my attention, and that I had the strongest attachment to. During the course of my class on "Ulysses," I wrote about this bar of soap from Sweny's for every paper; I traced its movements, studied its functions throughout the novel as it journeyed with Bloom across the city, and now I was holding it in my hands. If shopping at Sweny's had been my only stop while in Dublin, I would've been completely satisfied with my trip—being able to do so much else was just a bonus.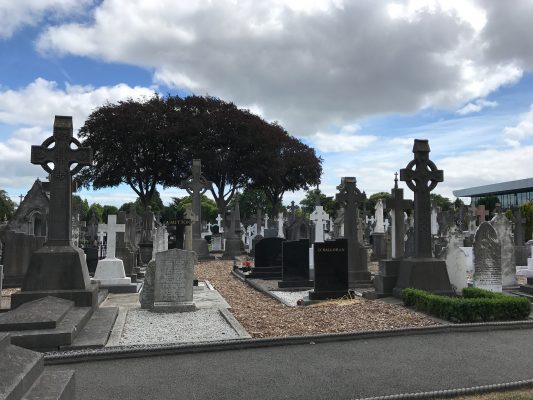 Taking one last look around Sweny's as I stored my purchase in my bag, I hopped on a bus to my next destination: Glasnevin Cemetery. Serving as the final resting place for several of Ireland's most prominent national figures, including Daniel O'Connell and Charles Stewart Parnell, Glasnevin was featured in Chapter 6 of "Ulysses," during which both Bloom and Stephen attend the funeral of a man named Paddy Dignam. Brimming with large gravestones and intricate mausoleums, it was easy to picture the funeral carriage driving along the wider paths. I spent a few hours walking up and down the rows of gravestones, occasionally stopping to read some of Bloom's thoughts about the funeral, as well as his reflections on the deaths of his father and young son.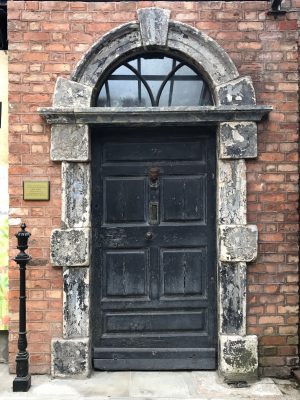 From Glasnevin, I took a bus to the James Joyce Centre. While the building itself had no significance in "Ulysses," its walls were lined with photographs and artistic renderings of Joyce and his characters, each room containing interactive displays that provided information on Joyce's life and how "Ulysses" came to be. Most importantly, the centre has on display the front door of Number 7 Eccles Street, the house that Bloom lived in with his wife, Molly. While the building itself no longer exists, the door was saved from demolition, and with its image fresh in my mind, I made my way to where 7 Eccles Street once stood. I spent a few silent minutes where Bloom's house once was, and being oriented in that space was incredibly serene.
As 8 p.m. crept closer, I had to make my way back to the airport. As I walked towards the bus stop, hoping to catch the next express out of the city, I paused when I noticed a bronze statue a short ways down a side street. As I got closer to the figure, I laughed as I realized it was a statue of James Joyce. Snapping a few pictures, I smiled at the happy coincidence before walking across the street, climbing on the bus and starting my way back towards London.