My Local Pub: The Cumberland Arms Etiquette and English Atmosphere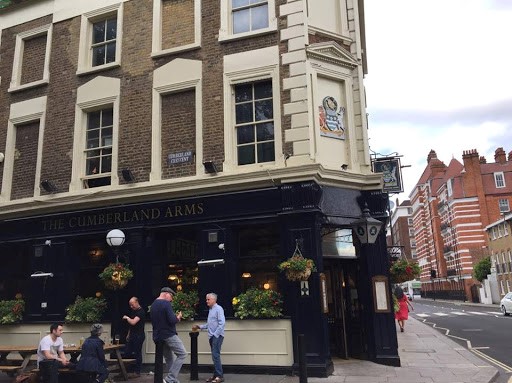 It was my last Sunday evening in West Kensington, London before I had to fly home to New York. I texted my friend Nadine, asking her to come with me for a Sunday roast–a nostalgic occasion because it would be my last of the semester. The Sunday roast is a tradition amongst many people in England, the most standard English meal one could think of: meat, potatoes, vegetables, a Yorkshire pudding (which is essentially halfway between a puff pastry and a dinner roll) and gravy. Most Brits need only walk to their local pub to enjoy it with friends or family. Because of the easy access to National Rail trains that service the entire country and the relatively small size of England compared to America, some Brits can even travel home to enjoy a Sunday roast cooked by mum or dad and return to London in time for the work week. Sunday roast is the perfect meal to order when I'm yearning for the comfort of my parents' cooking.
Pubs are an unfamiliar concept to most Americans (like myself, initially) because of their versatility as spaces for both socializing and relaxation for groups of friends, colleagues and families alike. Contrary to the typical adults-only American bar, most pubs have an atmosphere that ranges anywhere from family-friendly to fun night out, depending on the time of day. Pubs can also seem foreign to Americans because of the cultural differences between Brits and Americans. In the U.K., it's commonplace to grab a drink in the middle of the day during a lunch break or after work in the evening. In the US, drinking during work hours or even popping into a bar for a couple evening cocktails on a work night would raise a few eyebrows. Drinking casually is more common here, so the culture calls for more places to do so.
The Cumberland Arms is certainly on the more relaxed end of the spectrum for pub atmospheres. The facade of the pub is painted a deep navy blue with the pub's name in gold letters, contrasted beautifully with hanging flower boxes overflowing with bright green leaves and small red blossoms. During warm temperatures and sunny weather, the outside area is always full of pub-goers clustered around picnic tables enjoying pints, some with cigarettes in hand since smoking isn't allowed inside the pub. No matter how central or obscure the location, every pub in London at 5 p.m. is crowded with people–predominantly men–just out of work, chatting and laughing as they drink outside in their white dress shirts and dress pants.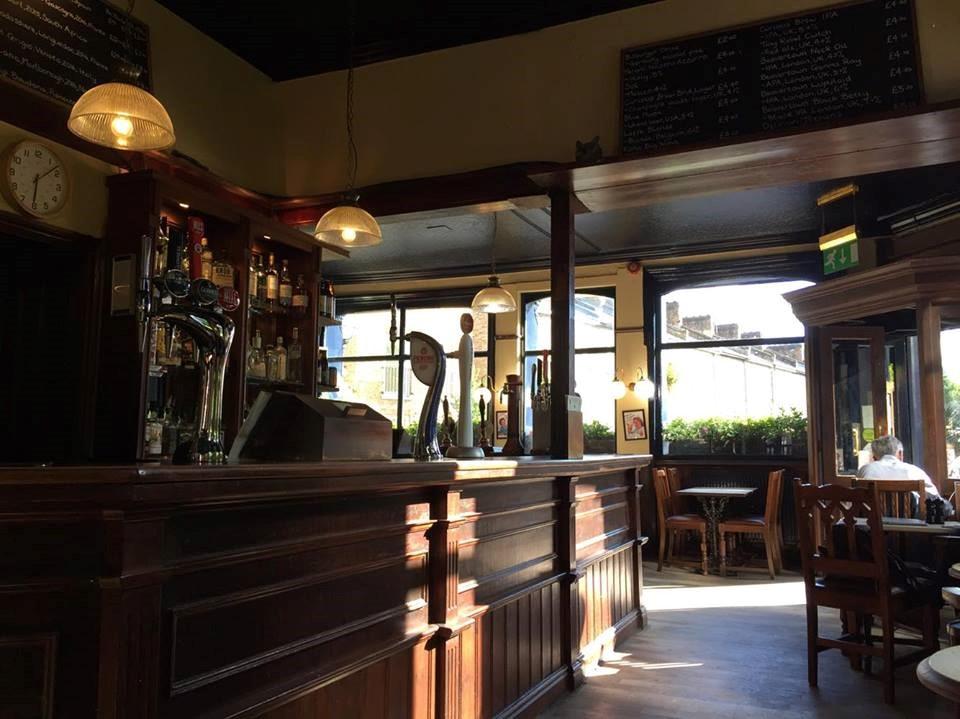 Inside the pub, the abundance of wood furnishings and low lighting create a smoky, intimate atmosphere. Vintage posters of brands from the 1950s hang on the walls between chalkboards detailing various drinks and the food specials for the day. Hidden underneath a table of precariously balanced board games at the corner of the pub counter is a food dish filled with kibble for the resident pub cat, a shy and beautiful tortoiseshell breed. One of the pub's two fireplaces at the back of the room is lined with candles, and another in a different corner of the pub is jammed with books for children and adults alike. At a quick glance, I saw a copy of Roald Dahl's "The BFG" and a few thick mystery paperbacks by an author I didn't recognize.. This climate of charming disorganization fosters personal connection and private conversation.
Because of this relaxed ambiance, The Cumberland Arms is enjoyable alone or with friends. On a slow weekday at noon I'll sometimes amble in, order a pint, and sit at a small table with a book. Even though that particular hour finds me surrounded by groups of men and women on lunch break, chattering away eagerly in their business attire, I never feel self-conscious sitting alone. The beauty of the English way is their unspoken social code: one that frowns upon intrusive social interaction. The rules of pub etiquette are what makes the pub itself so appealing to my contrarian nature; I am what I like to call an "introvert with extroverted tendencies."
In "Watching the English: The Hidden Rules of English Behaviour," Kate Fox outlines two pub etiquette rules in particular that resonated with me instantly upon arriving in London. On a cold night in early January, my first night in London, I recall huddling around a large wooden table in the back corner of the pub with my new roommates. We had just arrived, had barely unpacked and were completely unfamiliar with the pub. We applied our American knowledge to the room and assumed it was most similar to a restaurant, expecting a waiter to rush over and take our orders.
As Fox points out, "Foreign visitors often find it hard to come to terms with the fact that there is no waiter service in English pubs." The merciful bartender that night came over to take our orders, sensing that we were unfamiliar with the custom. After a few more visits to the pub in the week following, where we observed regulars ordering at the counter, we soon realized it was our job to order and pay. I loved this control over my own food and drink–I am often impatient when I have to wait for a server to take care of me.
Another interesting rule of etiquette involves the actual ordering of food or drinks. It's no secret that the English love organizing themselves into lines—or as they call them, "queues"—while waiting for just about anything. The "invisible queue" is an idea that I quickly became acquainted with, as Fox describes: "In our drinking-places…we gather haphazardly along the bar counter…the person who reached the bar counter before you will be served before you, and any obvious attempt to get served out of turn will be ignored by the bar staff and severely frowned upon by other customers."
Since birth, my parents have always raised me to be polite and fair when it comes to waiting for things. Upon starting college in New York, I was stunned to see all decorum go out the window in most circumstances. I have seen, quite often, impatient individuals jump ahead in lines, cut people off when getting on the subway and even express outward frustration or anger towards anyone walking slowly, ordering slowly, or talking slowly. The orderliness of the English pub gives me a sense of satisfaction and comfort knowing that I will be attended to in a fair way, without having to enact some New York aggression to get what I want. The introvert in me can simply approach the bar counter and issue the right nonverbal signals to be served in a timely fashion.
Lastly, my favorite rule of pub etiquette is what Fox calls "the pantomime rule." This concerns the lack of New York aggression needed to be served, as I mentioned earlier: "It is acceptable to let bar staff know one is waiting to be served by holding money or an empty glass in one's hand." As someone with slight social anxiety and fears about being impolite, this rule fit perfectly with my own natural behavior. Subtle body language is all I need to be served.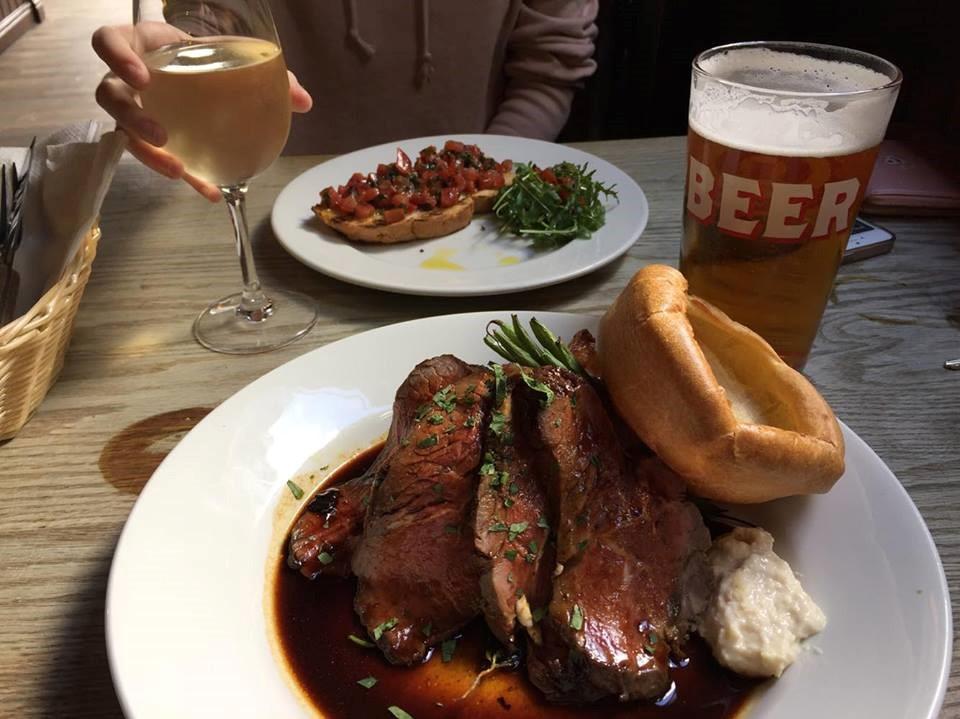 Whenever I find myself slowly approaching the bar, looking slightly anxious and absent-mindedly tapping my credit card or five pound note against my palm, I find myself fitting in with the etiquette of both gesture and countenance: "The pantomime rule requires the adoption of an expectant, hopeful, even slightly anxious expression. If a customer looks too contented, bar staff may assume that he or she is already being served." All I have to do is slide my elbows onto the polished wood of the counter and glance attentively at whoever is serving drinks to hear a voice call, when it's my turn, "what can I get you, love?" A soft-spoken "thank you" and a smile is all I need to satisfy my end of the interaction.
On this particular Sunday, I followed the pub etiquette I had been practicing for six months and ordered my last Sunday roast and pint of Camden Pale Ale before sitting down with Nadine. The sun filtered through the large windows encircling the pub and shone in spotted streaks along the floor and tables, and we chatted freely about our plans for our last week in London.
In the back of my mind, I reflected on my time inside The Cumberland Arms. I spent my first night in London at a table in the corner of the room. I brought friends who visited from other places in to try their first pints. I read books in here on my own, enjoyed warm evenings in the courtyard and watched the world of West London move forward around me. Six months of memories flashed by in my mind as I laughed and shared dessert with Nadine. I had no idea half a year here was enough time to transform my outlook on my home and my own personality. I will leave London in a week grateful for pubs and the formative time I've spent in them, on my own or with my close friends.