A Radical Playwright Makes His Way to Broadway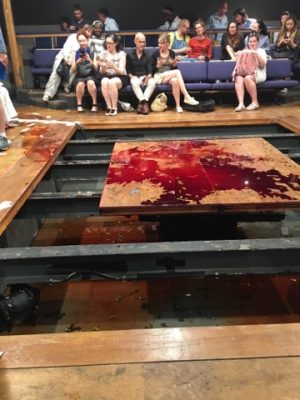 Once upon a time, a 13-year-old boy named Branden Jacobs-Jenkins went to see a production of "Waiting for Godot" at the Studio Theatre in Washington, D.C. The two main characters, Vladimir and Estragon, were played by African American actors, with hip-hop and black slang incorporated into the production. The estate of Samuel Beckett was not pleased and attempted to shut it down. As an African-American man, Jacobs-Jenkins said that this piece inspired him to make his theatre have purpose. As a cause of his experience, his plays invite the audience to think in new ways about what it means to be a person of color, especially in the theatre.
With this new determination, he headed to Juilliard where he graduated from the Lila Acheson Wallace Playwrights Program in 2014. In the same year, he became a member of Signature Theatre's Residency Five program. Residency Five, which began in 2012, is a program that guarantees each playwright associated with the program three productions of new plays over a five year period. Jacobs-Jenkins has won a multitude of awards, including the 2011 Helen Merrill Award in Playwriting and the 2015 Steinberg Playwrights Award. As of 2016, he Jacobs-Jenkins was also welcomed into the MacArthur Fellows program, where he is the recipient of a "Genius Grant." For a man who has climbed so many rungs and gained so much support in the American theatre, I wondered why I had to come all the way to London to find out about him.
His play "An Octoroon," inspired by and drawing on Dion Boucicault's 19th century play, "The Octoroon," ran in April of 2014 Off-Broadway at Soho Rep and in 2015 at the Polonsky Shakespeare Center in Brooklyn, New York. I was lucky enough to see a production at The Orange Tree Theatre in Richmond, London as part of my travel writing course at Fordham. I didn't yet know that Jacobs-Jenkins has been praised for his shock value in his plays. Mix that shock value with a satire on race and ridiculous comedy, and you get "An Octoroon." I left that show enjoying it much more than I thought I would, and I'm seeing it again the day it closes.
"An Octoroon" comments strongly on race and satirizes both the history of slavery in America as well as the racism in the theatre that he once encountered in "Waiting for Godot." He once explained in an interview, "For some reason for artists of color, we get labelled as writing about race when actually, if you look at every classic American play, they're basically all about the idea of race and relation and an evolution of culture, otherness and how we deal with it. So I don't know, it's a tricky question to ask because if you're going to ask me, you've got to ask everyone."
This idea comes up throughout "An Octoroon" as characters intermittently acknowledge themselves as people, and acknowledge an audience watching them. They joke that the playwright is black, and therefore could think of nothing else to write about but black history and oppression.
I walked out of the theatre thinking about the current state of racism in the world. I walked away from a stage covered in fake cash, gold glitter and a pinch of fake blood. All I wanted to do was go home for the night and re-imagine what I had just seen over and over again. Soon after, I found out he had another play running in London, "Gloria," and I purchased my ticket immediately.
In June 2015, his play "Gloria" was produced Off-Broadway at the Vineyard Theatre. It was nominated in 2016 for the Lucille Lortel Award for Outstanding Play, and was a 2016 Pulitzer Prize finalist for Drama. Jacobs-Jenkins began writing in Berlin, just before moving back to New York for his residency at the Vineyard Theatre. He had thrown out idea after idea until being inspired by his memory of working at The New Yorker, sitting in his cubicle during an average day of work. In the program of "Gloria," currently on at the Hampstead Theatre, Jacobs-Jenkins discusses the themes of the play as well how they fit into his previous repertoire. "I think a lot of my work has been wrestling with the idea of authorship in some way, and I think this is my first play in which the drama is pretty overtly anchored around that theme. It's also the first one in which I've drawn on personal, biographical details in a slightly more explicit way in order to tell the story."
I don't want to give away too much of the "Gloria" plot—it's the first play I remember ever having seen with a surprise in it. When you buy the Hampstead's show program, there are pages intentionally printed stuck together. The big shocking surprise comes in the end of Act I. During the interval, audience members have to find staff members to cut the pages for them and reveal hidden secrets. I am not a spoiler of surprises, but I will say that Jacobs-Jenkins' "shock" had me frozen in fear in a way I had never experienced at a play before. By the end of the play, I walked out loving it even more than "An Octoroon," and even hungrier to find out what the playwright would have next in store. "Gloria" is a compelling story, and the current production has received excellent acclaim, making critics and theatergoers shed tears of laughter and sorrow alike. The current run will be on at the Hampstead until July 29.
Without a doubt, Branden Jacobs-Jenkins is a playwright attuned to the present moment, very much on his way to the top, and making it there quickly. He will have his Broadway debut this coming season with his newest play, "An Enemy of the People." It will be his next adaptation, an updated version of Henrik Ibsen's 1882 play of the same title. For a playwright climbing the rungs in both of the world's theatre capitals, his newest work is sure to be what makes his name known to all. At the end of "An Octoroon," one of his characters looks to the audience and says, "The whole point of this was to make you feel something." His plays have already made London's audiences feel more than something, and it won't be long before New York is swarming to put this man in the spotlight who has given so much to deserve it.