A Pool of Emotions
It was the summer of 2012, and my eyes were glued to the television. A group of my fellow swimmer friends and I sat in my basement while many of my non-swimmer friends were at the beach enjoying the hottest concert of the summer. Michael Phelps, the greatest athlete and swimmer of all time, was about to compete in his final Olympics in London, he had just announced what I thought was his retirement, at the time, and vowed not to swim as a 30 year old in the next Olympics. While I never got to witness an Olympic swimming event, I was able to visit the pool that Phelps swam in this summer while studying abroad in London.
The Queen Elizabeth Olympic Park is located in Stratford, and is about an hour by Tube from my flat in West Kensington. Normally, I find traveling far on public transport quite boring, but my teammate Mia and I kept ourselves busy by talking about swimming for the majority of the ride, buzzing with anticipation. We stepped off the Tube into an area with a completely different vibe from downtown London. Extensive shopping malls, high-end stores and restaurants, and hotels fill the newly-renovated area. While others might have been there to shop, I was most excited to swim in the same pool (and lane) as Michael Phelps had in 2012. While I've visited London quite a few times, I've never been able to get to the London 2012 Olympic Park. My classmates were out visiting Big Ben, Westminster Abbey, and the museums of London, but I jumped at the first opportunity I had to visit the park—I had been waiting for this for five years.
As I walked into the London Aquatics Center, used for the 2012 Olympic swimming events, my jaw nearly dropped. I was unimpressed and confused as to how they held the Olympics in this small venue. It was smaller than some pools I previously have swum in. To solve my confusions, I quickly Googled images of the pool and its seating. I found out that temporary spectator wings were installed for the Olympic events. They seated thousands more than it appeared in that moment. Although I was dismayed by the small size of the venue, I was impressed with the quality of the pool. The water was crystal clear and blue, and a perfect temperature for racing. I was only there to swim laps, although I wouldn't be the first in my family to swim in an Olympic pool.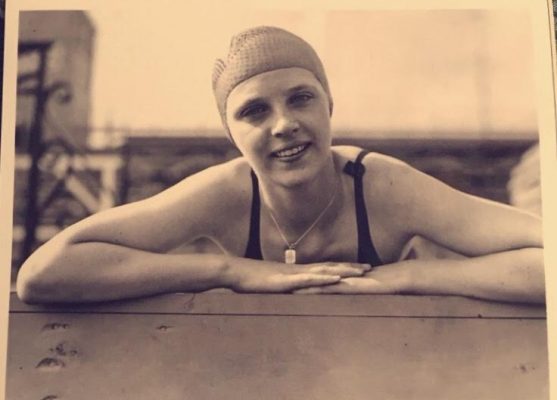 My father's aunt, Elizabeth Ryan, known to us as Aunt Pat, swam in the 1936 Olympics in Berlin when she was just 13 years old. She was part of the preliminary heats of the bronze-medal winning 400 freestyle relay, which helped the Americans qualify for the event final. While at first we believed she won a medal, we later found out that under the 1936 Olympic swimming rules, she did not receive the medal because she herself did not swim in the event final. This is a rule that has changed since this Olympics and today she would have received a medal. Ryan is still ranked one of the youngest members in Olympic history. By 1936, however, she hadn't even reached her peak in swimming. In 1938, she won New York State titles, Metropolitan titles and A.A.U. titles. By 1940, she was favored to make the next two Olympic teams, but the Games were canceled due to WWII. She never accepted money for her performance, and retired having never passed amateur status.
Since my great aunt's time, almost all of my father's side of the family has been involved in swimming. My father had me kicking on the side of the pool as soon as I could float, and many of my cousins were involved in the sport too. My sister Kelly and I were fortunate enough to continue at the collegiate level. Kelly swam at Boston College and graduated in 2015, while I'll graduate from Fordham in 2018. Believe it or not, being a Division I student athlete isn't always as glorious as it may seem. My weeks are spent staring at the black line at the bottom of the pool for countless hours. I wake up before the birds start chirping, sometimes trudging through a blizzard towards campus just to jump into an icy-cold pool. I can't remember the last time I slept in a single day during the summer. But I still love it. As I enter my senior year at Fordham, I'm also beginning my final year as a competitive swimmer after swimming for 16 years.         
Swimming has shaped my entire life; I am who I am today because of it. I wouldn't trade a single experience for the world. However, as I mature as a collegiate athlete I have become more aware of what I need to do to succeed. While I love traveling and learning about new cultures, I wasn't able to continue swimming at a high level and do a full semester abroad, so I chose to be in London this summer for two months instead. One month is a travel writing class filled with culturally enriched programs and the second month is an internship program with a prestigious company in London.
Of course, swimming is still part of my life abroad. When I dove into the Olympic pool, my first few strokes felt smooth, and I soon found myself at the other side of the pool. I imagined what Phelps felt like as he won each of his six medals that year, and I reflected on the amazing career he's had. He's inspired me from such a young age, and it was rewarding to feel such a strong connection to his swimming towards the end of my career.
I might have walked into the London Aquatics Center slightly unimpressed, but I felt a wave of emotions as I dove into the pool. I remembered why I began swimming and why the countless mornings, weekends and nights out I've sacrificed to be where I am today were worth it. It all began with Aunt Pat's dedication and love for the sport, which she passed on to my family, and her success continues to be my motivation. Being that I'm the youngest in my family still swimming, I think my family will appreciate my last moments as a Fordham Ram in the pool this year.