An Introvert Abroad
When you live in a city, you're never really alone. As an introvert, that was by far the hardest thing I had to adjust to when I came to college. Three years later, I've learned how to carve out space for myself even in the midst of a crowd, so much so that the bustle of the Bronx now feels even more like home to me than the quiet, green, suburban landscape of my hometown. Even still, every new city is an adjustment. London isn't that different from New York, but with my double-denim outfits and loud American accent, I stand out. There's something both isolating and liberating about being a stranger in a new place.
On a breezy Wednesday morning, I wake up early and walk to the tube alone. The streets of West Kensington are quieter than the ones in the Bronx, cleaner, and somehow it makes me feel even more out of place. I miss the chaotic charm of horns honking in the morning, reggaeton blaring from the community garden behind my apartment building, dirty stray cats napping next to the old Albanian man who parks his folding chair smack in the middle of the sidewalk every afternoon. Still, I came to London to experience something new. It's not that different, but it's different enough.
I emerge from the tube at Old Street, into the midst of a much more vibrant community than the one I've been living in for the past two weeks. Where Kensington is all white pillars and neatly trimmed hedges, Shoreditch is an explosion of street art and cultural diversity—many shops have signs in two different languages, and photogenic hipster cafes share a block with Bangladeshi bodegas and century-old bookstores. The clutter is familiar and soothing. It's a town with a visible and multi-layered history, hosting poor immigrant communities and wealthy up-and-coming artists alike.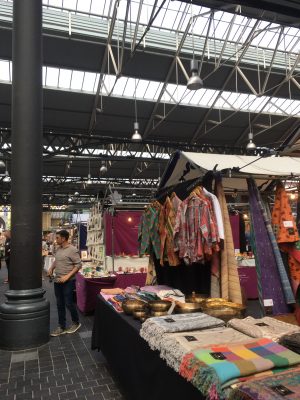 Spitalfields Market is crowded and lively, even in the middle of the week. It's a covered market, but the ceiling is glass-paneled in places and at least three stories high, so the space feels airy and bright. I run my hands over the silk shirts hanging at a vintage clothing stall, and the elderly woman seated in a folding chair next to the money box smiles warmly at me, wrinkles deepening around her eyes. We don't exchange any words. There's something comforting about exploring new places alone and sharing a quiet moment of understanding with a stranger. Free from the chatter of conversation, my mind is blank and open to experience. I notice more. I become more present, more calm.
Sitting down at a picnic table with a cappuccino to watch the flurry of activity around me, I'm reminded of one of my favorite poems by Mary Oliver. I have it taped into some of the early pages of my journal, a folded piece of printer paper, edges soft from wear. I open to "October" and trace my finger down the last stanza: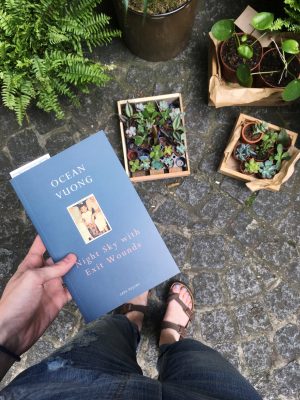 Sometimes in late summer I won't touch anything, not
the flowers, not the blackberries
brimming in the thickets; I won't drink
from the pond; I won't name the birds or the trees;
I won't whisper my own name.
One morning
the fox came down the hill, glittering and confident,
and didn't see me—and I thought:
so this is the world.
I'm not in it.
It is beautiful.
I understand my own world from a distance, through the words I find to shape it. Being an introvert means being a little bit of a stranger all the time, even in your own hometown, or your own body. I'm a girl who grew up around the city that never sleeps, searching for a moment of stillness and silence. I learned to create those moments by becoming an observer to my environment, even when it's familiar. In a new city, I don't have to try so hard to find that distance. I am 3,459 miles away from everything and everyone I know, and there's freedom in that.
I catch fragments of conversation from market-goers—someone haggles over the price of a leather jacket, a girl begs her mother for ice cream instead of lunch. Food vendors boast loudly to passersby about their fresh coconut water and authentic Ethiopian food. I sit at my table with no one to talk to and nowhere to be and I'm alone, but not lonely. The world is busy and alive around me, and it is beautiful.